The 2014 Bisci Verdicchio di Matelica comes on the heels of the winery's exceptional 2013 Verdicchio di Matelica. The 2014 is every bit as fine and a bit more complex than its older sibling. Born of all organic grapes, Bisci consistently demonstrates that Verdicchio is more than just a light, pleasant quaff; the 2014 Bisci Verdicchio di Matelica exhibits considerable depth and purity of flavor as well as invigorating freshness, all of which make it well worth savoring. Sporting a bright sunny robe with the Verdicchio varietal's telltale glint of green, the 2014 Bisci Verdicchio offers an attractive bouquet of white spring flowers, orchard fruits, and hints of dried fruits and raw almonds. In the mouth, gentle fruit flavors mingle with subtle floral tones, uplifting minerality and bracing acidity to enliven the palate and create a long refreshing finish. As purity and freshness are always the optimum goals of Verdicchio, you won't find any oak flavors or sulfite burn in Bisci's Verdicchio. We suggest moderate chilling (40°-45° F) of Bisci's Verdicchio di Matelica in order to capture all of the subtlety and charm the wine has to offer. Enjoy!
The 2014 Bisci Verdicchio di Matelica is the ideal accompaniment to almost any seafood dish, especially the fish specialties for which the Marches are famous. In the towns and villages of the Marches, it is widely acknowledged that the dry, aromatic, fuller bodied Verdicchios from Matelica highlight the province's heady seafood dishes better than the fruitier, more commercial wines of Castelli di Jesi. Even the local fish soup, a version of Cioppino, won't overpower the Bisci Matelica. We like Bisci's subtle complex Verdicchio with freshwater fish, too, especially trout, striped bass and walleye. Saltwater fish such as grouper, snapper, and tilapia provide equally enjoyable companions, especially when prepared with a complex sauce. Bisci's fine Verdicchio Matelica pairs well with chicken, veal, and wild game birds, too. We have even enjoyed older, more mature bottles of Bisci's Verdicchio with pork tenderloin, as there is no wimp in this Verdicchio. Salute!
"Verdicchio is one of the joys of Italian oenology that rarely gets the respect it deserves, and few producers do it better than Bisci." - The Wine Advocate, issue 182 (April 2009)
The Castiglione Bisci estate is one of the most illustrious estates in the Marches. It also fashions Verdicchio's finest expression of quality and style. Its owners produce several wines, both white and red, of exceptional quality. Draconian measures are taken at Bisci to assure the ultimate quality of every bottle: rigorous pruning to limit yields, strict selection of every cluster at harvest, the bottling of only free run must, and the steadfast refusal to bottle wine in poor vintages. These practices are just a few of the measures that set this estate apart from the vast majority of commercial producers of Verdicchio.
Verdicchio is a commonplace name among wine consumers, and so is the striking but hopelessly impractical fish-shaped bottle that encapsulates the most commercial of Verdicchio's wines from nearby Castelli di Jesi. However, very few consumers realize that there are two distinct appellations for Verdicchio – Castelli di Jesi and Matelica. Both appellations employ the same indigenous white Verdicchio varietal, but the similarity ends there
The wines from the Castelli di Jesi appellation perpetuate Verdicchio's reputation for making light wines of refreshing simplicity and affordable price. Conversely, the wines of Verdicchio di Matelica generally exhibit considerably more body, flavor and complexity than the lighter wines of Castelli di Jesi. Yet, the wines of Verdicchio di Matelica remain virtually unknown outside of the Marches, as they are handcrafted in tiny quantities by local artisans. Castiglione Bisci enjoys the reputation as the region's premier producer.
For the record, Verdicchio takes its name from the greenish yellow grape varietal that constitutes the mainstay of all Verdicchio wines; many critics would also add that Verdicchio renders heart and soul to the wines that bear its name because up to 20% Trebbiano and or Malvasia are legally permitted in Verdicchio, but the finest versions such as this month's feature from Bisci contain only Verdicchio grapes.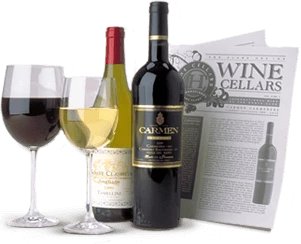 Enjoy Limited Production Estate
Bottled Wines
Discover limited production estate bottled wines such as Vergenoegd's internationally
acclaimed 2005 Cabernet Sauvignon, imported exclusively for our members.
DISCOVER OUR FOUR CLUBS