Forget all of the light, insipid Verdicchios you may have experienced in Italian restaurants or cheap seafood shacks across America, the 2000 Bisci Verdicchio di Metalica is the real Mazzoni. It is amply endowed and arrayed in a golden robe. Pure and richly fruity, this Verdicchio offers up aromatic fireworks and more than a hint of exotica. Ripe pineapple, along with hints of honeysuckle and white flowers, caress the nose, while a textured, fruit-driven mid palate presents more than it fair share of depth and subtle complexity. The 2000 Bisci di Metalica resembles in no shape or form any other Verdicchio we have ever tasted in America, and that bold statement alone should tell you something good about this exciting offering. Undoubtedly, this wine needs to be tasted to be believed. Enjoy!
The 2000 Bisci Verdicchio di Metelica is the perfect accompaniment to any number of fish dishes for which the Marches are famous. In the towns and villages of the Marches, it is generally acknowledged that the dry, aromatic, fuller bodied Verdicchio di Matelica is better with the provinces heady seafood fare than the fruitier, commercial wines of Castelli di Jesi. Even the local fish soup, a version of Cioppino, doesn't overpower the Bisci Matelica. Yet, in order to highlight the wine, we suggest serving this subtley complex Verdicchio with such freshwater delicacies as trout or perch. Saltwater fish like snapper, rockfish, or sea bass serve as equally enjoyable backdrops, especially when steamed, grilled or served with a rich sauce. Nonetheless, there is more to the Marches than seafood and commercial Verdiccchio, as Bisci can testify, although it would be hard to convince the summer tourist crowd of that. Veal, baby lamb and almost all types of domestic and wild birds offer an endless array of possibilities with this Verdicchio Matelica. We even suggest the Bisci with pork tenderloin, as there is no wimp in this white wine. Salute!
The Castiglione Bisci estate is without a doubt Verdicchio's finest expression of quality and style. It is also one of the Marches most illustrious estates. Its owners produce several wines, both white and red, of extraordinary eminence. If the truth be known, draconian measures are taken by Bisci to assure the ultimate quality of every bottle: rigorous pruning to limit yields, strict selection of every cluster at harvest, the bottling of only free run must, and the steadfast refusal to bottle wine in poor vintages are just a few measures that set this estate apart from the majority of commercial producers in Verdicchio. Verdicchio is a commonplace name among wines consumers, and so is the striking but hopelessly impractical fish-shaped bottle that encapsulates the most commercial of Verdicchio's wines from Castelli di Jesi. However, very few experts, let alone consumers, know that there are indeed two appellations where Verdicchio is produced Castelli di Jesi and Matelica. Both appellations employ the same indigenous white Verdicchio varietal, but the similarity ends there. Rarely are the wines of same region and varietal as radically different as the tale of the two Verdicchios. The wines from the Castelli di Jesi appellation are responsible for Verdicchio's reputation as a light, supremely drinkable wine of refreshing simplicity and affordable price. Nearly all commercially bottled renditions of Verdicchio, including those that are put into amphoras or aquatic-shaped bottles, which is to say virtually all exported Verdicchio, are from Castelli di Jesi. Conversely, Verdicchio di Matelica is still virtually unknown outside of its appellation. Verdicchio di Matelica is a very small township couched in the hilly rural part of the central Marches. The Marches is the green, picturesque region of central Italy that is wedged between the Appenine spine of the Italian peninsula and the cliff studded coast of the gleaming Adriatic Sea. Aside from the two month onslaught (July and August) of Italian and Teutonic tourists that descend upon the coastal regions of the province, the Marches remain an oasis of calm, rural charm, art, religious shrines, fine food, and of course wine the very glories of Italy. Yet, even within the Mettalica region, its Verdicchio is rare and difficult to find. This is the real Verdicchio, a wine of substance as well as charm. It is made in tiny quantities by local artisans, and not surprisingly most of it is consumed locally. Verdicchio di Metalica is in essence handcrafted and correspondingly hard to come by, and Bisci's two outstanding Verdicchios are no exception. For the record, Verdicchio takes its name from the greenish yellow grape varietal that constitutes the mainstay of all Verdicchio wines; many critics would also add that Verdicchio renders heart and soul to the wine that bears its name. Up to twenty percent of Trebbiano and or Malvasia, two other local varietals, is permitted in Verdicchio, but the finest versions like Bisci contain only Verdiccchio. In addition to an outstanding Verdicchio di Mettalica from the estate's vineyards, Bisci also produces tiny quantities of a single vineyard offering, Vigneto Fogliano. Both wines offer copious quantities of ripe fruit, exotic flavors, and subtle complexity the very ingredients missing in the wines of the Castelli di Jesi. Moreover, Bisci is a leading producer of fine red wine. The estate's proprietary red, Villa Castiglioni, is a seductive blend of 70% Sangiovese and 30% Cabernet Sauvignon. It proffers a heavenly bouquet, and more than enough flavor and elegance to put many a so-called 'super Tuscan to shame.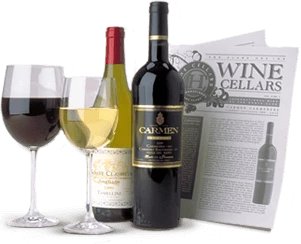 Enjoy Limited Production Estate
Bottled Wines
Discover limited production estate bottled wines such as Vergenoegd's internationally
acclaimed 2005 Cabernet Sauvignon, imported exclusively for our members.
DISCOVER OUR FOUR CLUBS