Light, fresh, crisp and refreshing Biltmore Estate's 2011 Riesling covers all of Riesling's bases. As an opening salvo, this wine offers tempting scents of citrus oil, white peach, and mountain balsam to tantalize the nose. Pure and refreshing on the palate, too, it's difficult to imagine a more quaffable wine, as Biltmore's racy, medium-bodied Riesling slips ever so easily down the thirsty throat. However, before allowing this comely wine to gracefully make its exit, we encourage you to let each sip linger a few seconds on the tongue in order to satiate the senses. By doing so, pure fruit flavors that are superbly balanced by crisp acidity play counterpoint to one another, allowing the wine's pleasant minerality to shine. All of this adds up to another benchmark offering from Biltmore Estate. We suggest giving this delightful Estate Riesling a moderate chill before serving (38°-40° F). Enjoy!
Biltmore's 2011 Estate Riesling is a versatile wine. It makes an excellent aperitif and is wonderful with hors d'oeuvres, spreads, and salsas. It pairs especially well with Asian and California Fusion cuisines, too. We've enjoyed it with sushi, edamame, and fresh spring rolls, as it holds up nicely to spicy sauces, soy, and even judicious amounts of wasabi. We've also enjoyed it with various hummus dips. Even hummus with roasted pepper and cilantro doesn't dint the flavors of this wine. Chicken, fish, and spicy vegetable dishes such as Baba Ghannouj (a spicy Mediterranean delight with chickpeas, eggplant, and sesame tahini) draw out the superbly balanced flavors of Biltmore's Estate Riesling. So, whether you're into plain and simple or complex and spicy, the 2011 Biltmore Estate Riesling is ready and willing to serve and be served.
Biltmore evokes images of grace and luxury. Today, the name graces many a hotel and resort. However, George Vanderbilt's original Biltmore Estate, which lay nestled amid the mountains surrounding Asheville, North Carolina, epitomizes the ultimate in beauty and grandeur. Designed by Richard Morris Hunt (architect of Marble House and The Breakers in Newport, Rhode Island, The Metropolitan Museum of Art in New York, and many other famous structures) and landscape architect Fredrick Law Olmstead (designer of New York's Central Park), Biltmore opened its doors on Christmas Eve 1895. Set amid 125,000 acres, Biltmore was and still remains the largest private residence in America. Although now open to the public, Biltmore continues to be home to George Vanderbilt's descendents. It is quite likely the most stunning and authentically preserved home on the continent. Moreover, it contains a winery and an impeccably situated vineyard of mature vines, which yield wines worthy of the name Biltmore.
For more than three decades, Biltmore has tended a 90-acre vineyard nestled in a sun splashed amphitheater near the Biltmore home. Like Biltmore house, the vineyard is meticulously laid out and tended. A winery was added in 1985 to produce estate bottled wines. Although much of the wine that bears the Biltmore name originates in California, the estate's North Carolina Chardonnay, Viognier, Riesling and Cabernet Sauvignon are made on the property and have become benchmarks by which other eastern wines are measured. Elegance, flavor, and uncompromising purity are their hallmarks.
George Vanderbilt would no doubt be proud of what his heirs have been fashioning at the family homestead, and we invite you to partake of their wines, because to sip a glass of Biltmore's estate wine "is to cross the threshold into a world of hospitality, beauty, and luxury that has remained unchanged for more than a century and is being preserved for many generations to come."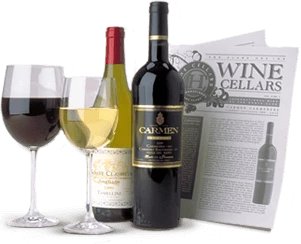 Enjoy Limited Production Estate
Bottled Wines
Discover limited production estate bottled wines such as Vergenoegd's internationally
acclaimed 2005 Cabernet Sauvignon, imported exclusively for our members.
DISCOVER OUR FOUR CLUBS