A blend of Shiraz (95%) and Viognier (5%), the 2005 Big Mouth Red mirrors the traditional cépage of Côte Rôtie, the Rhône's greatest and most hedonistic red wine. Big Mouth Red is deep in color, rich in aroma, and supremely soft, savory, and oh … so seductive in flavor. From the predominance of Shiraz comes the scent of black fruits and crushed mulberries, while the Viognier adds a waft of exotica – a faint scent of mimosa and tropical flowers. And unlike most of its Australian counterparts, the Big Mouth Red remains fresh and lively. It is long in flavor, but easy on tannin. A hint of black pepper and Oriental spice complete the flavor profile and round out the sprightly finish. We suggest serving this delicious, in-your-face Shiraz between cellar and cool room temperature (57°-66°F). Moreover, Big Mouth Red requires only a few minutes of breathing time to be at the top of its game. Enjoy!
The 2005 Big Mouth Red is a wine made for good, everyday drinking, as it provides the ideal accompaniment to a wide variety of foods from around the world. It makes a perfect match for grilled meats, pasta, and savory ragouts and stews. Big Mouth Red also pays an equal compliment to Asian cuisine, which now dominates the contemporary food scene in Australia and is faring nearly so well in America. Pad Thai, Vietnamese spring and summer rolls, Chicken Yakitori, and Hunan style chicken or pork all provide exemplary accompaniments to Big Mouth Red. But why limit this versatile red? It offers a tasty complement to all kinds of quesadillas and Tex-Mex offerings, too. So, why not try the Big Mouth Red with a quesadilla, stuffed with grilled asparagus, smoked tomato, and goat cheese or a grilled eggplant, fresh mushroom, and cheese quesadilla? In fact, Big Mouth Red is a splendid choice for those who love to eat. So be daring, and have some fun with Big Mouth!
Australian winemaker David Hook makes Big Mouth wines at his Pothana Vineyard in New South Wales. Pothana is located in the Belford region of the Lower Hunter Valley, which has become famous for world class Chardonnay, Semillon, Shiraz, Verdelho, and increasingly in recent years Viognier. Hook fashions both a red and a white Big Mouth from the region's most successful grape varieties. Big Mouth Red is an artful blend of 95% Shiraz and 5% Viognier and is similar to Côte Rôtie, the Rhône Valley's most decadent and expensive red wine. The Big Mouth White is a unique blend of Verdelho 50%, Semillon 25%, and Sauvignon Blanc 25% that is truly charming. David Hook has over 20 years' experience in grape growing and winemaking. He began his wine career working for Tyrrells, one of Australia's oldest wineries, before moving on to a stint at Lake Folly. He established his own winery in 1990. David was one of the first "flying winemakers" as he made wine at his own winery and then traveled from Australia to work harvests in California, Italy and France. This global experience exposed him to a myriad of wines and winemaking techniques, and it has helped him make some truly fascinating wines. Big Mouth is just one of Hook's fascinating wines, or as David is fond of saying: "Big Mouth is a wine with a big aroma, big flavors, and big enjoyment, a stick-it-in-your-face kind of wine." And we love it!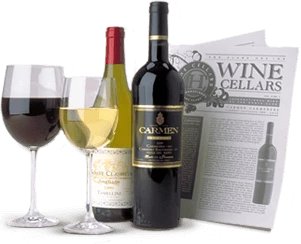 Enjoy Limited Production Estate
Bottled Wines
Discover limited production estate bottled wines such as Vergenoegd's internationally
acclaimed 2005 Cabernet Sauvignon, imported exclusively for our members.
DISCOVER OUR FOUR CLUBS