A crowd pleaser and one of the most complete white wines we tasted on a recent trip to Oregon, the 2008 Bethel Heights Eola Amity Hills Pinot Blanc offers outstanding aromatics along with a deep draught of flavor. The delectable scents of ripe golden apples, peach, minerals, spice, and wet stones all come to fore. On the palate, the wine is lively, fresh, and spicy. It possesses long rich fruit flavors, without a hint of sweetness. And with a good dose of acidity and alcohol to balance out the fruit, the Bethel Heights Pinot Blanc finishes with a flourish. We suggest you give it a moderate chill (40º-50º F) before consuming. Better still, let it breathe a few minutes in the glass before knocking it down; with a little restraint this wine will more than repay the patient taster. Enjoy!
Pinot Blanc is one of the most food friendly, versatile wines around, and the 2008 Bethel Heights Pinot Blanc more than proves the point. It accompanies tried and true seafood specialties such as steamed mussels, crab cakes, and Lobster Fra Diavolo with aplomb. Yet, it won't fade in front of foods often considered too difficult to pair such as Caesar Salad, asparagus salads, or even stuffed artichokes. Chinese Chicken and Broccoli, Hunan Chicken, and stir fried vegetables pair nicely with this wine as well. Vietnamese spring rolls, served with either a sweet and sour sauce or a mild peanut and garlic sauce won't threaten this wine either. And let's not overlook garden salads and soft cheeses as they provide simple, easy to prepare complements that highlight Bethel Heights Pinot Blanc's extroverted personality and wealth of complementary flavors. Salut!
One glance out the back door of the Bethel Heights Winery and it is easy to see why twin brothers Terry and Ted Casteel and their partners Marilyn Webb and Pat Dudley fell madly in love with the Eola Hills and the breathtaking scenery that unfolds before them. From a series of vine covered hills that spill from the winery door to the soaring majesty of snow covered peaks that frame the luminous horizon, all that is fertile and awe inspiring about Oregon can be found at Bethel Heights. Founded in 1977, Bethel Heights is one of the oldest wineries in Oregon and in our estimation still one of the best. The estate's Pinot Noirs are among the finest in the state and co-owner Marilyn Webb knows how to make visitors feel at home. Her soft spoken manner and straightforward approach leaves one with the impression that the folks at Bethel Heights truly love what they do and do it well. Moreover, the second generation at Bethel Heights (Terry, Marilyn, Ted, and Pat's kids) has come of age and by all accounts the wines at Bethel Heights are better than ever. In short, there is something for everyone here, whether it be red, white, rosé, or some of the grandest scenery in all Willamette Valley. Although the current rage is for Pinot Noir from Oregon (and Bethel Heights produces a delicious estate grown Pinot Noir and several awe inspiring single vineyard Pinot selections), Terry and Ben Casteel fashion an equally intriguing array of outstanding white wines. Leading this estate's white wine portfolio is a whole cluster pressed Pinot Blanc that is sold primarily at the winery, followed by first rate Chardonnay and Pinot Gris. All are balanced, flavorful wines that bear a mark of distinction. And for good health and added enjoyment the Bethel Heights estate vineyard has been certified sustainable by both LIVE and Salmon Safe since 1999. Taste and see all that this estate has to offer!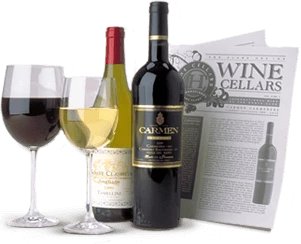 Enjoy Limited Production Estate
Bottled Wines
Discover limited production estate bottled wines such as Vergenoegd's internationally
acclaimed 2005 Cabernet Sauvignon, imported exclusively for our members.
DISCOVER OUR FOUR CLUBS