For nearly four decades Bethel Heights has produced many of Willamette Valley's most compelling estate grown Pinot Noirs. In fine vintages and fair, Bethel Heights has fashioned top notch Pinot Noir. In the blessed, highly favored 2012 vintage, Bethel Heights has fashioned a truly exceptional Aeolian Estate Eola-Amity Hills Pinot Noir. Consummate winemaking skills, great terroir, and exceptional weather conditions in 2012 have resulted in an outstanding 2012 Bethel Heights Aeolian Estate Eola-Amity Hills Pinot Noir. Imbued with a deep cherry color, superb texture, and a hauntingly beautiful aroma that exudes charm and hedonistic pleasure, this young Aeolian Pinot Noir is already a delight to drink. The youthful, medium-bodied Aeolian Pinot Noir offers up a fragrant bouquet of cinnamon, clove, woodland berries, and the intoxicating scent of rose petal. In the mouth, this complex Pinot Noir offers a core of tightly wound fruit and tremendous depth of flavor, which no doubt helped earn it 90 Points from Robert Parker's Wine Advocate. And as rewarding as this wine is now, it will no doubt continue to improve for several more years and reach its apogee after 2017. For wine lovers not given to ageing or storing wines, decanting the 2012 Bethel Heights Aeolian Pinot Noir 1-2 hours ahead of serving will permit the wine's fruit to come to fore, revealing layers of subtle complexity. In an ideal world, one has a bottle of this delicious Pinot Noir at table and a case resting in the cellar. Anticipated maturity: 2016-2022. For optimal enjoyment we suggest serving this wine at cool room temperature (60º-64 º F).
Oregon Pinot Noir is one of the most versatile and food friendly of American wines. It accompanies true American and French classics with aplomb. Whether it is Coq au Vin, Boeuf Bourguignon, or roast turkey with all the trimmings, the 2014 Bethel Heights Aeolian Estate Eola-Amity Hills Pinot Noir can provide the ideal accompaniment. Chicken Carolina, chicken stuffed with farm cured ham and Crotin cheese, and Maryland Style Crab Cakes make other delicious accompaniments to a bottle of Aeolian Pinot Noir. And, given the ideal vintage conditions throughout Willamette Valley in 2012, the Bethel Heights Aeolian Pinot Noir can hold court with even fuller, richer fare such as loin lamb chops, duck, quail, pork, and venison. And while most red wines become steely in the presence of seafood and add little pleasure in the company of the fruits of the sea, Oregon Pinot Noirs such as the 2014 Bethel Heights Aeolian Estate Eola-Amity Hills Pinot Noir, remain happy exceptions: Savory seafood specialties featuring halibut, salmon, and tuna with rich sauces offer superb accompaniment to Bethel Heights' Aeolian Pinot Noir. Pastas and salads pair nicely with this Pinot Noir, too.
One glance out the back door of the Bethel Heights Winery and it is easy to see why twin brothers Terry and Ted Casteel and their spouses Marilyn Webb and Pat Dudley fell madly in love with the Eola Hills and the breathtaking scenery that unfolds before them. From a series of vine covered hills that spill from the winery door to the soaring majesty of snow covered peaks that frame the luminous horizon, all that is fertile and awe inspiring about Oregon can be found at Bethel Heights.
Founded in 1977, Bethel Heights is one of the oldest wineries in Oregon and in our estimation still one of the best. The estate's Pinot Noirs are among the finest in the state and co-owner Marilyn Webb knows how to make visitors feel at home. Her soft spoken manner and straightforward approach leaves one with the impression that the folks at Bethel Heights truly love what they do, and they do it well. Moreover, the second generation at Bethel Heights (Terry, Marilyn, Ted, and Pat's kids) has come of age and by all accounts the wines at Bethel Heights are better than ever. In short, there is something for everyone here, whether it be red, white, rosé, or some of the grandest scenery in all Willamette Valley.
Although the current rage is for Pinot Noir from Oregon (and Bethel Heights produces a delicious estate grown Pinot Noir in the Eola-Amity Hills along with several awe inspiring single vineyard Pinot selections), Terry and Ben Casteel also fashion an equally intriguing array of outstanding white wines. And for good health and added enjoyment the Bethel Heights estate vineyard has been certified sustainable by both LIVE and Salmon Safe since 1999. So, come, taste, and enjoy all that Bethel Heights has to offer!
Oregon's Willamette Valley was the destination and the dream of thousands of 19th century pioneers as they migrated west across the Great American Desert to "the promised land," a green oasis where crops and orchards bore fruit aplenty. Today, the Willamette Valley retains its original allure. It is the center of the Oregon wine and fruit industries and it has become a haven for many environmental and high tech industries.
Today, the Willamette Valley is home to more than two thirds of the wineries and vineyards in Oregon. At last count there were more than two hundred wineries in this broad and varied valley that follows the Willamette River from north to south for a hundred miles from the Columbia River to just south of Eugene. The Willamette Valley is one of the premier places on earth for the cultivation of Pinot Noir, one of the finest, yet most difficult grape varieties to grow. So favorable is this land for Pinot Noir that Willamette Valley is mentioned in the same breath as Burgundy and a few select cool weather locations in California as one of the few places on earth for growing the often magical, yet mercurial Pinot Noir grape. Willamette Valley, also, provides ideal terroir for Chardonnay, Pinot Gris and other premium white varietals.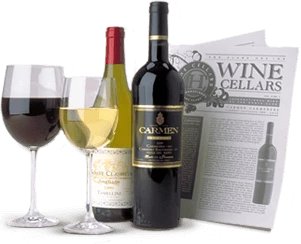 Enjoy Limited Production Estate
Bottled Wines
Discover limited production estate bottled wines such as Vergenoegd's internationally
acclaimed 2005 Cabernet Sauvignon, imported exclusively for our members.
DISCOVER OUR FOUR CLUBS