The light, bright, seductively creamy Besserat de Bellefon Cuvée des Moines Brut N.V. makes a beautiful statement, offering an elegant beguiling aroma, an impressive array of lively flavors, and impeccable precision. Beautiful citrus blossom, almond, and white peach scents dominate the nose, while flavors reminiscent of white peach and Mirabelle plum enliven the palate. The wine's nicely balanced floral and fruit flavors are infused with chalky saline notes from Champagne's unique terroir, adding structure and precision that lead to a lively finish. Classic in style and long on quality, the non-vintage Besserat de Bellefon Cuvée des Moines Brut combines finesse with flavor to produce one of Champagne's most crowd pleasing wines. Serve around 40° F. Enjoy!
Although most non-vintage Champagnes make consummate aperitifs, the very finest such as Besserat de Bellefon's Cuvée des Moines Brut N.V. also make splendid accompaniments to a host of appetizers and can easily hold court at the dinner table. Superbly prepared scallop, crab, and lobster dishes provide splendid accompaniments to Besserat de Bellefon's Cuvée des Moines Brut. Smoked salmon on crusty French bread rounds with cream cheese, capers, and tiny slivers of red onion provides an equally satisfying companion. Fresh seafood salads and grilled or sautéed white fish such as flounder, grouper, sole and sea trout prepared in a light wine or cream based sauce also make fine companions to Besserat de Bellefon's special cuvée. Poultry, too, offers good companionship, as do creamy cow's milk cheeses such as Port Salut. Enjoy the seductive Besserat de Bellefon Cuvée des Moines Brut and its hedonistic charm early and often. Bon appétit!
Founded in Ay in 1843 by Edmond Besserat, the Champagne house of Besserat quickly established a reputation for quality. Edmond's grandsons continued to build Besserat's reputation for prestigious handcrafted Champagnes during the Belle Epoque. In 1927, Edmond Besserat, a grandson of the founder, married Yvonne de Meric de Bellefon, a scion of another prestigious Champagne family, and the house of Besserat de Bellefon Champagne was born. Besserat de Bellefon is now located in Epernay, in the world renowned Bellefon Chateau, and it continues to be a leading Champagne brand in the finest restaurants and most prestigious wine shops around the world.
Today, Besserat de Bellefon is part of the Lanson – BCC Group's portfolio of prestigious Champagnes. Like most Champagne houses, Besserat de Bellefon fashions a myriad of vintage and non-vintage Champagnes, but none is more synonymous with the house and its creamy, crowd pleasing style of Champagne than this month's selection, Besserat de Bellefon's non-vintage Cuvée des Moines. The name Cuvée des Moines pays homage to the Benedictine monks whose tireless efforts were integral to the development of the Champagne Method.
Cuvée des Moines is artfully blended by Cédric Thiebault, Besserat de Bellefon's Master Wine Maker. Thiebault employs the crémant winemaking technique, which calls for a reduced dosage that lowers the bottle pressure about one atmosphere. The result is a soft, sensuous, creamy Champagne with a multitude of tiny bubbles. In the truest Champagne fashion, the classic non-vintage Cuvée des Moines is produced from wines from a combination of vintages, including the current vintage and previous vintages of reserve wines in order to ensure elegance, quality and Besserat de Bellefon's consistent house style. The art in Champagne is in its blending, an art form in which Cédric Thiebault truly excels.
Champagne is an ancient province of France, a pastoral land of meadows and streams and, most importantly, chalk hills upon which some of the world's choicest grapes are grown. Champagne's boundaries are delimited by law and its wines strictly regulated by the laws of Appellation Contrôlée as to permitted grape varieties (primarily Chardonnay, Pinot Noir, and Pinot Meunier), yield, production, and quality. Yet, Champagne is more than a place; it is also a wine. In fact, Champagne is several different wines – only the most recognizable of which is white and bubbly.
Although Champagne can be still or sparkling, white or red, and even rosé, the wine the world has come to know best as Champagne is always sparkling. So synonymous now is the name Champagne with sparkling wine that the nomenclature has been applied generically and indiscriminately to any wine that bubbles, much to the regret of the Champagne producers themselves. Authentic Champagne comes only from the Champagne district of France and meets all the approved legal requirements and standards of production, including absolute adherence to the painstaking Méthode Champenoise, which requires that secondary fermentation take place in the bottle for sparkling Champagne.
The magic of Champagne (at least the bubbly kind that now encompasses the overwhelming majority of wine produced in Champagne) comes from encapsulating the bubbles in the very bottle in which the wine starts its life. In the old days, long before the advent of technical wine equipment, temperature control, and central heating, the slow fermentation of grapes in the cool Champagne autumn was often interrupted by winter's chill. With the onset of winter, fermentation would stop completely, or at least appear to cease, so the wine was bottled and prepared for distribution. However, the following spring temperatures would rise and the fermentation process would begin anew. This delayed completion of fermentation is known as secondary fermentation. Secondary fermentation produces the beautiful bubbles and tiny streams of carbon dioxide that have come to enchant several centuries of well-wishers and hedonists. What began as serendipity is now one of the wine world's highest art forms.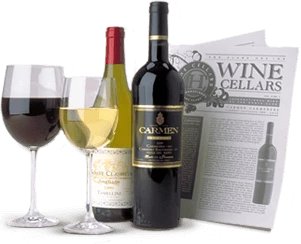 Enjoy Limited Production Estate
Bottled Wines
Discover limited production estate bottled wines such as Vergenoegd's internationally
acclaimed 2005 Cabernet Sauvignon, imported exclusively for our members.
DISCOVER OUR FOUR CLUBS