Although Josh Bergström is widely lauded as one of America's top producers of Pinot Noir, his delicious, sophisticated array of white wines have remained relatively unsung – until now. No doubt, the relatively tiny production of white wine versus Pinot Noir at Bergström has something to do with the fact that few have had the good fortune to taste one of these fair skinned beauties. With that in mind, the 2009 Bergström Old Stones Willamette Valley Chardonnay makes a great debut. A real show stopper, the wine's bright sun-kissed robe, enthralling aroma, and broad, sophisticated palate appeal put it head and shoulders above the pack! Baked apple, pear, hazelnut, and subtle vanilla and spice tones tantalize the nose and tongue from start to finish. Add an abundance of layered fruit, supreme texture, and tremendous suave appeal and the 2009 Bergström Old Stones Willamette Valley Chardonnay delivers on all counts. Better still, this Chardonnay should continue to improve in bottle for at least another couple of years. Anticipated maturity: 2011-2015. We suggest only a moderate chill (40º-50º F) for this youthful debutante. Enjoy!
In order to enjoy the best of all worlds and because great wine deserves a companion of similar stature, we suggest pairing the 2009 Bergström Old Stones Willamette Valley Chardonnay with some artfully prepared dishes. At the top of our list of ingredients are salmon and chicken. Both can be prepared with savory sauces to complement, rather than compromise, the flavors of Bergström's sophisticated Chardonnay. Pecan Encrusted Salmon, served with a creamy fennel sauce; Hazelnut Encrusted Chicken, prepared with a mushroom cream sauce; and Lobster Ravioli all get our nod as worthy companions to the 2009 Old Stones Chardonnay. Chicken Pot Pie, prepared from scratch of course, and Serious Seafood Chowder, made with fish, shrimp, scallops, and lobster provide good companionship, too. And last but certainly not least, Dijon Chicken Salad or other highly charged chicken salad with grapes, nuts, rosemary, or thyme will do justice to Josh Bergström's splendid Old Stones Chardonnay as well. Bon Appétit!
Bergström Wines proudly bills itself as Growers of Quintessential Oregon Pinot Noir since 1999, and anyone remotely familiar with world class Pinot Noir will attest to the validity of the statement. However, Bergström's proclamation may well be the most profound understatement in the world of wine today. At the very least, this declaration tells only a small piece of the Bergström story. Founded by Oregon surgeon John Bergström and his wife Karen in 1999, Bergström Wines has in less than a decade worked its way to the highest echelon of American producers of Pinot Noir, Chardonnay, and Riesling. Under the direction of Josh Bergström, John and Karen's fourth child, Bergström wines have become the benchmarks by which American producers of Pinot Noir, Riesling, and Chardonnay are now measured. Considering the wealth of talent and terroir in Oregon and California, the Bergströms' meteoric rise may come as a bit of a shock to those accustomed to the glitz and glamour of Napa Valley or the high powered marketing techniques of the large, corporate owned wineries whose wares can be found in every grocery store. Although Bergström has built its international reputation primarily on Pinot Noir, each of the estate's many wines reflects the friendly, dynamic personality of Josh Bergström, the chief Winemaker, Vineyard Manager, and General Manager of Bergström Wines. The burly, good natured Bergström is as energetic as he is engaging. Not only does he fashion a staggering portfolio of world class Pinot Noirs from up to 15 different vineyards, including the now famous Bergström vineyard that lies just outside the winery door, Josh makes two of the finest Chardonnays in America. The estate's Old Stones and Sigrid Chardonnays are splendid, polished wines that are reminiscent of Puligny-Montrachet. In fact, Bergström's Chardonnay has even been compared favorably to the legendary Premier Cru wines of Burgundy's Domaine Leflaive. And if that is not all, Josh Bergström exploits four of the oldest Riesling vineyards in Oregon, including a 45-year old plot on ungrafted rootstock, to craft O and Dr. Bergström Rieslings. Each expresses the unique terroir of these old vines and Josh Bergström's inherent talent as a winemaker. Bergström fulfills the family's aspiration of growing quintessential Pinot Noir, and more. In pursuit of excellence, Bergström's estate vineyards are farmed biodynamically. At Bergström, they believe "the winegrowing process must be a natural one, respecting progress of the growing season, harvesting the fruit by hand only when it has reached physiological maturity and allowing a fermentation to take place that is driven by the vineyard's indigenous yeast strains." Moreover, they believe that the purity of fruit they desire can only be achieved through non-industrial, artisan winemaking. And one sip of any Bergström wine is evidence enough that this winery means what it says. Enjoy!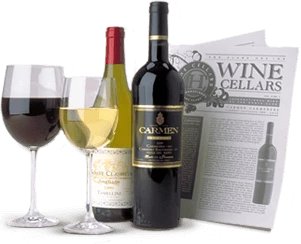 Enjoy Limited Production Estate
Bottled Wines
Discover limited production estate bottled wines such as Vergenoegd's internationally
acclaimed 2005 Cabernet Sauvignon, imported exclusively for our members.
DISCOVER OUR FOUR CLUBS