The 2008 vintage in Willamette Valley is a splendid one, indeed, and it may turn out to be the absolutely finest vintage Oregon has harvested to date. And as we have come to expect from Bergström, Josh Bergström's Pinot Noirs have risen to the top. The 2008 Bergström Cumberland Reserve Willamette Valley Pinot Noir is another stunning example of what America is capable of fashioning from the world's most complex grape. Brooding, deep, and dark in color the 2008 Cumberland Reserve Pinot Noir offers a feast for the eyes as well as the palate. Savory scents of black cherry, black fruits and spice-infused pie crust emerge from this youthful, powerful Pinot Noir. And in the mouth, a collection of complex flavors emerges: forest woodlands, wild berries, and Asian spices, all wrapped in a warm textured blanket. Weighing in at 14.1% alcohol this is no wispy little Pinot or flash in the glass. Yet, even in its formative years, this wine is already delicious. Better still, lay the 2008 Bergström Cumberland Reserve Pinot Noir down for at least another year; it is still in its infancy and will continue to improve in bottle for several more years. Anticipated maturity: 2012-2018. We suggest serving this packed, age worthy Pinot Noir between 64º- 68º F, and having a couple of extra bottles on hand; you're going to want them!
In order to enjoy the best of all worlds and because great wine deserves a companion of equal stature, we suggest pairing the 2008 Bergström Cumberland Reserve Willamette Valley Pinot Noir with the finest of culinary delights. Furthermore, Pinot Noir is the most versatile of wines, so with the exception of vinegar-based sauces and high acid foods such as tomatoes and citrus fruits, Pinot Noir often provides the perfect foil to meats and deep sea fish. At the top of our list of favorite parings with Bergström's Pinot Noir are beef, duck, pork, rabbit, and venison. All can be prepared with savory sauces to complement the flavors of Bergström's sophisticated Pinot Noir. Roast duck, served with a blackberry reduction sauce; a thyme and sage encrusted loin of pork; venison stew; and filet mignon, prepared with a black truffle and Port wine reduction constitute some of our personal favorites with this wine, but as you like it. Bon Appétit!
Bergström Wines proudly bills itself as Growers of Quintessential Oregon Pinot Noir since 1999, and anyone remotely familiar with world class Pinot Noir will attest to the validity of the statement. However, Bergström's proclamation may well be the most profound understatement in the world of wine today. At the very least, this declaration tells only a small piece of the Bergström story. Founded by Oregon surgeon John Bergström and his wife Karen in 1999, Bergström Wines has in less than a decade worked its way to the highest echelon of American producers of Pinot Noir, Chardonnay, and Riesling. Under the direction of Josh Bergström, John and Karen's fourth child, Bergström wines have become the benchmarks by which American producers of Pinot Noir, Riesling, and Chardonnay are now measured. Considering the wealth of talent and terroir in Oregon and California, Bergström's meteoric rise may come as a bit of a shock to those accustomed to the glitz and glamour of Napa Valley or the high powered marketing techniques of the large, corporate owned wineries whose wares can be found in every grocery store. Although Bergström has built its international reputation on Pinot Noir, each of the estate's many wines reflects the friendly, dynamic personality of Josh Bergström, the chief Winemaker, Vineyard Manager, and General Manager of Bergström Wines. The burly, good natured Bergström is as energetic as he is engaging. Not only does he fashion a staggering portfolio of world class Pinot Noirs from up to 15 different vineyards, including the now famous Bergström vineyard that lies just outside the winery door, Josh makes two of America's finest Chardonnays in addition to first-class Riesling. Moreover, Bergström's estate vineyards are farmed biodynamically as the Bergström's believe that the purity of fruit they desire can only be achieved through non-industrial, artisan winemaking. And one sip of any Bergström wine is evidence enough that this winery means what it says. Enjoy!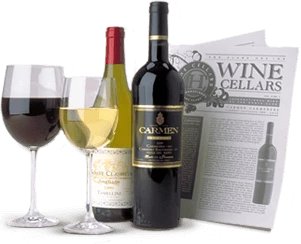 Enjoy Limited Production Estate
Bottled Wines
Discover limited production estate bottled wines such as Vergenoegd's internationally
acclaimed 2005 Cabernet Sauvignon, imported exclusively for our members.
DISCOVER OUR FOUR CLUBS