The 2012 vintage in the Russian River enjoyed ideal conditions. In 2012, both the quality and quantity were superb and all one has to do is take a taste of the 2012 Benovia Russian River Chardonnay to appreciate the perfect balance and ripeness that the vintage bestowed upon the Russian River. Sourced primarily from Benovia's Martaella Ranch Vineyard planted with heirloom clones of Chardonnay, the 2012 Benovia Russian River Valley Chardonnay delights the nose with aromas of citrus blossoms, nectarine and poached pears. Spicy, long and complex in the mouth, the wine's fruit melds perfectly with subtle ginger and baking spice tones imparted by barrel fermentation and 14 months of oak aging. Bright acidity and subtle minerality add to the wine's structure and provide a refreshing finish that lingers happily long after the wine has made its exit. Drink this delightful Chardonnay now and over the next several years. For optimal enjoyment, we suggest moderate chilling (40° F) for the 2012 Russian River Chardonnay and a few minutes of aeration before consuming.
What impressed us most about Benovia's 2012 Russian River Valley Chardonnay is how equally satisfying it is to sip and savor on its own as it is gratifying at table in the presence of well-prepared dishes. But because Benovia's Chardonnay pleases from the moment it is poured, offering supreme balance, wonderful flavor, complexity, and texture, it makes an ideal dinner party companion. Sea Bass prepared with a red pepper beurre blanc served over creamy tarragon infused polenta provides the ideal seafood pairing with Benovia's classic Chardonnay. Grilled Shrimp, served in a roasted red pepper and thyme sauce over Asparagus Risotto, makes another fine accompaniment. Given Benovia's elegant style and supreme balance, such classic dishes as Breast of Chicken with Cream, and Sautéed Veal Medallions with Mushrooms and Cream also offer superb companions to Benovia's elegant Russian River Chardonnay. Select cheeses paired with sliced Bosc or Bartlett pears, or cheese based dishes such Fondue and Pasta Primavera make simpler to prepare, yet equally tasty accompaniments to Benovia's 2012 Russian River Chardonnay. Enjoy!
"At Benovia our team is an extension of an extraordinary family, one that eats, drinks, and breathes a lifelong passion for wine. That passion is in every bottle of Pinot Noir, Chardonnay, and Zinfandel we produce. There's no cutting corners or making compromises. Our fathers taught us to be the best at what we do, and always produce something we can be proud of. Nothing else will suffice, period." - Joe Anderson, Mary Dewane, & Mike Sullivan – Proprietors
Once again, the small boutique California producer fashioning superb wines in small quantities steals the show and makes us shake our heads and wonder why we haven't discovered Benovia's beautiful Chardonnay, Pinot Noir and Zinfandel wines before now. Here is their story:
Ben Dewane and Novian Anderson never did meet, yet they raised their children with similar old-fashioned values. Each believed that hard work brings its own rewards. Be the best at what you do, surround yourself with good people, and let them get to work, they would say. "And never, ever produce anything that wouldn't make you proud."
With such similar family backgrounds, it's no wonder Joe Anderson and Mary Dewane would one day find each other and marry. Together, they set out upon a quest that led them to establish Benovia, a winery that would make them, and their fathers, proud – proud enough that the Benovia name pays homage to Ben and Novian.
Joe and Mary's odyssey led them to assemble the best possible team of respected winemaking professionals. They teamed up and partnered with Mike Sullivan, one of northern California's top winemakers, and someone who shares their passion for quality. With Mike Sullivan as Benovia's co-owner, general manager and winemaker, they brought on Christy Simon to manage the financial side of the business. And to bring even more depth to the winery operations, Chris Kangas was hired as vineyard manager and Bob Cooley as the VP of Sales and Marketing. "At Benovia, the team is an extension of an extraordinary family," says Joe, "a family that eats, drinks, and breathes a lifelong passion for wine." We have heard this kind of talk before, but at Benovia these folks just don't talk, they walk the walk, and in this business the proof is in the wines, not the talk.
The magic at Benovia begins in the winery's renowned Cohn Vineyard atop a mountain near Healdsburg, where Joe and Mary live, and continues at Martaella ranch (named after Joe and Mary's mothers). An exciting new Pinot Noir vineyard near Freestone rounds out Benovia's Russian River vineyards. A new winery situated in the heart of the Russian River Valley allows the Benovia team to create small lot, superbly balanced artisan Chardonnay, Pinot Noir and Zinfandel wines from vine to bottle.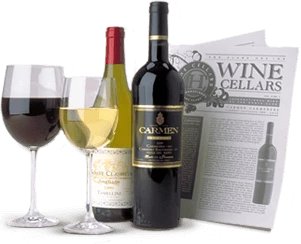 Enjoy Limited Production Estate
Bottled Wines
Discover limited production estate bottled wines such as Vergenoegd's internationally
acclaimed 2005 Cabernet Sauvignon, imported exclusively for our members.
DISCOVER OUR FOUR CLUBS