Benovia has again in 2013 fashioned a complex, beautifully textured Russian River Chardonnay. The 2013 Benovia Russian River Chardonnay presents itself as sunshine in a glass, with a sparkle and a glint of golden rays. And, immediately upon opening, the wine's aroma wafts from the glass: a delightful mélange of butter, oak, coconut, pear, spring flowers and spice, all in one harmonious basket. Sourced primarily from Benovia's Russian River Martaella Ranch Vineyard which is planted with heirloom clones of Chardonnay, the 2013 Benovia Russian River Valley Chardonnay delights the nose as well as the palate. In the mouth, the wine displays a beautiful velvety texture to convey the wine's elegant fruit and spice tones, which appear laced with a touch of ginger and baking spice. Bright acidity and a subtle minerality emerge in the finish, which add to the wine's overall appeal and bode well for further development. Enjoy Benovia's delightful 2013 Russian River Chardonnay now and over the next several years. For optimal enjoyment, we suggest moderate chilling (40° F) and allowing this Chardonnay a few minutes of aeration before consuming.
What continuously impresses us about Benovia's Chardonnay, and Benovia's 2013 Russian River Chardonnay in particular, is how equally satisfying it is to sip and savor without food as it is gratifying at table in the presence of well-prepared dishes. But because Benovia's Chardonnay pleases from the moment it is poured and offers exceptional balance, flavor, complexity, and texture, it makes an ideal dinner party companion. Sea Bass prepared with a red pepper beurre blanc served over creamy tarragon infused polenta provides the ideal seafood pairing with Benovia's classic Chardonnay. Grilled Shrimp, served in a roasted red pepper and thyme sauce over Asparagus Risotto, makes another fine accompaniment. Given Benovia's elegant style and supreme balance, such classic dishes as Breast of Chicken with Cream, and Sautéed Veal Medallions with mushrooms and cream also offer superb companions to Benovia's elegant Russian River Chardonnay. Select cheeses paired with sliced Bosc or Bartlett pears, or cheese-based dishes such Fondue and Pasta Primavera make easy to prepare, yet equally tasty accompaniments to Benovia's 2013 Russian River Chardonnay. Enjoy!
"At Benovia our team is an extension of an extraordinary family, one that eats, drinks, and breathes a lifelong passion for wine. That passion is in every bottle of Pinot Noir, Chardonnay, and Zinfandel we produce. There's no cutting corners or making compromises. Our fathers taught us to be the best at what we do, and always produce something we can be proud of. Nothing else will suffice, period."- Joe Anderson, Mary Dewane, & Mike Sullivan – Proprietors
When the folks at Benovia say "they eat, drink, and breathe a lifelong passion for wine," they mean it. Benovia, a small boutique Sonoma, California producer, fashions superb wines in small quantities that steal the show at tastings and make us shake our heads and wonder how they impart magic into each and every bottle. Chardonnay and Pinot Noir are Benovia's specialties, though Benovia's Zinfandel deserves the accolades it receives and shouldn't be missed.
Ben Dewane and Novian Anderson never did meet, though the Benovia winery bears their names. They raised their children with similar old-fashioned values. Each believed that hard work brings its own rewards. Be the best at what you do, surround yourself with good people, and let them get to work, they would say. "And never, ever produce anything that wouldn't make you proud."
With such similar family backgrounds, it's no wonder Joe Anderson and Mary Dewane would one day find each other and marry. Together, they set out upon a quest that led them to establish Benovia, a winery that would make them, and their fathers, proud – proud enough that the Benovia name pays homage to Ben and Novian.
Joe and Mary's odyssey led them to assemble the best possible team of respected winemaking professionals. They teamed up and partnered with Mike Sullivan, one of northern California's top winemakers, and someone who shares their passion for quality. With Mike Sullivan as Benovia's co-owner, general manager and winemaker, the Benovia team doesn't just talk: they walk the walk, and in the wine business the proof is in the wines, not the talk.
The magic at Benovia begins in the winery's renowned Cohn Vineyard atop a mountain near Healdsburg, where Joe and Mary live, and continues at Martaella ranch (named after Joe and Mary's mothers). An exciting new Pinot Noir vineyard near Freestone rounds out Benovia's Russian River vineyards. A new winery situated in the heart of the Russian River Valley allows the Benovia team to create small lot, superbly balanced artisan Chardonnay, Pinot Noir and Zinfandel wines from vine to bottle.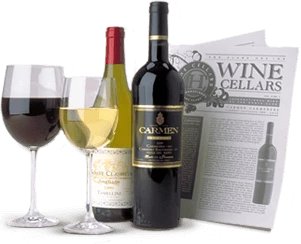 Enjoy Limited Production Estate
Bottled Wines
Discover limited production estate bottled wines such as Vergenoegd's internationally
acclaimed 2005 Cabernet Sauvignon, imported exclusively for our members.
DISCOVER OUR FOUR CLUBS