Belondrade Y Lurton 2003 Verdejo is a stunning, flavorful white wine from the Rueda region of Spain. A golden hue catches the eye with a purity that points to the seamless quality of this wine. Floral and fruit notes mingle in the nose: light honeysuckle soothes the mind and joins with a hint of pineapple and spice to pique the interest. Consisting of 100% Verdejo, a native varietal of the Rueda, this wine is loaded with charm and interest. Initially floral and fruity on the palate, a lush creamy texture quickly coats the mouth and carries a full, prolonged flavor profile through to a gratifying finish. A touch of smokiness emerges underneath, infused by a year in new French and American oak, but this faint rusticity adds depth and never intrudes as does the oaky quality of many California Chardonnays. As the wine effortlessly works its way down the throat, a bracing tingle combines with a spicy quality to frame the wine's long, lingering finish. Hands down, we're big fans of the Belondrade Y Lurton Verdejo for its distinctive flavor and wonderful smoothness and balance. Kudos to Didier Belondrade and Brigitte Lurton for creating the most individual and intense Rueda we have ever tasted.
Packed with flavor, the 2003 Belondrade Y Lurton Verdejo exhibits a versatility that pairs well with a varied menu. So, be inspired by the wine's breadth and plan a tapas menu for an evening of relaxed, unhurried get-to-know-you socializing. Include on your tapas bar a few light cheeses, such as Manchego, which is a Spanish sheep's cheese that comes in mild and slightly sharper variations. Also, be sure to incorporate traditional Spanish flavors, such as smoked paprika in a salad dressing or on grilled chicken breasts to accent the spicy finish of the Belondrade Y Lurton Verdejo. Or search for cool Mediterranean inspired recipes that use cilantro or fruits, such as apricot or fig, to complement the floral and fruit notes of the 2003 vintage. Our featured recipe for Caramelized Onions and Fig Jam, for example, combines fruity, spicy, and sweet flavors in a rich flavorful blend. While preparing the caramelized onions, remain patient and cook the onions until they have truly caramelized and released their internal sugars to form an almost candy-like coating. Enjoy the freedom a tapas menu brings when paired with the 2003 Belondrade Y Lurton Verdejo: the wine, the selection of food, and the socializing that ensue are sure to unbridle the senses and set the tone for a mid summer night's dream. Enjoy!
Didier Belondrade and Brigitte Lurton are the most ambitious producers of the esteemed Verdejo grape in Rueda, Spain's recently resurrected capital of white wine. This single minded French couple began their quest to produce the world's finest Verdejo in 1994 with the purchase of an old, abandoned winery at Nava del Rey in the heart of Rueda. Since acquiring the dimly lit maze of subterranean cellars and twisting labyrinths that served as the original winery, a bodega that recalled the glories of Spain many centuries ago rather than any hope for the future, Belondrade and Lurton have constructed an ultra modern winery. The couple's simple, highly efficient edifice stands just outside the tiny village of La Seca, where it serves as a symbol of a new way of fashioning Spain's traditional varietals, and where it so adroitly underscores the wine renaissance that is presently sweeping every important wine region of Spain. Belondrade Y Lurton fashions its modern luxury style of Rueda from just 26 acres of vineyards that are concentrated in the la Seca sub-zone of Rueda, the appellation's finest area. Here the gravelly soil and limestone bedrock combine with optimal climatic conditions for the production of the noble Verdejo varietal, whose origins date back well beyond Spain's first Siglo d'Oro (Golden Age). Inspired by the great white Burgundies of their native France and the arduous work of Rueda's Angel Rodriquez, who three decades ago nearly singled handedly resurrected Verdejo from extinction, Belondrade and Lurton have succeeded in crafting the region's richest, most concentrated Verdejo. With 100 % barrel fermentation, followed by year in French and American oak barrels, there is a no expense spared approach at Belondrade Y Lurton, which has earned this dynamic couple the great international acclaim they deserve. Although, this estate's top offering is immensely pleasing upon release around its second birthday, it will continue to improve in bottle for several more years. Rueda Rueda lies to the northwest of Madrid in an historic part of ancient Castilla and León. Rueda, especially the town of Nava del Ray and the surrounding countryside, is known for its extraordinary architecture. Many opulent churches, monasteries, and mansions punctuate the region, highlighting Rueda's important role in the medieval Reconquest of Spain from the Moors. Wine production has been an integral part of Rueda since the 11th century, when King Alfonso IV offered freehold ownership of land to those prepared to resettle Rueda after the Reconquest. Monastic orders quickly took up the King's offer and built monasteries with vineyards to provide a steady wine supply. Soon the vineyards of Rueda had become the primary suppliers of wine to the itinerant medieval Castilian court. The viticultural glory and commercial success of Rueda and its noble Verdejo grape would last until phylloxera devastated the region between 1909 and 1922, destroying more than two-thirds of the region's vineyards. Subsequently, the vines chosen for replanting were unfortunately selected for yield rather than quality, which means that Palomino replaced Verdejo as the main grape in Rueda. Furthermore, the little Verdejo that was made had no chance to mature; it was sold locally in bulk. In the 1970s the sagging fortunes of Rueda took a turn for the better. Marqués de Riscal, a leading Rioja producer, came to Rueda and set up a bodega to make young, fresh white wines from native Verdejo grapes. Meanwhile, Angel Rodriquez was launching his quest at Martinsancho to revive Verdejo and restore the indigenous varietal to its former glory. As a result of these efforts Rueda won DO status in 1980, and it has never looked back. Rueda is presently Spain's leading DO for still premium white wines.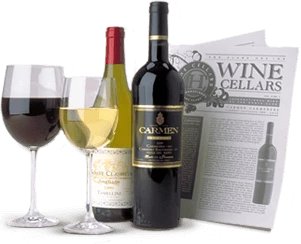 Enjoy Limited Production Estate
Bottled Wines
Discover limited production estate bottled wines such as Vergenoegd's internationally
acclaimed 2005 Cabernet Sauvignon, imported exclusively for our members.
DISCOVER OUR FOUR CLUBS