Flavorful, golden-robed Champagne, the B. Deville-Chevallier Brut Grand Cru is traditional Champagne in all respects. It is a non-vintage blend of Pinot Noir (67%) and Chardonnay (33%), to which no sugar is added in the dosage. Elegant, light, and beautifully scented, the B. Deville-Chevallier Brut Grand Cru recalls the glory days of the great Champagne houses. In this finely crafted Champagne, scents of freshly baked bread, apple, peach, and pear come to fore and persist on the palate. Meanwhile, the wine's sensory pleasure is carried in tiny beads that glide across the tongue to present a beautiful, balanced portrait of Grand Cru Champagne: in B. Deville-Chevallier's Brut Grand Cru a combination of elegance and grace yields a wine of both substance and distinction. Although round and supple, it offers a wealth of delicate flavors along with a creamy texture and a suave, sophisticated finish. Enjoy this excellent Brut Champagne moderately chilled (40° F). Salut!
Superb as an aperitif or with a wide variety of foods, the B. Deville-Chevallier Brut Grand Cru Champagne is nearly perfect for any occasion. It can constitute the ultimate aperitif or serve as a superlative companion to artfully prepared starters, poultry, fish, and crustaceans. Hors d'oeuvres such as cheese and mushroom canapés, crab dip, and salmon mousse offer ample opportunities to showcase this wine's delicacy as well as its wealth of flavor. Coriander and fennel-spiced salmon fillets, Alaskan king crab claws, or Maine lobster served with drawn butter offer other superb accompaniments. Meanwhile, poultry provides yet another opportunity to highlight the B. Deville-Chevallier Brut Grand Cru. The French classic Suprême de Volailles aux Champignons (Chicken Breasts with Mushrooms and Cream) remains one of our favorite food pairings with fine Champagne, but whatever you choose we trust you will enjoy the Grand Cru fruits of B. Deville-Chevallier.
Editor's Note: Champagne is a wine that is under pressure. It should always be well chilled before opening. Always exercise caution when opening a bottle of Champagne or sparkling wine. Point the bottle away from people and objects. Use a clean towel or cloth to firmly grip the bottle. Gently remove the wire stopper while firmly holding the cork in place. Then with thumb and forefinger, remove the cork slowly from the bottle. Do not let the cork fly. Enjoy! The Deville family has been crafting fine Champagne for four generations. They are traditional practitioners of the art, which means their vineyards are all harvested manually to ensure that the fruit arrives at the winery in perfect condition, with no broken skins. Moreover, it means the family members themselves actually grow the grapes and produce their own Champagne using the painstaking, time-honored méthode champenoise. The Pinot Noir and Chardonnay grapes for Deville's Grand Cru Champagnes are sourced entirely from family-owned Grand Cru vineyards. Only 5% of all Champagne vineyards even merit Grand Cru status. Grown on chalky, limestone slopes with excellent drainage, the grapes for B. Deville-Chevallier's Grand Cru retain the purity and character for which the Champagne region is world renowned. The Deville family produces several sparkling Champagnes. The B. Deville-Chevallier Grand Cru Brut is perhaps the most traditional and celebrated of the family's offerings. However, the house fashions several other wonderful wines: Cuvée Spéciale, a blend of 100% Pinot Noir; Blanc de Blancs made exclusively from Chardonnay grapes; Cuvée Prestige, a luxury blend of 85% Pinot Noir and 15% Chardonnay; and an excellent Demi-Sec, a sweet, sparkling Champagne for dessert. All are aged several years before release. At B. Deville-Chevallier one can taste the goodness of authentic Champagne! Champagne: More Than a Wine Champagne is an ancient province of France, a pastoral land of meadows and streams and, most importantly, chalk hills upon which some of the world's choicest grapes are grown. Champagne's boundaries are delimited by law and its wines strictly regulated by the laws of Appellation Contrôlée as to permitted grape varieties (Chardonnay, Pinot Noir, and Pinot Meunier), yield, production, and quality. Yet Champagne is more than a place; it is also a wine. In fact, Champagne is several different wines – only the most recognizable of which is white and bubbly. Although Champagne can be still or sparkling, white or red, and even rosé, the wine the world has come to know as Champagne is always sparkling. So synonymous now is the name Champagne with sparkling wine that the nomenclature has been applied generically and indiscriminately to any wine that bubbles, much to the regret of the Champagne producers themselves. Authentic Champagne comes only from the Champagne district of France and meets all the approved legal requirements and standards of production, including absolute adherence to the painstaking méthode champenoise, which requires that secondary fermentation take place in the bottle for sparkling Champagne. The magic of Champagne (the bubbly kind at least that now encompasses the overwhelming majority of wine produced in Champagne) comes from encapsulating the bubbles in the very bottle in which the wine starts its life. In the old days, long before the advent of technical wine equipment, temperature control, and central heating, the slow fermentation of grapes in the cool Champagne autumn was often interrupted by winter's chill. With the onset of winter, fermentation would stop completely or at least appear to cease, so the wine was bottled and prepared for distribution. However, the following spring, temperatures would rise and the fermentation process would begin anew. This delayed completion of fermentation is known as secondary fermentation. Secondary fermentation produces the beautiful bubbles and tiny streams of carbon dioxide that have come to enchant several centuries of well wishers and hedonists. What began as serendipity is now one of the wine world's highest art forms. Since the 17th century several historical personages have contributed to the development of Champagne. None is more renowned than Dom Perignon, the legendary blind monk and cellar master of the Champagne Abbey of Hautviller. Although Dom Perignon is often credited with the development of sparkling Champagne itself, the truth is he probably learned the rudimentary technique in southern France from the Benedictine monks at the Abbey at St. Hilaire. However, Dom Perignon was renowned as a master blender, and he is credited with capturing the bubbling magic of Champagne by his introduction of wire-wrapped cork stoppers and heavier, specially-made bottles that contained the pressure of Champagne. Until his improvements were instituted, sparkling Champagne was known as vin diable (the devil's wine) because of its propensity for exploding its container – a potentially lethal proposition that surely rendered more than one monk blind. Thanks to centuries of improvements and some of the first true brand name marketing, Champagne enjoys a special place in western culture. Champagne has been called the Belle of the Ball and has come to symbolize conviviality, hope, and all that is good in life and love. What would a wedding or any other festivity be without Champagne? But why wait for an occasion? Champagne is the perfect way to start an evening, so what are you waiting for? Pop the cork and join in the fun!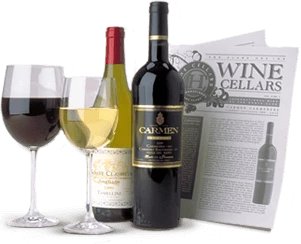 Enjoy Limited Production Estate
Bottled Wines
Discover limited production estate bottled wines such as Vergenoegd's internationally
acclaimed 2005 Cabernet Sauvignon, imported exclusively for our members.
DISCOVER OUR FOUR CLUBS