Champagne is a wine that is under pressure. It should always be well chilled before opening. Always exercise caution when opening a bottle of sparkling wine. Never use a corkscrew. Point the bottle away from people and objects. Use a clean towel or cloth to firmly grip the bottle. Gently remove the wire stopper while firmly holding the cork in place. Then with thumb and forefinger, remove the cork slowly from the bottle. Do not let the cork fly. Enjoy!
Ayla's Brut Majeur displays classic elegance from the moment it is poured, offering a color of pale gold, a fine mousse, and beautiful aromatics. Fashioned from Pinot Noir and Chardonnay grapes from Grand and Premier vineyards, plus a small quantity of Pinot Meunier for additional fruit and vivacity, Ayla's Brut Majeur offers a harmonious bouquet of apple blossoms, freshly baked bread and white flowers. In the mouth, this Brut Majeur offers laser-like precision, complex fruit and mineral flavors and a beautifully clean, vivacious finish. Balance and harmony are Ayla's calling cards, and each reigns supreme in the Ayla Brut Majeur. It is no surprise that Ayla's Brut Majeur has earned 90+ ratings from Decanter, Wine Enthusiast, Wine Spectator, Vinous, and others.
Ayala's Brut Majeur is an ideal aperitif and needs nothing but a fine crystal glass to dazzle, yet it also shines as the perfect wine to serve throughout a meal. Fish, scallops, crab, lobster, oysters, salmon and a host of Asian delicacies, including sushi and sashimi, make delicious pairings with Ayla's flagship champagne. As a first course, consider smoked salmon rounds with capers, cream cheese, and a touch of onion or a light seafood salad. As a main course, steamed lobster or Alaskan king crab legs served with warm drawn butter makes a fine companion. Poultry in puff pastry provides another excellent pairing with Ayla's elegant champagne. For the minimalists among us, a simple plate of freshly cut slices of apple and pear with creamy cow's milk cheeses such as Muenster, Neufchâtel, and Port Salut also complement this champagne perfectly. Enjoy Ayla's ethereal bubbly and its seductive charms early and often, and then again at the midnight hour! Salut!
Ayala, founded in Ay in 1860 at the very heart of Champagne, is one of the longest-established houses in Champagne. From its inception, Ayla has been a reference point for elegant, low dosage Brut champagnes from the region's classic grape varieties. Still independent and family-owned (Ayla was purchased by the Bollinger family in 2005), Ayla continues to specialize in the production of traditional Brut champagnes, with the house's Brut Majeur (this month's feature) as its most important wine. Ayla also fashions smaller quantities of a delicious Rosé Majeur, Brut Nature (a rare no dosage champagne), Vintage Blanc de Blancs, and a miniscule quantity of Perle d'Ayla, which is produced only in great vintages from Grand Cru vineyards and is never released before its 8th birthday. Since the appointment of Caroline Latrive as chef de cave in 2011, Ayla has been one of the top performing Champagne houses. Caroline Latrive is one of only two female chefs de cave in Champagne. Perhaps, other producers should take note.
Champagne is an ancient province of France, a pastoral land of meadows and streams and, most importantly, chalk hills upon which some of the world's choicest grapes are grown. Champagne's boundaries are delimited by law and its wines strictly regulated by the laws of Appellation Contrôlée as to permitted grape varieties (primarily Chardonnay, Pinot Noir, and Pinot Meunier), yield, production, and quality. Yet, Champagne is more than a place; it is also a wine. In fact, champagne (small c for the wine, a capital C for the region) is several different wines – only the most recognizable of which is white and bubbly.
Although champagne can be still or sparkling, white or red, and even rosé, the wine the world has come to know best as champagne is always sparkling. So synonymous now is the name champagne with sparkling wine that the nomenclature has been applied generically and indiscriminately to any wine that bubbles, much to the regret of champagne producers themselves. Authentic champagne comes only from the Champagne district of France and meets all the approved legal requirements and standards of production, including absolute adherence to the painstaking Méthode Champenoise, which requires that secondary fermentation take place in the bottle for sparkling champagne. Unlike most other fine wines, the vast majority of champagnes are non-vintage wines, as they are comprised of three or more vintages in order to maintain a consistent house style.
The magic of champagne (at least the bubbly kind which now encompasses the overwhelming majority of wine produced in Champagne) comes from encapsulating the bubbles in the very bottle in which the wine starts its life. In the old days, long before the advent of technical wine equipment, temperature control, and central heating, the slow fermentation of grapes in the cool Champagne autumn was often interrupted by winter's chill. With the onset of winter, fermentation would stop completely or at least appear to cease, so the wine was bottled and prepared for distribution. However, the following spring temperatures would rise and the fermentation process would begin anew. This delayed completion of fermentation is known as secondary fermentation. Secondary fermentation produces the beautiful bubbles and tiny streams of carbon dioxide that have come to enchant several centuries of well-wishers and hedonists. What began as serendipity is now one of the wine world's highest art forms.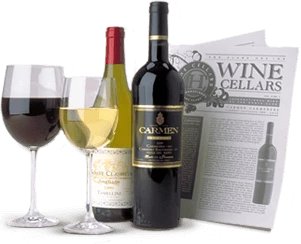 Enjoy Limited Production Estate
Bottled Wines
Discover limited production estate bottled wines such as Vergenoegd's internationally
acclaimed 2005 Cabernet Sauvignon, imported exclusively for our members.
DISCOVER OUR FOUR CLUBS