An aromatic, silky smooth blend of Prugnolo Gentile (40%), Cabernet Sauvignon (30%), and Merlot (30%), the 2007 Avignonesi Rosso could not be more charming. Sporting a brilliant ruby red robe, this graceful Tuscan red ingratiates with a multitude of charms. Its beguiling aroma of spring flowers, red fruits, minerals, and subtle earth tones is downright sinful in its unabashed seduction. And on the palate, the medium weight Avignonesi Rosso continues to capture the senses with its elegant fruit flavors and silky smooth, supremely textured body. Attractive from the moment the cork exits the bottle, the 2007 Avignonesi Rosso requires very little but a clean glass. When asked by one panel member what more could one ask of this artful Rosso Toscana, the resounding response was this: How about another bottle? Need we say more? Enjoy!
Given its sleek body and graceful charm the 2007 Avignonesi Rosso is the rare young Tuscan red that fares equally well with food as it does on its own. When left to its own devices, most red wine drinkers would have no problem emptying a few glasses of this seductive Tuscan Rosso with glee. Yet, the simple delights of the Tuscan table beckoned us, and we suggest you not escape their allure. A bottle of the 2007 Avignonesi Rosso Toscana in the company of a bowl of Ribollita, the delicious, easy to prepare Tuscan specialty made with bread, cheese, beans, vegetables, and olive oil may constitute one of life's great pleasures. A bowl of hearty lentil or minestrone soup, accompanied by a loaf of warm crusty Italian bread and a judicious hunk of cheese, provides memorable companionship as well. Rotisserie chickens, basted with butter, garlic, olive oil, and rosemary, offer superb companionship to Avignonesi's delightful Rosso Toscana, too. Buon Appetito!
Avignonesi is one of the oldest and most respected names in Tuscany. From the winery's original homestead named Le Capezzine, located just a few kilometers outside of the venerable hill town of Montepulciano, Avignonesi has flourished to include four wine producing estates: Le Capezzine, I Poggetti, La Selva, and La Lombarda that together comprise nearly 240 acres of vines. Each of Avignonesi's four Tuscan farms specializes in growing different classical and indigenous grape varietals. Given Avignonesi's ties to Montepulciano, it is not surprising that the estate's two oldest properties, Le Capezzine and I Poggetti specialize in Prugnolo Gentile (Montepulciano's unique clone of Sangiovese), Mammolo, and Canaiolo for the region's noble red wine, and it is that noble red wine known as Vino Nobile di Montepulciano that first established Avignonesi's international reputation for quality. However, among connoisseurs Avignonesi has long been regarded as the greatest producer of Vin Santo, the special Tuscan dessert wine that is aged for a decade or more before release. Avignonesi is also known for its delicious Rosso Toscana, which combines the indigenous Prugnolo Gentile with Cabernet Sauvignon and Merlot from La Selva, Located on the hills of the Chiuso di Cortona (Cortona is another illustrious Tuscan hill town known for its markets), La Selva comprises over 100 acres of vines. Here Merlot and Cabernet Sauvignon ripen under the Tuscan sun. La Selva also produces small quantities of Chardonnay and Sauvignon Blanc as well as olive oil. Welcome to the fecund land of Tuscany and the edible wares of Avignonesi!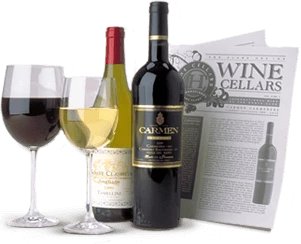 Enjoy Limited Production Estate
Bottled Wines
Discover limited production estate bottled wines such as Vergenoegd's internationally
acclaimed 2005 Cabernet Sauvignon, imported exclusively for our members.
DISCOVER OUR FOUR CLUBS