The 2005 Au Bon Climat XXV Anniversary Nuits-Blanches au Bouge Chardonnay is one of the finest Chardonnays in Jim Clendenen's exceptional repertoire. A worthy successor to the estate's great XX Anniversary selection, this staggering statement marries perfectly ripe fruit to great acidity and structure. In between, one finds all kinds of tropical fruits, lightly sautéed hazelnuts in fresh creamery butter, and a long, long dry finish that highlights the wine's complex flavors with hints of shaved vanilla bean and oriental spice. Bold, beautiful, but not brazen, the 2005 Au Bon Climat XXV Anniversary Nuits-Blanches au Bouge offers the lucky beholder a classic, long lived Chardonnay as well the perfect synthesis of Clendenen's two most distinct Chardonnay offerings: Nuits-Blanches, a full, in your face style of Chardonnay; and Le Bouge , an elegantly crafted, discreet Chardonnay that is both complex and fulfilling. The classic XXV Anniversary Chardonnay drinks beautifully from the moment the cork exits the bottle. Nevertheless, we believe another year in the bottle will reveal even greater complexity and depth of flavor in this wine, so consider this statement as fair warning: You may want to have another bottle or two in the cellar to look forward to next year and the year after. Anticipated maturity: 2008-2010. For such classic Chardonnay, we suggest only moderate chilling (40°-50° F) and just a few minutes of aeration prior to consumption.
Given the pedigree of the 2005 Au Bon Climat XXV Anniversary Nuits-Blanches au Bouge, it only stands to reason that artfully prepared cuisine or at the very least the handiwork of a simple but well-run kitchen accompany this masterful Chardonnay. After all, what could be finer than great wine in the company of a worthy peer – the best food one can afford to bring to table? Crab or lobster bisque makes for a wonderful opening act with Jim Clendenen's XXV Anniversary Nuits-Blanches au Bouge. Steamed or grilled lobster offers this Chardonnay another chance to shine. For the more adventuresome, we suggest Potato Encrusted Alaskan Halibut, served with a ragout of wild mushrooms, baby spinach, prosciutto, and mixed vegetables. Pan Sear Tilapia and Grilled Atlantic Salmon, served with fruit chutney, provide additional choices to accompany Au Bon Climat's flagship Chardonnay. Dill Seasoned Sea Scallops, with pan seared Arborio rice and a black truffle dressed arugula and snow pea salad, offer yet another special moment in time. And if seafood is not your first choice, may we suggest Pan Seared Duck Breast, served with German Potato Salad. Polenta Soufflé, with a mushroom cream sauce is another tasty treat that pairs nicely with the XXV Anniversary Nuits-Blanches au Bouge. Enjoy!
Au Bon Climat or ABC as it is called by its many admirers enjoys an international reputation for its formidable work with French varietals, most notably Chardonnay, Pinot Noir, Pinot Gris, and Pinot Blanc. Under the expert care of Jim Clendenen, the "Mind Behind" Au Bon Climat, full throttle, classically wrought wines are the order of the day. No light fruit bombs or over oaked, late harvest style Chardonnays and Pinot Noirs to choose from here. At Au Bon Climat one can expect in each and every bottle only the fullest expression of several notable vineyards along California's glorious Central Coast. In addition, Au Bon Climat's wines age gracefully, and with time and patience they deliver Burgundian complexity. For this reason, ABC has been on Robert Parker's short list of Best Wineries in the World. It has also been selected by British wine critic Oz Clark as one of only fifty world-wide creators of Modern Classic Wines. To add to this prestigious property's long list of accolades, Jim Clendenen was named the Los Angeles Times "Winemaker of the Year" in 1992; Food & Wine Magazine "Winemaker of the Year" in 2001; and Wein Gourmet, Germany's leading wine and food magazine, "Winemaker of the Year" in 2004. In 2007 Jim garnered yet another tribute; he was inducted into the James Beard Foundation's "Who's Who of Food and Beverage in America." Upon graduation with High Honors in Pre-Law from the University of California, Santa Barbara, in 1976, Jim Clendenen seemed destined for one of the nation's top law schools and a promising legal career. Instead, Jim headed for France where he had discovered on a junior year abroad that there was more to culinary arts than tacos. After a month in Burgundy and Champagne, he decided against law school in favor of a career in wine. By 1978, Jim was already Assistant Wine Maker at Zaca Mesa Winery. At Zaca Mesa, he helped create some of that winery's finest wines to date. In 1981, Jim worked three harvests on three continents: he actively participated in the crush in Australia, California, and France. The following year, he and his former partner Adam Tolmach began Au Bon Climat. Today, Au Bon Climat is under Jim Clendenen's sole direction. Production has grown to over 30,000 cases, but each wine remains a handcrafted affair. Burgundian varietals predominate (Chardonnay and Pinot Noir), but Jim specializes in other French varietals, too. In recent years, he has experimented successfully with premium Italian grape varieties as well. The primary sources for Au Bon Climat's wines are the estate's own Le Bon Climat Vineyard and the internationally renowned Bien Nacido Vineyard, both in Santa Maria Valley. ABC'S Le Bon Climat Vineyard is organically farmed and has been certified organic since 2003. Au Bon Climat also draws grapes for its various offerings from the Sanford & Benedict Vineyard in the Santa Rita Hills, the Los Alamos Vineyard in Santa Barbara County, and the exceptional Talley Vineyard in nearby San Luis Obispo County.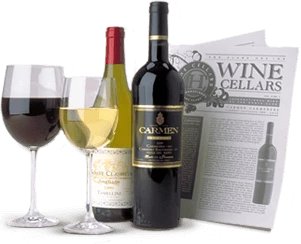 Enjoy Limited Production Estate
Bottled Wines
Discover limited production estate bottled wines such as Vergenoegd's internationally
acclaimed 2005 Cabernet Sauvignon, imported exclusively for our members.
DISCOVER OUR FOUR CLUBS