Artesana has once again raised the bar in creating their 2020 Devoción. The 2020 Artesana Devoción, a blend of 40% Tannat, 30% Cabernet Franc, and 30% Merlot, is the winery's premier offering and an International Wine of the Month Club exclusive. Analía Lazaneo and Valentina Gatti, Artesana's two highly skilled winemakers have fashioned a truly exceptional wine in the 2020 Devoción. Deep purple and nearly impenetrable in color, one could easily expect a robust offering, but there is so much more to this wine than power. The 2020 Devoción is imbued with a deep, complex aroma and dark berry flavors. Blueberry, black cherry, and pomegranate greet the nose. The wine's pronounced black fruits re-emerge in the mouth displaying hints of cedar, thyme, mint, and bergamot. While the palate is intense, the 2020 Devoción is also impeccably balanced and refreshing, with great volume and a long, lingering aftertaste. This is a wine faithful to the outstanding 2020 vintage, the region and the people who make it. That is Devoción. For optimal enjoyment, we suggest affording the 2020 Artesana Devoción 30 minutes of aeration before consuming at cool room temperature (58-62° F). Anticipated maturity: 2022-2030. Enjoy!
Uruguay, like neighboring Argentina and Chile, thrives on pairing its rich red wines with some of the planet's finest beef. With that in mind, there is no wine more suited to pairing with beef or other meats than Artesana's tiny production of 2020 Devoción, as the wine's rich, complex flavors and ripe tannins cut through the fat and complement the flavors in beef and other flavorful meats with aplomb. A juicy Ribeye or New York Strip topped with Portobello mushrooms provides an ideal choice. Short ribs and sliders offer wonderful accompaniments, too. Shepherd's Pie and Brunswick Stew offer other tasty pairings. Roast lamb rubbed with garlic and herbs pairs beautifully with this wine as well. Grilled Italian sausages, cassoulets, and spicy vegetarian specialties, including vegetarian paella, provide more outstanding accompaniments. Aged Gouda, Cantal, Pont l'Eveque and other full-flavored cheeses make ideal, simple to prepare companions to a glass of the 2020 Artesana Devoción – Artesana's brightest star. Buen Provecho!
Artesana has emerged as one of South America's stars, as has Uruguay, South America's oasis of peace and stability that has been making good wine for centuries, most of which heretofore has been consumed by the small but prosperous local population. Yet, in recent years, the rich and full-bodied wines of Uruguay have begun to flow north where they have found favor in upscale restaurants and retail stores. In the last five years, the trickle has become a steady flow, as new and longtime producers in Uruguay continue to raise the quality bar and embark upon the search for additional markets for their country's distinctive wines. Yet, unlike Uruguay's South American neighbors Argentina and Chile, Uruguay is a country of small-scale, family-owned wineries with a European winemaking tradition. And, as an added note, Uruguay is considered to have one of the purest vineyard environments in the world, ranking 3rd after Norway and Finland in the Environmental Sustainability Index (ESI) done earlier this century.
Artesana has been lauded as one of Uruguay's most exciting small estate wineries. It is located in Uruguay's acclaimed Canelones winegrowing region, where the temperate coastal Atlantic climate produces growing conditions that are often compared to that of Bordeaux. Artesana is owned by an engaging American woman, Leslie Fellows, and her uncle. Award-winning Uruguayan winemakers, Analía Lazaneo and Valentina Gatti, handcraft Artesana's iconic, award winning wines that express the unique terroir of the estate vineyard. In recognition of their great accomplishment, Artesana was previously named Uruguay Winery of the Year by the New York International Wine Competition. Artesana's wines are made in small lots with minimal intervention, allowing the character of the fruit to be expressed. As the estate's name implies, Artesana is truly an artisanal affair as all of their handcrafted wines are made with 100% estate-grown grapes that showcase Uruguay's distinctive terroir and preeminence with Bordeaux varietals as well as Uruguay's signature grape variety – Tannat.
In addition to growing glorious Tannat from the estate's 20-acre vineyard, Artesana releases several exceptional Tannat and Bordeaux blends, as well as a Tannat Rosé. Furthermore, Artesana's vineyard is completely hand-farmed using sustainable Integrated Pest Management (IPM), low-input, and dry farming to maintain the long-term health of the land. Vines are meticulously tended to produce low yield, high quality fruit and are field-selected and hand harvested. Moreover, all of the estate's red wines are brought up in a combination of French and American oak barrels and are bottled unfiltered and un-fined.
Tannat hails originally from southwestern France where it has long figured in the wines of Madiran and the legendary "Black Wine" of France known as Cahors. The word tannin derives its name from the grape, which should tell us something about Tannat: it produces deeply colored, full-bodied, age-worthy wines of considerable backbone. Alone or when blended with Cabernet Franc, Merlot or other vinifera varietals from wineries such as Artesana, Tannat delivers tremendous flavor and a lot of bang for the buck. In centuries past, Tannat traveled to Uruguay where the deeply colored varietal produces full-bodied wines with dark fruit flavors and exotic spicy tones. As it does throughout Uruguay, Tannat rests at the heart of Artesana's winemaking program along with the conviction that great wine starts in the vineyard.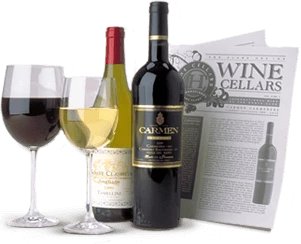 Enjoy Limited Production Estate
Bottled Wines
Discover limited production estate bottled wines such as Vergenoegd's internationally
acclaimed 2005 Cabernet Sauvignon, imported exclusively for our members.
DISCOVER OUR FOUR CLUBS