Artesa's Estate Reserve Pinot Noir has always been a cut above the competition, but Head Winemaker Mark Beringer has hit a home run with Artesa's 2009 Estate Reserve Pinot Noir. The 2009 Artesa Estate Reserve Pinot Noir is surely the winery's finest Pinot Noir to date, and richly deserving of all the 90+ ratings it's received. It offers up an enticing cornucopia of concentrated aromas, all wrapped in an elegant, yet powerful structure. Scents of strawberry, lavender, rose petal, and exotic spices pour from the glass. Even more compelling is this Estate Reserve's deep, elegant flavors, which caress the mouth and tongue with concentrated berry fruit, spice, and just enough toasted oak to round out this youthful beauty's ripe tannins. In short, Artesa's 2009 Estate Reserve is layered, textured and superbly balanced, which makes it a joy to drink now; at the same time it promises even greater complexity and hedonistic pleasure for those willing to wait another year or two. We suggest serving the 2009 Artesa Estate Reserve Pinot Noir cool (59º-65º F). And as with all top notch Pinot Noir wines, we recommend at least a half hour or more of aeration before consuming.
Artesa's 2009 Estate Reserve Pinot Noir is a balanced, complex, full-bodied Pinot Noir that merits pairing with the finest fare one can muster. Traditional Burgundian specialties such as Coq au Vin and Boeuf Bourguignon always provide pleasing accompaniments to world class Pinot Noir, but Artesa's award winning Estate Reserve excels equally well with a wider variety of foods. For example, roast duck prepared with a black cherry reduction and served with savory wild rice makes for a splendid accompaniment. Wild Alaskan halibut served with an almond and mango salsa and seared Ahi tuna prepared with a fruit chutney or light teriyaki sauce provide other superb pairings. Rack of lamb, accompanied by potato gnocchi, sweet peas, pearl onions, and mushrooms, offers another exciting companion with which to explore the soul of Artesa's Estate Reserve Pinot Noir. Roast turkey served with a savory onion and sage dressing offers tasty companionship, too. And if spending time in the kitchen is not to your liking, a few slices of a fine cheese such as Morbier will be more than enough to complement Artesa's exciting Estate Reserve Pinot Noir. Enjoy!
Artesa is perhaps the most imaginative and striking of all Napa Valley wineries, rivaling and even surpassing the likes of Opus One and Dominus. Resplendent with a sculpture studded visitor center and futuristic fountain, everything about this young winery exudes panache and style. From panoramic views of San Pablo and San Francisco Bays to the bevy of opulent, individualistic wines that flow from meticulously tended vineyards, Artesa offers every enticement to stay and taste.
Artesa means "craftsman" in Catalan, the language of Barcelona and the winery's owners, the Raventos family. As the name implies, all of this world-class winery's offerings are handcrafted. Born in 1991 to great fanfare, Artesa has undergone several makeovers in order to specialize in the production of small lots of exquisite wines from single vineyard sites.
Established originally to make only premium sparkling wine, Artesa adroitly switched its focus to include a range of premium still wines from California's finest varietals. Since 1997 millions of dollars have been spent on a "winemaker's wish list," which has raised the bar at this outstanding property, not only for its still varietal offerings but also for the estate's traditional methode champenoise sparkling wines.
Today, the winery's most notable wines include two excellent Pinot Noirs, especially the stunning Estate Reserve Pinot Noir (this month's feature), two world class Chardonnays, and several brilliant Napa Valley Cabernet Sauvignons. These are of course in addition to Artesa's excellent champagne style sparkling wines. In total, Artesa comprises 352 acres in Carneros, devoted mostly to Chardonnay and Pinot Noir; 409 acres in northern Alexander Valley that are dedicated equally to the Bordeaux varietals and Tempranillo; and a new 300 acre Sonoma Coast property that will produce Chardonnay, Pinot Noir, and Spain's most important white varietal – Albarino.
In order to produce top-notch Chardonnay, Cabernet Sauvignon, and Pinot Noir that occupy the highest echelon of Napa Valley offerings, Artesa employs Mark Beringer, great grandson of Jacob Beringer who was one of the early pioneers of Napa Valley viticulture, to oversee the winemaking.
In addition to Artesa, the Raventos family owns Codorniu, Spain's first and foremost producer of Cava; Bodegas Bilbainas, a historic property in the heart of Haro in La Rioja Alta; Septima, a stunning new winery in the famed Agrelo district of the province of Mendoza in Argentina, and other prime Spanish properties. All are renowned for their quality and individual style.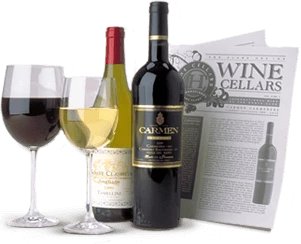 Enjoy Limited Production Estate
Bottled Wines
Discover limited production estate bottled wines such as Vergenoegd's internationally
acclaimed 2005 Cabernet Sauvignon, imported exclusively for our members.
DISCOVER OUR FOUR CLUBS