The 2009 Artesa Carneros Reserve Chardonnay makes a convincing statement about excellence at Artesa. Bold, mouth filling, and impeccably balanced, it is imbued with a golden hue and a glint of sunshine. The eye-popping color of this Reserve Chardonnay sets the tone for the goodness to follow. Even more inviting is the tantalizing aroma that wafts from the glass: a mélange of tropical fruit, baked apple, butter, and scintillating spice tones that emanate from barrel-fermentation and aging sur lie. Complex, satisfying flavors that recall peach, pear, mango and the dry distillation of Ambrosia round out the palate profile of the hedonistic 2009 Artesa Carneros Reserve Chardonnay. Big, but never out of synch, this wine's textured lavish underpinning makes it a veritable pleasure to drink. We suggest serving the Artesa Reserve Chardonnay either moderately chilled (40º-45º F) or at a slightly more ambient temperature. And like all top notch Chardonnays, allow this Reserve Chardonnay a few minutes of aeration in the glass before consuming.
What impresses us most about Artesa's Chardonnays, and the 2009 Carneros Estate Reserve Chardonnay in particular, is that they taste great with food. Yet, they can easily stand alone. So many premium California Chardonnays seem built to shock and awe rather than ingratiate. Upon first sip, most elicit sufficient flavor to capture a passing interest, but by the time one comes to the end of the first glass, the blitzkrieg of power and oak have totally fatigued the palate. Not so with the Artesa Reserve; it begs for a second and even a third seductive glass – with or without food. Nevertheless, we truly enjoy pairing this statuesque Chardonnay with flavorful fish and poultry dishes, such as Sea Bass, prepared with a red pepper beurre blanc and accompanied by creamy tarragon-infused polenta. Grilled Shrimp, served in a roasted red pepper and thyme sauce over Asparagus Risotto, makes for another fine accompaniment. Hazelnut Encrusted Chicken, topped with a mushroom, herb, and prosciutto cream sauce, certainly gets our nod with Artesa's Reserve Chardonnay, too. In addition, we suggest our members not pass up the opportunity to try a host of cheese based dishes with this wine, especially Cheese and Leek Pies, a creamy Pasta Primavera, or even Fondue. However, even if you decide not to serve the 2009 Artesa Reserve Chardonnay with food, you're in for a treat.
Artesa is perhaps the most imaginative and striking of all Napa Valley wineries, rivaling and even surpassing the likes of Opus One and Dominus. Resplendent with a sculpture studded visitor center and futuristic fountain, everything about this young winery exudes panache and style. From panoramic views of San Pablo and San Francisco Bays to the bevy of opulent, individualistic wines that flow from meticulously tended vineyards, Artesa offers every enticement to stay and taste. Artesa means "craftsman" in Catalan, the language of Barcelona and the winery's owners, the Raventos family. As the name implies, all of this world-class winery's offerings are handcrafted. Born in 1991 to great fanfare, Artesa has undergone several makeovers in order to specialize in the production of small lots of exquisite wines from single vineyard sites. Established originally to make only premium sparkling wines, Artesa has adroitly switched its focus to include a range of premium still wines from California's finest varietals. Since 1997 millions of dollars have been spent on a "winemaker's wish list," which has raised the bar at this outstanding property, not only for its still varietal offerings but also for the estate's traditional methode champenoise sparkling. Today, the winery's most notable wines include a stunning Estate Reserve Chardonnay from Carneros (this month's feature), tantalizing full-bodied Pinot Noirs, and several elegant Napa Valley Cabernet Sauvignons. These are of course in addition to Artesa's excellent champagne style sparkling wines. In total, Artesa comprises 352 acres in Carneros, devoted mostly to Chardonnay and Pinot Noir; 409 acres in northern Alexander Valley that are dedicated equally to the Bordeaux varietals and Tempranillo; and a new 300 acre Sonoma Coast property that will produce Chardonnay, Pinot Noir, and Spain's most important white varietal – Albariño. In order to produce top-notch Chardonnay, Cabernet Sauvignon, and Pinot Noir that occupy the highest echelon of Napa Valley offerings, Artesa employs Mark Beringer, great grandson of Jacob Beringer who was one of the early pioneers of Napa Valley viticulture, to oversee the winemaking. In addition to Artesa, the Raventos family owns Codorniu, Spain's first and foremost producer of Cava; Bodegas Bilbainas, a historic property in the heart of Haro in La Rioja Alta; Septima, a stunning new winery in the famed Agrelo district of the province of Mendoza in Argentina, and other prime Spanish properties. All are renowned for their quality and individual style.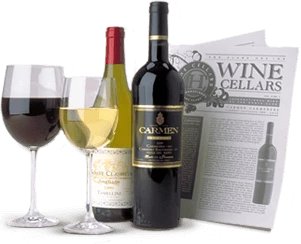 Enjoy Limited Production Estate
Bottled Wines
Discover limited production estate bottled wines such as Vergenoegd's internationally
acclaimed 2005 Cabernet Sauvignon, imported exclusively for our members.
DISCOVER OUR FOUR CLUBS