Born in the sun-drenched Apulia, the 2000 Apollonio Terragnolo Pimitivo conjures all the sight, smell and flavor of this historical land. Purple, powerful, and packed with flavor, Apollonio's Primitivo is a heady potion that proffers plenty of Zinfandel like flavors. Aromatic berries, bramble, fennel and deep down barrel tones offer plenty of sensory pleasure, and display a tour de force in winemaking for Primitivo. In short, this is the finest example of Primitivo we have ever encountered. It combines all of the charm of the best California Zinfandels with the indelible, sunny stamp of Italy. Consequently, this round, smooth red packs a wallop that is hardly evident in the nose or flavor, which appear smooth an seamless. Apollonio admits to 14.5% of alcohol, but we would not be surprised to find the actual alcohol level to be in excess of 15%, which is well within legal guidelines. (Federal Law allows a plus or minus 1.5% leeway on stated alcohol levels). So consider yourselves forewarned, and enjoy! Like most examples of California Zinfandel, we find the Apollonio Primitivo to be best consumed fairly cool (about 60? F) and with a minimal amount of aeration: We prefer catching its full-throttle nose and flavor, as it opens in our glass. As Apollonio bottles their Primitivo unfiltered, some harmless, natural sediment may occur.
Bring on the all the big southern Italian specialties you can imagine because the 2000 Apollonio Terragnolo Primitivo will take them all in stride. Whether it's a spicy fresh Pasta Arabbiata or a garlic laden black olive paste, nothing is going to push this wine around. More subtle favorites, such as homemade lasagna and traditional country Porcettas, are also great ways to highlight Apollonio's full throttle Primitivo. Hunks of real Provolone or Parmesan cheese are other excellent accompaniments to the Primitivo, as are most Italian specialties. In addition to traditional tomato-based southern Italian fare, we also recommend that you try the Terragnolo Primitivo with pork, steak, stews, and most especially game. In our experience this wine will also enhance almost any dish served in a rich sauce or gravy. Even moderately spiced TexMex dishes can hold up to this robust offering, so the bigger the better; the sky is the limit. Enjoy!
The Apollonio Winery was founded at the end of the 19th century in one of Italy's oldest and most important wine producing regions, Apulia. And before there was a winery at Apollonio, grapes had been grown in this area for more than two millennia. Presently, the winery and vineyards are owned and managed by two brothers, Massimilliano and Marcello Apollonio, who took over production of the estate after the death of their father. The focus of this ancient property is on several traditional wines, which reflect their respective DOC zones and the indigenous grape varietals for which southern Apulia is renowned. Moreover, in the last several years the winery's equipment and cellar have been modernized with a corresponding leap in quality. Apollonio produces three excellent, but distinctly different wines. The most important is Primitivo Terragnolo, the most concentrated of the winery's offerings. This is a robust, full-bodied wine that is thought by many to be made from the ancestor of American Zinfandel. The other offerings are Salice Salentino and Copertino, which are wines that are made primarily from the traditional Negro Amaro and Lecce Malvasia Nera varietals. Each of these deeply colored wines are highly aromatic, lush on the palate, and laden with flavor. The Copertino is noticeably the lightest of Apollonio's wines, even though it exhibits a slightly deeper color and a bit more sophistication than the Salice Salentino. Nonetheless, it is the very bold Terragnolo Primitivo than has rightly garnered the most attention from critics. Recent vintages have yielded the some of Italy's finest Primitivo based wines and established Apollonio had the consummate producer of this ancient varietal.
Primitvo: The Missing Link Primitivo, referring to the early ripening of this ancient varietal rather than any supposed rusticity, hails originally from Greece. It was most likely brought to southern Italy more than 2500 year ago by the Greeks, who named Apulia and the surrounding area Enotria land of the vine because of its natural proclivity for the production of wine. Today, Primitivo remains one of the most important varietlals in southern Apulia, especially on the Salento peninsula. In addition to being the earliest maturing grape variety in Europe, and perhaps the world, it is also capable of registering the highest sugar content of any grape, translating into the world's most alcoholic wine. In fact, Primitivo can garner enough natural sugar to produce nearly 19% of alcohol. Recent DNA evidence points to Primitvo as the forebear of California Zinfandel, a grape with which it shares many common characteristics, thereby ending the mystery surrounding the origin of Zinfandel.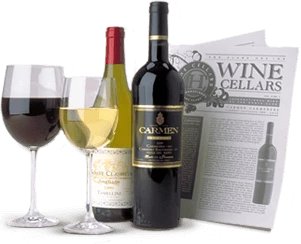 Enjoy Limited Production Estate
Bottled Wines
Discover limited production estate bottled wines such as Vergenoegd's internationally
acclaimed 2005 Cabernet Sauvignon, imported exclusively for our members.
DISCOVER OUR FOUR CLUBS