Antucura enjoys a well-deserved reputation for fashioning bold, age-worthy wines that are layered and packed with flavor, but the 2011 Antucura Grand Vin belongs in a class by itself. It weighs in at 15.5% alcohol, though one hardly notices Grand Vin's high octane until the wine has slipped surreptitiously down the throat and a warm glow begins to overtake the imbiber. Power, strength and vigor, though, are not Grand Vin's only assets: the 2011 Antucura Grand Vin offers eye popping appeal with an intense ruby color, brilliant aromatics, and stunning concentration. A blend of 52% Merlot, 37% Cabernet Sauvignon, and 11% Malbec that spent 16 months in French oak barrels, the 2011 Antucura Grand Vin offers copious quantities of rich, deep down blackberry, plum, currant, and spice flavors that fill the mouth and happily satiate the palate. In Antucura's 2011 Grand Vin one finds everything an exceptional meritage or Bordeaux-style blend has to offer: flavor, intensity and a voluptuous velvety texture backed by strong ripe tannins. The 2011 Antucura Grand Vin garnered 91 Points from Stephen Tanzer's International Wine Cellar upon first release – a rather stingy score now that the 2011 Grand Vin has blossomed further with additional time in bottle. For optimal enjoyment, afford the 2011 Antucura Grand Vin 30 minutes of aeration before serving at cool room temperature (60°-65° F). Enjoy!
For those seeking a bold, complex red to sip all evening long, they need look no further than the 2011 Antucura Grand Vin. This is a wine to enjoy on its own or with a hearty meal. Full-flavored meats and spicy dishes provide ideal companions to Antucura's Grand Vin. Beef and lamb are favored accompaniments in Argentina and get our nod as well. The richer the flavor of the meat, the greater the 2011 Antucura will shine. A dish of black beans and rice with plenty of olive oil and tabasco also makes a fine companion to the 2011 Calcura Grand Vin. Most chesses, tomato based pastas and other hearty Mediterranean dishes play nicely with this wine as well and won't overwhelm the layered flavors of Antucura's Grand Vin. Buen Provecho!
Antucura Winery is the "little jewel" of Mendoza's Uco Valley. It is located at the foot of the Andes Mountains in the town of Vista Flores. The winery's high altitude vineyards are planted to classic Bordeaux varietals where grapes bask in the long dry sunny days for which Mendoza's Uco Valley is renowned. Antucura draws its name from the indigenous Mapuche tribe who called vineyard rocks "sun stones." Those precious sun stones proliferate in Antucura's vineyards, imparting limestone to the soil, excellent drainage, and enough warmth and vigor for Antucura's Grand Vin to attain 15.5% alcohol.
Antucura specializes in producing Cabernet Sauvignon, Merlot, and Argentina's signature varietal Malbec, all of which are bottled as single varietals as well as classic Bordeaux blends such as the Antucura Calcura and Antucura Grand Vin, the latter being the winery's most prestigious offering: a superior meritage blend of Merlot, Cabernet Sauvignon, and Malbec. The winery's Cabernet Sauvignon and Merlot plants were purchased from a nursery in Pomerol, Bordeaux that supplies the great Château Petrus and other renowned Bordeaux châteaux. Antucura's high density planting of 5,500 plants per hectare limits yields and helps control and monitor the production of each grape variety. With plenty of sun, stony soils and a wide temperature range between day and night Antucura's grapes develop intense varietal characteristics as well as an elegance that is rarely seen in other Argentinean wines.
At Antucura, every step in the viticultural process is managed to the smallest detail by French winemaker Hervé Chagneau and owner Anne-Caroline Biancheri. Together, they fashion exceptional wines that blend the special attributes of Uco Valley terroir with classic French wine-making to give a sense of place and elegance to Antucura's wines.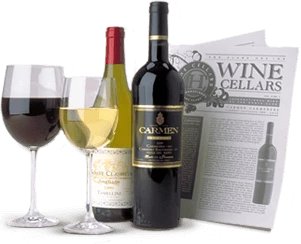 Enjoy Limited Production Estate
Bottled Wines
Discover limited production estate bottled wines such as Vergenoegd's internationally
acclaimed 2005 Cabernet Sauvignon, imported exclusively for our members.
DISCOVER OUR FOUR CLUBS