To say that we were thrilled to be able to procure more of Antucura's 2011 Calcura would be an understatement. Rarely has the International Wine of the Month Club featured the same wine in the same vintage more than once, but by popular demand and Calcura's reputation for fashioning bold, age-worthy wines that are literally packed with flavor, we are pleased to offer a limited number of our members the 2011 Antucura Calcura. The 2011 Antucura Calcura offers a visually intense ruby color, brilliant aromatics, and stunning concentration. A blend of 40% Merlot, 33% Cabernet Sauvignon, and 27% Malbec, the 2011 Antucura Calcura is an outstanding meritage offering and the finest Calcura to emanate from this illustrious winery. It offers ripe blackberry, plum, currant, and spice flavors that truly fill the senses. Velvety and smooth upon entry into the mouth, Calcura explodes on the palate with a riot of flavors. Tremendous fruit and complexity are backed by ripe tannins and 15.5% alcohol, the latter being nearly imperceptible until after you have consumed it – consider yourself forewarned. Given the complexity, size, and even the elegance of this wine, it is no wonder that it has received such favorable press. The 2011 Antucura Calcura received 94 Points from Patricio Tapia's Descorchados, South America's illustrious wine guide. Patricio Tapia, a journalist and Bordeaux trained winemaker, also writes for magazine, where he covers the wines from South America and Spain, and Decanter. The 2011 Antucura Calcura certainly constitutes one of the best quality and values in meritage wines in the U.S. market, and it will only improve with an additional year or two in bottle. Allow the 2011 Antucura Calcura at least 20-30 minutes of aeration before serving at cool room temperature (60°-65° F). Enjoy!
Food and wine complement one another, and most of the time our preference is to keep that marriage together for optimum enjoyment, but sometimes we just want to drink a big mouth-filling red with nothing but the wine to soothe us. The 2011 Antucura Calcura is just such a red. Enjoy it on its own or with any hearty meal. Black beans and rice with plenty of olive oil and Tabasco makes a fine companion and won't cause the 2011 Calcura to fade. Sizzling beef fajitas provide another tasting accompaniment. And of course, one can always rely on Argentina's traditional accompaniment to their finest red wines – steak. The bold fruit and ripe tannins of the 2011 Antucura Calcura accentuate the flavors in beef and cut through any fat in the meat. Tomato-based pastas and hearty Mediterranean dishes play nicely with this wine as well. And almost any soft cow's milk cheese and most hard cheeses will provide ideal accompaniments to Antucura's extroverted 2011 Calcura. Buen Provecho!
Antucura Winery is the "little jewel" of Mendoza's Uco Valley. It is located at the foot of the Andes Mountains in the town of Vista Flores. The winery's high altitude vineyards are planted to classic Bordeaux varietals where grapes bask in the long dry sunny days for which Mendoza's Uco Valley is renowned. Antucura draws its name from the indigenous Mapuche tribe who called vineyard rocks "sun stones," while the Calcura Vineyard takes its name from the "blue stones" that proliferate in the vineyard, imparting limestone to the soil and providing excellent drainage.
Antucura specializes in producing Cabernet Sauvignon, Merlot, and Argentina's signature varietal, Malbec, all of which are bottled as single varietals as well as classic Bordeaux blends such as Calcura (a meritage selection of Merlot, Cabernet Sauvignon, and Malbec). The winery's Cabernet Sauvignon and Merlot plants were purchased from a nursery in Pomerol, Bordeaux that supplies the great Château Petrus and other renowned Bordeaux châteaux. Antucura's high density planting of 5,500 plants per hectare limits yields and helps control and monitor the production of each grape variety. With plenty of sun, stony soils and a wide temperature range between day and night, Antucura's grapes develop intense varietal characteristics as well as an elegance that is rarely seen in other Argentinean wines. At Antucura, every step in the viticultural process is managed to the smallest detail by French winemaker Hervé Chagneau and owner Anne-Caroline Biancheri. Together, they fashion exceptional wines that blend the special attributes of Uco Valley terroir with classic French wine-making to give a sense of place and elegance to Antucura's wines.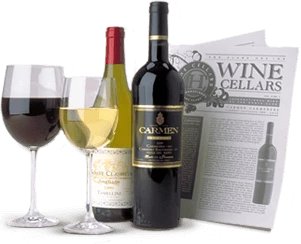 Enjoy Limited Production Estate
Bottled Wines
Discover limited production estate bottled wines such as Vergenoegd's internationally
acclaimed 2005 Cabernet Sauvignon, imported exclusively for our members.
DISCOVER OUR FOUR CLUBS