A lovely ruby robe bedecks the 1999 Andretti Napa Valley Sangiovese. Emanating from the glass is a beguiling aroma; scents of cherry, anise, pepper and spice fold into a single captivating bouquet that caresses the nose. In the mouth, this medium-bodied red is smooth…smooth…smooth…and quite reminiscent of top Tuscan offerings. Recalling the finest Sangiovese-based wines of Chianti and Vino Nobile di Montepulciano, the 1999 Andretti Sangiovese oozes style, elegance and breed as well as mouth-filling flavors. A touch of oak, nuanced with hints of vanilla, clove, and ripe tannins, round out the wine's savor and lead to a very approachable mouth feel and a fine refreshingly crisp finish. Yum! Serve the Andretti Sangiovese at cool room temperature (about 65°F).
The 1999 Andretti Napa Valley Sangiovese, a medium-bodied blend of 95% Sangiovese and 5% Cabernet Sauvignon, is readily drinkable and quite adept at complementing a wide variety of foods. Creamy mild cheeses, hearty pastas, even seafood dishes provide wonderful accompaniments to the Andretti Sangiovese. A stuffed veal chop, with herbs, sun-dried tomatoes and a chopped tomato relish over Arborio rice recently made for a great meal in the company of this stylish Sangiovese. Other recommendations include fresh mozzarella with roasted tomatoes and fresh basil in a spicy garlic tomato sauce over penne pasta or grilled portabella mushrooms, roasted red peppers, basil pesto, Kalamata olives and a soft, mild goat cheese over pasta or on a pizza. Given the elegant, balanced nature of this Sangiovese, most meats and Mediterranean-style dishes will be right at home with the smooth, delicious 1999 Andretti Sangiovese, so enjoy!
The Andretti Winery, a handsome Italianate property set amid mature Napa Valley vines, is owned by no other than the legendary Mario Andretti - racecar driver extraordinaire. Established in 1996, Andretti has totally transformed this old property, constructing a new winery, offices, tasting room villa, and barrel storage facilities all within a two-year period. But what is most exciting is the quality of wine flowing from this estate; it is every bit deserving of a checkered flag. When Mario was 15 years old, his family came to the United States. Near to where he lived was a dirt track, which almost immediately turned his interest to racing. Mario raced four decades, winning almost every conceivable race, including the Indy 500, the Daytona 500, and the Indy Car Championship four times. He was World Formula One Champion. He won in sports cars, sprint cars and stock cars. Mario Andretti is the only driver to win races in five decades; he was named the first Driver of the Year in 1967 and, 25 years later, he was named Driver of the Quarter Century. Mario Andretti has long been known for his accomplished versatility, which now includes award-winning wines. It has been said that wine is Mario Andretti's second passion. He doesn't actually remember the moment he fell in love with wine; it just happened over a period of time. "It began in Italy where wine is part of everyday life," Mario says. In Mario's quest for racing championships, he traveled the world. His travels to exotic places - combining great dining with fine wine - led to his ultimate enjoyment of wine as one of life's great pleasures. Not surprisingly, he came to appreciate Napa Valley wines in the '70's. And, the more visits he made to Napa, the more enamored he became of the region's wines. He cultivated both friendships and knowledge, so when Mario decided that 1994 would be his last year racing, no one was surprised that a commemorative bottle of Cabernet Sauvignon was produced in honor of his final Indy Car season. The success of the Cabernet paved the way for the introduction of a Chardonnay in April of 1995, thus beginning the ongoing line of Andretti premium wines. Today, Mario serves as Vice Chairman of the Andretti Winery as well as President of several family-owned businesses, but like a true racecar driver, he knows when to hand matters over to his pit crew. Hence, longtime friend and Napa winemaker extraordinaire, Bob Pepe, enters the picture; he's the Winemaker and Vineyard Manager at the Andretti Winery.
Bob Pepe; Winemaker Bob Pepe has been with the Andretti Winery since its inception. He was involved in the decision to purchase the property and vineyard, and he is responsible for all the outstanding wine flowing from the Andretti Winery. Today, Pepe enjoys considerable acclaim. He is highly regarded for his pioneering efforts with Sangiovese as well as Sauvignon Blanc. He was the first in the wine growing industry to utilize a unique trellising system, the two-heart canopy or the Geneva Double Curtain, which maximizes the quality as well as the quantity of the Sauvignon Blanc grape. This method is now in widespread use today. In addition, Bob was one of the first vintners in the United States to grow and make a Sangiovese. Not surprisingly, Bob remains one of Napa Valley's greatest producers of both Sauvignon Blanc and Sangiovese.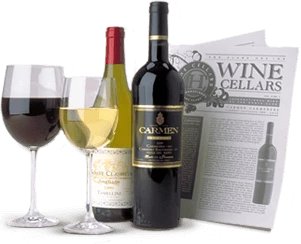 Enjoy Limited Production Estate
Bottled Wines
Discover limited production estate bottled wines such as Vergenoegd's internationally
acclaimed 2005 Cabernet Sauvignon, imported exclusively for our members.
DISCOVER OUR FOUR CLUBS