We have admired and consumed Ambra's delicious Carmignano wines for nearly two decades, but for some reason we could never secure quite enough to feature one, until now. Earlier this year, some panel members and I traveled to Tuscany where we became re-acquainted with Ambra's exceptional wines over a delicious dinner at La Terrazza in the village of Bagno Vignoni. The 2010 Ambra Montalbiolo Riserva really captured our attention. In fact, the dark, deep and voluptuous 2010 Montalbiolo Riserva simply blew us away. The 2010 Montalbiolo Riserva offers great aromatics, rich deep berry and savory forest floor flavors (flavors that always seem to appear in the finest Tuscan reds) along with superb balance and structure. Add in a silky smooth texture that adds elegance and polish to the 2010 Montalbiolo Riserva and a star is born. Enjoy this Tuscan treat now and over the next ten years. For optimum enjoyment, we suggest decanting and allowing the Montalbiolo Riserva to breathe for an hour or more ahead of serving at cool room temperature (60° F). Enjoy!
The elegant, flavor-packed 2010 Ambra Montalbiolo Riserva can easily hold court with the finest of Tuscan wines and can be found gracing the tables of noble villas throughout Italy. If your tastes gravitate to the finest of fare, consider serving the 2010 Montalbiolo Riserva with a Pecorino cheese pie served over a bed of caramelized pears with balsamic vinegar, wild honey, and cinnamon followed by pappardelle pasta with chianina beef ragu. For an even more glorious treat, serve the 2010 Montalbiolo Riserva with tender juicy filets of herb-roasted veal with cherry tomatoes and roasted potatoes, or organic baby lamb roasted with aromatic herbs and served with Tuscan Eggplant Parmesan. Ambra's wines, however, are no snobs. The Montalbiolo Riserva offers an equally appealing companion to simple meat and potato dishes, especially those made with beef and pork, so as you like. Buon Appetito!
The Romei Rigoli family has owned Fattoria Ambra, Carmignano's most renowned estate, since 1870. The estate is located near the River Ombrone and the famous Villa Medici at Poggio a Caiano. The estate derives its name from the poem "Ambra," written in the 15th century by Lorenzo de Medici, who is perhaps better known as Lorenzo Il Magnifico. Ambra's vineyards total a mere 50 acres and are spread throughout Carmignano's four renowned crus: Montalbiolo, Elzana, Santa Cristina in Pilli, and Montefortini. Ambra also produces a lighter version of Carmignano called Barco Reale from young vines, a rosé wine known as Vin Ruspo, and a small amount of delicious Vin Santo. Ambra's most illustrious wine is the estate's Montalbiolo Riserva, this month's feature.
Carmignano is one of the oldest wine regions of Tuscany. The wines of Carmignano date back to the middle of the 14th century, where documents as early as 1369 illustrate the importance of this small, but illustrious, wine region. Carmignano was so highly regarded that written accounts attest to Carmignano selling for four times the cost of any other wine.
Throughout the centuries Carmignano has retained its favored status, becoming a favorite of dukes and popes. In the early 1700s, the Grand Duke Cosimo III de' Medici established the area of Carmignano as a nursery for grape varieties, which included the planting of international varietals such as Cabernet Sauvignon that he had imported from France. Cosimo III also issued a decree controlling Carmignano's production standards and sales, a precursor to today's strict DOCG regulation. His decree is believed to be the first modern denomination of controlled origin for wine in the world. Moreover, the boundaries of Carmignano were identical to the current ones, making it also one of the smallest Italian DOCG areas.
Although lesser known today than Brunello di Montalcino, Vino Nobile di Montepulciano, and Chianti Classico, Carmignano continues to fashion distinctive Tuscan reds of exceptional quality from a mere 270 acres, which resulted in the area receiving DOCG status in 1990. Given the region's centuries-old tradition of growing Cabernet Sauvignon and Cabernet Franc (centuries before Super Tuscan reds were born throughout the rest of Tuscany), Cabernet has long played an important role in the highly prized wines of Carmignano. Other permitted varietals include Sangiovese, Canaiolo Nero, Mammolo, Merlot, Colorino, Syrah and two traditional Tuscan white varieties, Trebbiano and Malvasia. However, the zone's white varietals rarely any longer find their way into Carmignano.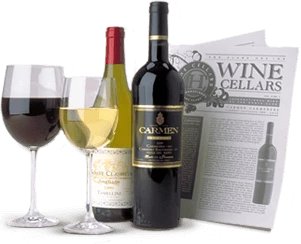 Enjoy Limited Production Estate
Bottled Wines
Discover limited production estate bottled wines such as Vergenoegd's internationally
acclaimed 2005 Cabernet Sauvignon, imported exclusively for our members.
DISCOVER OUR FOUR CLUBS