Semillon Sauvignon Blanc is barely a year old (wine is made in February and March south of the equator rather than in August, September and October), but already it is delicious and ohhh so easy to drink. A blend of 70% Semillon and 30% Sauvignon Blanc, it aptly combines the varietal characteristics of both grapes. Melon, fig, gooseberry, and pineapple all are evident in the wine's aroma. On the palate, this same mélange of scents is deftly woven into a light, pretty wine, with plenty of flavor and a refreshing finish, which makes just a single glass of the Amberley Semillon Sauvignon Blanc seem unthinkable. As you quickly consume the bottle, you will know why Amberley's Semillon Sauvignon Blanc sells out so quickly: the wine goes down so easy, and before you know it you are reaching for another bottle. Although this wine is made to be drunk fairly young, it's a crying shame that we consume all of the Amberley Semillon Sauvignon Blanc before its first birthday because our experience has been that this wine takes on an added dimension in both depth and flavor, shortly after its second year in bottle (probably due to the initial partial barrel fermentation), so consider yourself forewarned. You may have to make some extra space in your cellar.
As light and easy as the 2003 Amberley Semillon Sauvignon Blanc appears, one may be tempted to relegate the wine to the venial position of aperitif or party wine extraordinaire. However, we suggest that you also not miss the opportunity to pair this Australian beauty with some interesting and worthy food companions. Just about anything that swims or crawls upon the ocean floor provides our first choice with this Semillon Sauvignon Blanc. One of our favorite pairings is with a Seafood turnover, a puffed pastry stuffed with scallops and shrimp and served with a lobster sauce. Steamed mussels, prepared with garlic butter and herbs provide another great accompaniment. In addition, we suggest you consider the Amberley with various Thai or Asian fusion preparations. Po Pia Sod, the Thai rendition of fresh spring rolls (not fried) with whole shrimp brings out the lush fruit and herb tones in this Semillon Sauvignon Blanc, and in turn the runaway flavors in the spring roll that destroy Chardonnay and most other white wines are tamed. Salads or bean dishes, served with either fresh papaya or a papaya relish offer some more notable marriages with the 2003 Amberley Semillon Sauvignon Blanc. Enjoy!
Amberley Estate lies tucked among the low hills of the Margaret River, Western Australia's green temperate corner, a mere three miles from the sea. Here the Margaret River cuts through wooded hills and steep ridges that are carpeted with wild flowers, before sighing almost inaudibly into the gleaming Indian Ocean, where Technicolor waters and huge rolling surf make the Margaret River region one of the world's top surfing spots. These very same waters, along with steady ocean breezes, a unique soil, and a Mediterranean climate also make Margaret River one of the finest natural wine producing areas on earth and a great place to visit. Wine writers and importers scour the globe in search of great winemaking regions and fine wines to purvey, but such areas are few and far between, and the fruit of their vines are even scarcer. Great wine regions appear as little strips of land in just a hand full of countries, and then there is the age old problem of separating the wheat from the chaff, the good from the bad, and the sour grapes from the sublime ambrosias. Happily, the Margaret River is one of the blessed few locales, a chosen land, in which viticulture is a natural pursuit, and there are more than a hand full of award winning wines from which to choose. In the 1960's, a scholar named John Gladstone was one of the first to recognize Margar­et River's special climate, soil and conditions known as terroir. In his work Gladstone wrote about the similarities between the finest wine producing regions of Bordeaux and the Margaret River. He extolled the perfect weather of the Margaret River for the cultivation of the vine, especially the traditional Bordeaux varietals, and indeed Gladstone's proclamation has been proven correct. After all, the prophet is usually right, or mostly. In the case of the Margaret River, its climate is better than that of Bordeaux. Rainfall in the Margaret River is less than in Bordeaux (averaging only 30-35 inches per year) and more predictable. Furthermore, most of the region's precipitation falls during the winter and spring, and rarely does it rain during harvest time. The same cannot be said of Bordeaux, where the annual autumn deluge washes out many an aspiring candidate for vintage of the century, dashing the hopes of countless frustrated vignerons, and turning what could have been greatness into an a ocean of light mediocre wine, or worse. Moreover, high humidity and the ensuing rot that autumn rains bring to Bordeaux are rare in the Margaret River, which means far less spraying and chemical interventions are necessary in Margaret River than in Bordeaux. In short, Margaret River is naturally a more hospitable climate in which to grow wine. The Margaret River is not yet so widely known in the United States as some older wine producing regions of Australia such as Barossa, Hunter or even the Clare Valley. And even after thirty years of extensive planting in the Margaret River, this prime viticultural locale produces less than 2% of Australia's wine. Yet, the Margaret River garners a much larger portion of gold medals and trophies for its wines than any other viticultural region of Australia a tribute to the Margaret River's dedication to premium varietals and quality winemaking. As with any great enterprise, one is sure to find an impetus or catalyst, a mover or shaker behind the success of Amberley, one of the Margaret River's first wine estates. In this particular case, it is the dynamic duo of Chief Winemaker Eddie Price and Marketing Director Phil Fletcher. Eddie and Phil have been at Amberley since its inception in the late 1980's or shortly thereafter. Together they have built the engine that could, and does it ever run. Recently, we have had difficulty procuring enough of Amberley's wines to slake the thirst of all of our club members. Amberley's Estate Semillon Sauvignon Blanc routinely sells out first; long before the next vintage is available, frustrating many of its loyal fans. And the same situation prevails with most of the other offerings in Amberley's extensive portfolio as well, which makes Eddie and Phil as happy as Kangaroos in.. a very large paddock, but it makes the rest of us just a bit ornery, so if you want to reorder some extra bottles of the Amberley Semillon Sauvignon Blanc, please do it soon.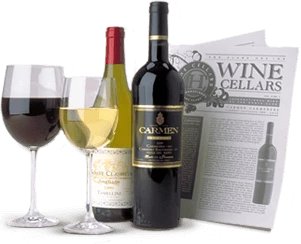 Enjoy Limited Production Estate
Bottled Wines
Discover limited production estate bottled wines such as Vergenoegd's internationally
acclaimed 2005 Cabernet Sauvignon, imported exclusively for our members.
DISCOVER OUR FOUR CLUBS