Let it breathe. Let it breathe. Let it breathe. Seamless but firmly structured, the 1998 Amberley Cabernet Sauvignon Merlot Cabernet Franc acts like a first rate Bordeaux, requiring a couple of hours open to fully reveal all of its charm and complexity. But when it emerges from its youthful reticence, look out. Blackberry, currant, tobacco and cedar dominate this wine's aromatics, while black fruits and cedar prevail on the palate. Spice, pepper and subtle oak, all wrapped around a core of solid tannin, complete this wine's finish. Indeed, the flavor profile of the Amberley, as well as the cepage (65% Cabernet Sauvignon, 30% Merlot and 5% Cabernet Franc), mirror a top notch Bordeaux. Be patient with this Margaret River Meritage and you will be handsomely rewarded. Serve this wine at cool room temperature (60-65 F).
Bring on the beef - the rarer the better - and let the 1998 Amberley Cabernet Sauvignon Merlot Cabernet Franc melt away the "Gras" in the meat. A whole beef tenderloin, encrusted in herbs and served medium rare in its own juices, provides an excellent backdrop to this offering from Amberley. Another winning accompaniment is stuffed lamb chops, cooked slowly over glowing white coals. Furthermore, we must confess to enjoying this wine with both a beef barley soup and a lamb barley soup, served with French bread and several thick slices of Havarti cheese. Both soups, in accompaniment with the butter-like consistency of the Havarti, bring out the entire gamut of flavors that lay embedded in the Amberley's formidable structure. Just for the record, the folks at Amberley also suggest kangaroo, venison and other game dishes as ideal accompaniments to their Cabernet Sauvignon Merlot Cabernet Franc. If you decide to cellar this beauty for a couple of years, we would also suggest serving duck, veal and full-flavored fowl with it. Enjoy this bit of "Bordeaux" from Amberley Estate.
Surrounded on three sides by the gleaming blue of the Indian Ocean, the Amberley Estate is a passionate young venture with an incomparable view. Furthermore, this is a winery that is dedicated to uncompromised quality - a vision of excellence for itself and its burgeoning appellation. Founded in 1986 in the Margaret River Appellation of Western Australia, this 167 acre production specializes in the great Bordeaux varietals: Cabernet Sauvignon, Merlot, Cabernet Franc, Semillon and Sauvignon Blanc, all of which have earned Australia's Margaret River considerable, richly deserved international acclaim. Operated as a privately owned company under the astute leadership of Winemakers, Eddie Price and Greg Tilbrook, and Marketing Director, Phil Fletcher, Amberley Estates has become the "hottest ticket" in Western Australia - and we're not talking about the weather. However, considering that Amberley and the Margaret River are nearly two thousand miles away from the bulk of Australian winemaking, most of which takes place in the torrid hinterlands of southeastern Australia, the cooler, more temperate climate of the Margaret River undoubtedly plays a significant role in the quality and style of Amberley's outstanding offerings.
Some Will Suggest that Margaret River is Perfect People have scoured the globe searching for great winemaking regions, only to discover that such places are few and far between. They appear as little strips of land in a few select countries. Certainly, Margaret River is one of these choice little parcels. Located some 150 miles south of Perth, the Margaret River region is known for its variety of vines, indigenous trees and superb fruits and vegetables. In the 1960's, a scholar by the name of John Gladstone wrote about the similarities of Margaret River and the great winemaking region of Bordeaux. He also noted the area's perfect weather for grapes, unlike any other in Australia. This is a climate that doesn't send the fruit through many extremes each day. Gladstone also wrote about the ideal soil conditions in the Margaret River. A mixture of loam and gravel, the soil is not too fertile, which makes the vines work hard to produce perfect flavor by digging deep into the earth. Undoubtedly, the setting and the "terroir", as the French would say, have shaped the range, as well as the quality of wines that are grown at Amberley Estate. Although the traditional Bordeaux varieties predominate, small plantings of Chenin Blanc, Shiraz and Chardonnay are also represented. In fact, independent critics have called Margaret River Chardonnay the very finest in Australia. Certainly, location gives Amberley Estate an advantage, as it would any winery; no one can create good wine from bad fruit. Yet, good fruit alone doesn't guarantee fine wine. At Amberley Estate, the staff works as hard as the vines to translate top- notch fruit into good wine. It's a job that everyone at Amberley is quite passionate about. To add to the allure of the Margaret River is the abundance of fine restaurants in the area, frequented by locals and the growing number of visitors, alike. They come from Perth and abroad, seeking the natural beauty and abundance that Margaret River offers: fine wine, excellent game and produce, great fishing and a seemingly boundless energy that characterizes this enchanted place. Recently, critics have likened Margaret River to Napa Valley in the 1960's, a comparison that hasn't gone unnoticed by the world's wine cognoscenti, drawing attention and visitors to this special strip of land. Throw in the view, and you'll never want to leave.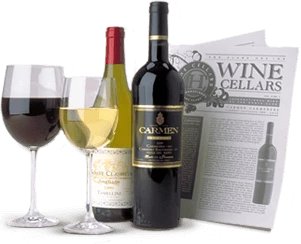 Enjoy Limited Production Estate
Bottled Wines
Discover limited production estate bottled wines such as Vergenoegd's internationally
acclaimed 2005 Cabernet Sauvignon, imported exclusively for our members.
DISCOVER OUR FOUR CLUBS