"Juicy and succulent, ripe, yet beautifully focused" is how our tasting panel describes Antonio Mas' 2017 Almarada Uco Valley Malbec. Add a dark, nearly black, robe, enticing aromas of black plum, mulberry, and orange peel, and velvety fruit flavors infused with hints of cranberry and chocolate, and the 2017 Almarada Uco Valley Malbec adds up to one immensely pleasing, eminently drinkable red wine. If it is any indication, it was the first wine on the table to vanish, despite the proliferation of more expensive bottles. Antonio Mas' deft hand is evident in this no nonsense Malbec, which has garnered 90 points from James Suckling in addition to our panel's praises. Everything from hand sorting of his clonal selection to the duration in oak barrels has been designed to yield a smooth, rich-tasting wine that needs little explanation. For optimal enjoyment, we suggest affording the 2017 Almarada Malbec at least a few minutes of aeration before serving at cool room temperature (58°-62° F). Enjoy!
Save the dainty morsels for Champagne or Pinot Noir: Malbec is a wine for down home cooking and hearty fare. With that said, the 2017 Almarada Uco Valley Malbec shines at the table in a multitude of settings. Whether the evening meal calls for a juicy ribeye steak or a fat bacon and cheddar cheeseburger, Almarada's 2017 Malbec will provide good company. Better still, grilled Italian sausages, either the cheese, fennel, or moderately hot versions, make excellent companions to a glass or two of this Malbec. And if you want to perk up a mid-week meal, serve the sausages over creamy polenta or grits. Lamb stew and grilled lamb kebobs with roasted peppers, onions and root vegetables do justice to this wine as well. Last, but by no means least, most hearty tomato- and cheese-rich southern Italian favorites such as baked ziti, stuffed shells, and Eggplant Parmigiana provide excellent accompaniments to the 2017 Almarada Malbec. Buon Appetito, or should we say Buen Provecho!
Almarada is the brainchild of Antonio Mas, long considered one of the most prestigious Argentinean winemakers and an expert with Malbec. A native of Mendoza, Antonio possesses 50 years of winemaking experience with Malbec – Argentina's emblematic and most important grape variety. Antonio has devoted his life to viticulture and clonal selection in addition to winemaking. Inspired by the French concept of chateau growth and bottling, where a sense of terroir, including clonal selection and vinification are done from individual plots in the same place as the grapes are grown, he established the first Argentinean boutique winery in 1992: Finca la Anita.
In establishing Finca La Anita, Antonio created his own equipment, imported barrels to meet his specifications and planted new vineyards at high elevations. His latest boutique venture is Almarada. Almarada is the expression of Antonio's life-long study of nature, clonal selection, soil, and climate – a.k.a. terroir. The word Almarada is derived from a combination of Alma (soul) and Arada (plowed), which expresses the deep union between soul and agriculture. We invite you to taste and enjoy Antonio's Almarada.
Malbec is one of the original red wine grapes of Bordeaux, France (where it is also known as Cot and Pressac). While Malbec still plays an important supporting role today in Bordeaux, adding color and body to the region's primarily Merlot and Cabernet blends, and it remains the chief grape used in what historically has been called the "black wine" of Cahors in southwest France, Argentina has come to fore as the contemporary champion and spiritual home of Malbec. In Argentina, Malbec reigns as the nation's most important grape variety, both in terms of quality and quantity. The best Argentinean Malbecs and Malbec blends flow from the foothills of the towering Andes Mountains in Argentina's province of Mendoza. These wines offer considerable flavor and body at a relatively young age, yet they remain age-worthy and capable of true distinction.
Without the towering Andes, there would be no cultivation of the vine in Mendoza and no real agriculture as we know it, nor would viticulture thrive in the river valleys of central Chile, which lie just across the Andean spine or Cordillera from Mendoza – a mere one hundred miles as the condor flies. Simply, it is the Andes that give life to the desert-like Mendoza and the arid rift valleys of Chile. Specifically, it is the Andean snows that accumulate upon the higher elevations of the Andes that give life and sustenance to these parched parcels of South America that yield the continent's finest wines.
In order to make the desert bloom, the inhabitants of the Andes have come to rely on their mighty mountains for water. By sluicing off the Andean snowmelt and directing its waters into canals, much of Argentina and Chile are now productive farmland and especially suited to the cultivation of the vine. Since the Italian migration to Argentina in the 19th century and subsequent settlement in the Illinois-sized province of Mendoza, the Mighty Mendoza has become the largest wine producing area in South America, leading Argentina to fifth place among the world's leading wine producing nations, just behind the United States. Without the Andes, there would be no wine, nor much else to speak of, from Mendoza. Viva Los Andes!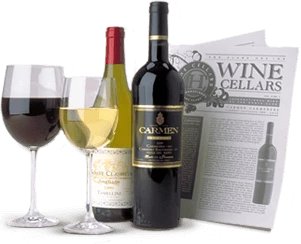 Enjoy Limited Production Estate
Bottled Wines
Discover limited production estate bottled wines such as Vergenoegd's internationally
acclaimed 2005 Cabernet Sauvignon, imported exclusively for our members.
DISCOVER OUR FOUR CLUBS