The 2001 Alexander Valley Vineyard Two Barrel Syrah Cabernet Sauvignon is true to the Alexander Valley Vineyard style. It is deep, dark, lush, and hedonistic. A hypothetical blend of a top notch Australian Shiraz and a great California Cabernet, its bouquet is redolent with the scents and savor of black fruits, cassis, eucalyptus, wood smoke and vanilla. Dense and masculine, this extroverted charmer is not without backbone. It possesses a substantial strength and tannin, but remains impeccably balanced, with plenty of up front fruit and subtle complexity. Wearing a regal purple robe and a long finish that lingers gleefully in the mouth, the 2001 Alexander Valley Vineyards Two Barrel Syrah Cabernet Sauvignon has everything going for it, including a boatload of flavor, an expressive textured feel, and one of the finest vintages to date in Alexander Valley. This all bodes well for the further development of this outstanding offering, which would repay us handsomely, if we could put in cellar and keep our hands off of it for a few years. Serve it at cellar temperature (55°-60°) or at cool room temperature (65°) depending upon the weather. The warmer it is out, the cooler we suggest you serve this wine.
We like the hearty stuff with the 2001 Alexander Valley Two Barrel Syrah Cabernet Sauvignon, so bring on the grilled Italian sausage, Pasta Arabbiata, chicken or pork in black olive paste, with capers and Provencal spices, and for the love of food, let's not forget beef. Steak, just about any cut, style, or way you slice it, makes a terrific accompaniment to the 2001 Alexander Valley Vineyards Syrah Cabernet Sauvignon, and in this case you don't have to worry about a little marinate overpowering the wine. Foccacia and oven baked pizzas, with plenty of toppings, provide other winning combinations with AVA's latest success story. Certainly, roasts and game are other excellent choices. Several panel members are partial to buffalo and ostrich as superb pairings with this wine. However, the lush nature of this Syrah Cabernet Sauvignon blend lends itself to great versatility and a wide range of accompaniments; even heady vegetarian dishes and a plate full of creamy cheeses provide excellent companions for this Alexander Valley offering. A Thanksgiving turkey, with a savory, full-flavored stuffing provides another mouth-watering delight. And Alexander Valley Vineyards chef Jeff Young has a killer recipe for lamb that fits this wine like a glove. This month's recipe is one of Jeff's own original recipes, created to accompany the estate's wines. No lack of gustatory choices here.
In 1842, seven years before the California Gold Rush sent an array of gold miners and fortune seekers to populate what is now the state of California, nineteenth century pioneer Cyrus Alexander had already come to Northern California, to the area known as Sonoma County. Alexander settled the fertile valley now named for him, selecting the premier site in the Valley for his own residence. Today, Cyrus Alexander's homestead enjoys a twentieth century renaissance as Alexander Valley Vineyards, one of Sonoma County's most consistent yet, innovative wine estates. Before the California wine boom of the late 1960's, when most of the country still had no idea where Sonoma County even was, Harry and Maggie Wetzel purchased this now chosen wine estate from the heirs of Cyrus Alexander in 1962. Recognizing the agricultural potential of the area, the Wetzel's hired vineyard manager Dale Goode (Yes, indeed, the very same Dale Goode of Murphy-Goode fame) and began planting premium varietal vineyards, pioneering the earliest trellised vineyards in Sonoma. Within 10 years, 125 acres were planted and plans were underway for a small estate winery. From the beginning, Alexander Valley Vineyards has been a family affair. The Wetzel's son, Harry Wetzel III, better known as Hank, graduated from the University of California at Davis in 1974 with a degree in Enology and made the first estategrown wines in 1975. With this inaugural vintage, Dale Goode and Hank Wetzel formed a strong business relationship, teaming together to produce exceptional estate-grown wines literally from the ground up. Hank's younger sister Katie Wetzel joined the family business in 1979 as Sales and Marketing Director, and the saga continues. Today, over thirty years from inception, the Wetzel family continues to explore and fine tune vines and wines at Alexander Valley Vineyards, with the assistance of Vineyard Manager Mark Houser. Presently, older vineyards are being replanted with newer rootstocks and clonal selections. Costly French oak barrels and advanced winemaking equipment continuously replace older apparatus. Katie Wetzel Murphy remains a tireless ambassador and spokesperson as she travels to national and international markets, not only for Alexander Valley Vineyards, but also on behalf of the Sonoma County wine industry. But best of all, Alexander Valley Vineyards continues to experiment and improve its repertoire of proprietary blends and varietal offerings. Its most recent success is Two Barrel, a limited bottling of Syrah (70%) and Cabernet Sauvignon (30%), the two red varietals most conducive to the climate and soil of Alexander Valley. Not surprisingly, over the years, it has also been AVA's Cabernet Sauvignon and Syrah varietals that have consistently tantalized the grateful palates of the tasting panel. Presently, annual production at AVA is in excess of 80,000 cases, from at least nine different varietals. The principal varietals, Chardonnay, Merlot and Cabernet Sauvignon comprise about 70% of the estate's total acreage. However, Syrah (the hottest red varietal internationally) continues its ascent in all respects. Small amounts of excellent Gewürztraminer, Chenin Blanc, Zinfandel, Pinot Noir, and Cabernet Franc are also produced for a dedicated following.
Syrah or Shiraz? Whether we refer to this great varietal as Syrah or Shiraz, we are talking about the same illustrious grape. Grown for centuries in the Rhone Valley of France, where it is responsible in all or part for some of the greatest red wines of France (Hermitage and Chateauneuf-du-Pape specifically), the exact origin of this full-flavored varietal remains in debate. However, historians do agree that it was brought to Europe from the Middle East, but when and by who remains a mystery. Some still believe that it was the Crusaders, who first brought Syrah to France, while others point to the earlier Roman legions under Probes, and yet others claim it was the remnants of Alexander the Great's army on its return from Persia. The latter theory is particularly intriguing since Alexander himself was so enamored of the wines he found around the city of Shiraz in Central Persia, that he insisted on staying there, far longer than he should have, apparently, since he died there. Nonetheless, the one point that has been ascertained that everyone can agree upon is that the name Shiraz, from the Persian city of that name, is the origin of the varietal's name. In any case, Syrah flourishes today in other warm climates, particularly in California and Australia where it is often called by its original name Shiraz.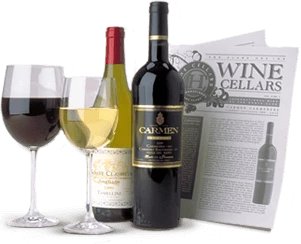 Enjoy Limited Production Estate
Bottled Wines
Discover limited production estate bottled wines such as Vergenoegd's internationally
acclaimed 2005 Cabernet Sauvignon, imported exclusively for our members.
DISCOVER OUR FOUR CLUBS