The newly released 2015 Casal Novo Godello is the progeny of the outstanding 2015 vintage in Valdeorras. Although it remains a mere infant, the 2015 Casal Novo Godello already shows its magic, beginning with a bright straw-colored robe, tantalizing aromatics, and beautiful fruit flavors with exemplary texture. Clean and focused in its bouquet, the 2015 Casal Novo offers up savory scents of melon, white fruits, and wild herbs. Casal Novo's vivacity continues on the palate, where white peach, melon, and subtle spice tones spread their welcome. The wine's subtle minerality, born of the vineyards' slate and chalk soils, lends vibrancy and balance to the wine's overall sensual appeal. All these components add up to a delightfully fragrant, intense glass of Godello that sports a lengthy finish and tremendous palate appeal. For optimal enjoyment, we suggest serving Casal Novo's 2015 Godello moderately chilled (40º-45º F).
Some have claimed that Casal Novo's 2015 Godello resembles fine white Burgundy, a hypothetical blend of Pouilly-Fuissé and Chablis in particular, but such comparisons rarely do a wine justice. Nonetheless, it is clear that Casal Novo's 2015 Godello can hold its own with the aforementioned French wines, especially when it comes to accompanying seafood, roast chicken, hearty salads, and creamy pasta dishes. Casal Novo's food-friendly Godello also makes a splendid aperitif or opening act to an elegant dinner party. A simple roasted chicken with butter and herbs will showcase Godello's many attributes, as will flavorful chicken salads prepared with grapes, walnuts, and rosemary. A supreme seafood salad, prepared with scallops, shrimp, crab, tuna, crunchy red and yellow bell peppers and a zesty aioli provides a tasty treat with the 2015 Casal Novo Godello, too. Sea scallops, seared lightly and then sautéed with white wine, lemon juice, butter, parsley, and fresh Mediterranean herbs, offer another superb accompaniment to Godello, especially when served over creamy angel hair pasta infused with Parmesan cheese. Seafood paellas and classic fish stews such as Cioppino pair nicely with this wine as well. Crispy apple and pear slices paired with a variety of creamy, cow's milk cheeses make tasty, easy to prepare accompaniments to Godello, too. Enjoy!
Adega O Casal Novo lies tucked away above the tiny village of Rubia in the northeast corner of Spain's cool, green province of Galicia. Casal Novo is a relative newcomer to Valdeorras, Galicia's premier appellation for Spain's indigenous Godello and Mencia varietals. Founded only in 2000 by five partners whose families held high elevation vineyards, Casal Novo has become a benchmark producer of both Godello and Mencia. With less than 15 acres of vineyards and a total dedication to quality, Casal Novo qualifies as a true boutique venture. Yields are kept dramatically low and no herbicides or systemic herbicides are used in Casal Novo's vineyards, which allow the estate's grapes to express their full varietal character and reflect the unique terroir of Valdeorras.
Godello is a white grape variety that is indigenous to northwest Spain. It can also be found in northern Portugal where it is known as Gouveio. However, it is in Galicia, Spain's cool northwestern province that sits beside a rugged Atlantic coast, that Godello reaches its full perfection. The finest examples of Godello emanate from the Valdeorras appellation. Brought back from near extinction in the past thirty years, Godello has reclaimed its traditional standing as one of Spain's three exceptional white grape varietals (Albariño and Verdejo being the other two stars) with a total plantation of nearly 3,000 acres.
Godello, like many other grape varieties, is known by a litany of names. It has more than a dozen synonyms, including Agodello, Berdello, Godella, Ojo de Gallo, Trincadente, and Verdello. Yet, no matter the synonym, Godello requires a cool climate and thin, slate soils to thrive. Typically fresh, aromatic, and terroir-driven, Godello rarely sees ageing in oak barrels, and for that it is often the better. Nevertheless, Godello is capable of ageing for many years in the bottle, not unlike the finest examples of Chardonnay and Riesling. Elegance, freshness, and purity along with full, complex, mineral-rich flavors are Godello's calling cards.
"Valdeorras – Mineral Valley – has been prized since Roman times for its slate and precious metal, and it remains an internationally-prominent source of slate for the building industry. The Romans may have taken the gold, but they cultivated the Godello – among the first vitis vinifera grapes to evolve in Spain, and a strong contender with Albariño for top honors among Spanish noble white varieties. Valdeorras is the Galician counterpart to Bierzo in Castilla y León, the two D.O.s separated by the Montes de León and connected via road tunnels and the gorge of the Sil River. As in Bierzo, Mencia and Godello are the principal quality grape varietals, but in Valdeorras the more Atlantic climate and lighter soils tip the scales in favor of Godello." – Classical Wines from Spain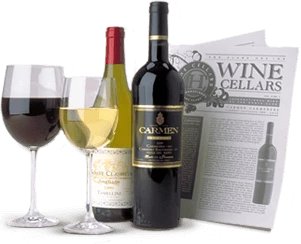 Enjoy Limited Production Estate
Bottled Wines
Discover limited production estate bottled wines such as Vergenoegd's internationally
acclaimed 2005 Cabernet Sauvignon, imported exclusively for our members.
DISCOVER OUR FOUR CLUBS