Grown in an eight-acre high altitude vineyard, the 2020 Adega Cachin Peza do Rei Ribeira Sacra Mencia captures the beauty of its surroundings. A deep cherry red color and an amplifying nose of ripe cherries, forest berries, and Ribeira Sacra's mineral-rich terroir greet the nose from the moment the wine is poured. In the mouth the wine explodes with juicy ripe cherry and raspberry fruit flavors, laser-like precision, and a suffused minerality born of Ribeira Sacra's unique terroir. Add a fine, light patina of wood that provides structure and this Mencia hits the high notes before gracefully bowing out as it slips down the throat. For optimal enjoyment, we suggest serving this juicy red wine at cool room temperature (58°-62° F) after a few minutes of aeration before allowing it to captivate your senses. Anticipated maturity: 2022-2026. Enjoy!
The 2020 Adega Cachin Peza do Rei Ribeira Sacra Mencia makes an excellent companion to a host of simple and sophisticated dishes. This Mencia's amplifying aroma and juicy flavors make it easy to pair with nearly all types of meats. It complements ham, pork, and steak; grilled or roasted chicken with garlic, herbs, and spices; and typically hard to pair vegetables, too, such as asparagus. Some of our favorite accompaniments with Mencia are prosciutto-wrapped roasted asparagus. For an authentic Spanish presentation, try substituting a fine grade of Spanish jamón for the prosciutto. Grilled or roasted chicken, served over a bed of organic greens that are laced with black and green Spanish olives, red onion, and garlic sautéed green beans, offers another simple feast with which to enjoy the flavorful 2020 Adega Cachin Peza do Rei Ribeira Sacra Mencia. And, if after dinner some of this unique wine should linger in the glass, consider finishing it with a plate of Spanish cheeses that includes Mahón, Manchego, Roncal, and Idiazábal. Buen Provecho!
Adega Cachin's Peza do Rei is a medieval walled vineyard in the heart of Galicia's Ribeira Sacra and Sil River Canyon. Peza do Rei takes its name from the kings of León who garnered income from the site and used the adjoining forest as a hunting retreat. Within these ancient walls are twelve acres of vertiginous, single row slate terraces that form an ideal south-facing amphitheater along the Edo River, a tributary of the Sil. To say that Peza do Rei enjoys a spectacular location would be more than an understatement.
Today Peza do Rei is the domain of the César Enriquez family, who are among the core of founding growers of what is now D.O. Ribeira Sacra. Beginning in the early 1990s they reconstituted the vineyard with only noble indigenous grape varieties: Mencia, the sole varietal for the domain's sophisticated red wine and Godello, Treixadura, and Albariño, which are responsible for Peza do Rei's highly acclaimed Godello based white wine. Peza do Rei's modern bodega, which is excavated into a hillside to provide natural temperature control, handles the entire production of 50,000 bottles, miniscule by New World standards.
Mencia is a red Spanish grape varietal found primarily in the Bierzo, Ribeira Sacra, and Valdeorras appellations of northern Spain. Although the Mencia varietal was once considered by enologists to be the direct ancestor and precursor of Cabernet Franc, recent DNA testing has shown that this is not the case. Mencia and Cabernet Franc share some common characteristics, but not the same ancestry. It is now widely believed that Mencia and Portugal's Jaen de Dão (Jaen for short) grape variety are one and the same. However, not everyone agrees, yet what we do know about Mencia is that it has been around for quite some time. Bierzo's original plantings of Mencia likely date to the earliest Roman settlers in the region who cultivated the varietal two thousand years ago in what remains one of Europe's most isolated wine regions. Since the 1990s, Mencia has steadily grown in popularity, especially in the favored appellations of Bierzo, Ribeira Sacra, and Valdeorras. Today, there are more than 20,000 acres of Mencia under cultivation in Spain.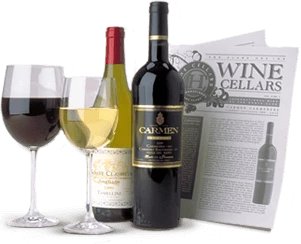 Enjoy Limited Production Estate
Bottled Wines
Discover limited production estate bottled wines such as Vergenoegd's internationally
acclaimed 2005 Cabernet Sauvignon, imported exclusively for our members.
DISCOVER OUR FOUR CLUBS