It has become almost an article of faith among oenophiles that the world's best Malbec comes from South America, and Argentina in particular. Among of the many fine attributes of Argentine Malbec are its immediate accessibility and drinkability, even when young. Yet good Malbec also offers plenty of ripe, juicy upfront fruit, subtle complexity, and the ability to evolve gracefully for years in bottle. The 2006 Achaval-Ferrer Malbec possesses all of these qualities plus something more. Not only does the 2006 Achaval-Ferrer have the wonderful classic Malbec flavors of bright red raspberry and strawberry fruit in abundance, but it also has that "X-factor," that subtle, sensual, magical quality that makes a wine that tastes great actually be great wine. In the 2006 Achaval-Ferrer, the experience starts with a pleasantly earthy, spicy, musky scent that blends seamlessly with the wine's abundance of crisp fruit. What this wine promises on the nose it delivers on the tongue, with all its vivid fruit flavors backed by satisfying tannins and acidity, and built upon a foundation of surprising depth. Although originating in the nose and on the palate, the effect is an almost visceral pleasure. That all this comes in a wine less than two years old is indeed a delightful surprise and bodes well for those chosen few imbibers patient enough let this gem develop for a few more years. And although such discipline and patience will certainly reward, one also could be forgiven for enjoying this delightful Malbec at the first opportunity. Besides, allowing the 2006 Achaval-Ferrer Malbec an hour or more of aeration will greatly enhance the initial pleasure. Anticipated Maturity: 2008-2015.
In addition to early accessibility and a penchant for developing well in bottle, fine Argentine Malbec also possesses the virtue of flexibility in its potential pairings with food. Its bright sunny disposition seems appropriate to almost any occasion. Beef would, of course, be the accompaniment of choice with Malbec in Argentina and among many Americans, as well. Consequently, a traditional Churrasco style of beef or any good cut of marinated steak will provide a rewarding pairing with this wine. However, putting such restrictions on a world-class Malbec such as the 2006 Achaval-Ferrer by solely playing the beef card is tantamount to censorship. Moreover, the hedonist would be left out in the cold, or worse. Traditional tomato-laden, southern Italian specialties and most thick, rich, modern-style pasta recipes made with plenty of cream, garlic, or olive oil pair beautifully with this enthralling Malbec, as well. In an ideal world, we would suggest serving this glorious Malbec with a first course of the finest pasta one can muster and then continuing the meal with a second bottle in the company of a superb cut of beef. So, bring on the lasagna, manicotti, and stuffed shells and let the festivities begin! Well, so much for the tyranny of expectation. Enjoy!
Achaval-Ferrer is easily one of the top ten producers of Malbec in Argentina. A partnership between several Argentineans, which includes Santiago Achaval Becu and Manuel Ferrer Minetti, and their Italian friends Roberto Cipresso and Tiziano Siviero, this exceptional team has been fashioning outstanding Malbec since 1998. World renowned for his Brunello di Montalcino in his native Italy and his ability to work magic as a consultant for other highly acclaimed estates, Roberto Cipresso is the chief winemaker at Achaval-Ferrer. Roberto Cipresso began his winemaking career in Montalcino in 1986 with Case Basse, Poggio Antico, and later in Ciacci Piccolomini d'Aragona, where he was Managing Director. In 1992, he created the prized Montalcino estate of Fattoria La Fiorita, where he continues to craft small quantities of outstanding Brunello. In 2000, Roberto was asked to fashion a special wine for the Pope in honor of the 2000 Papal Jubilee, and in 2001 he was nominated as Italian Winemaker of the Year for his many outstanding contributions to winemaking. In addition to working full time at Achaval-Ferrer, Roberto continues to consult for other leading Italian estates. What Roberto Cipresso seems to do better than almost anyone else is transform grapes from distinct terroirs into polished, world-class wines without forfeiting authenticity or the full expression of each vineyard. And nowhere else is Roberto Cipresso's great gift more apparent than in the beautiful Malbec wines he fashions at Achaval Ferrer. Malbec (mahl-bec) Malbec is one of the original red wine grapes of Bordeaux, France (where it is called Cot or Pressac). While it is rarely used any longer in Bordeaux for more than adding a bit of color and body, it remains one of the five grapes allowed in red Bordeaux, along with Cabernet Sauvignon, Cabernet Franc, Merlot, and Petit Verdot. However, south of Bordeaux in the region of Cahors, Malbec still reigns supreme. It is the chief grape used in what historically has been called the "black wine" of Cahors. Today, Argentina is the new champion of Malbec, where it is the most important grape variety, both in terms of quality and quantity. The best Argentine Malbecs are age-worthy wines of great distinction.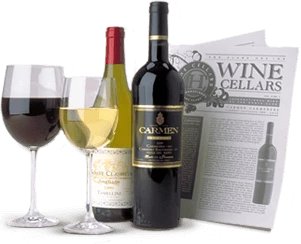 Enjoy Limited Production Estate
Bottled Wines
Discover limited production estate bottled wines such as Vergenoegd's internationally
acclaimed 2005 Cabernet Sauvignon, imported exclusively for our members.
DISCOVER OUR FOUR CLUBS