Pietra Santa's 2010 Cienega Valley Amore Pinot Grigio captures the eye the moment it is poured. It sports a brilliant color, imbued with a glint of sunshine. However, what strikes us most about this wine is its amplifying bouquet. The aroma of fresh, vine-ripened fruit melds with an uplifting minerality that captivates the nose. What Pietra Santa has successfully managed to do in their Pinot Grigio is combine the best attributes of Alsatian Pinot Gris and Italian Pinot Grigio, and in the process create a whole new way of enjoying Pinot Grigio. In both aroma and flavor, one can taste the grape, the earth and the sky of Cienega Valley, and be glad. In essence, Pietra Santa has fashioned a Pinot Grigio that possesses the best of both worlds. And if you are patient enough to allow this youthful wine a little time in the glass before guzzling it down, you will discover its subtle charms as well as its overt appeal. Serve Pietra Santa's lively 2010 Amore Pinot Grigio moderately chilled (about 40º F), but be sure to allow it a few minutes to evolve in the glass; there is more to this wine than what first touches the tongue.
What we like about Alessio Carli's wines is that they are fun to drink all year round, either as an aperitif or with food. Fish, shellfish, pastas, salads, and wraps all make splendid accompaniments to Pietra Santa's 2010 Cienega Amore Valley Pinot Grigio. Grilled trout with slivered almonds provides a good setting to highlight the wine's full, polished flavors. Grouper, Mahi Mahi, and other white, flaky fish pair nicely with this wine, too. Crab Cakes served with Aioli Sauce, traditional Shrimp Scampi, and even a spicy Thai Style Poached Halibut provide other splendid accompaniments. Seafood crepes, fish tacos, and Piedmontese-style risottos present additional opportunities to showcase the 2010 Pietra Santa Amore Cienega Valley Pinot Grigio. Buon Appetito!
Pietra Santa is a family run estate producing outstanding artisanal wines and olive oils. It is located 25 miles from Monterey Bay in the beautiful Cienega Valley. Founded in the early 1850's by Frenchman Theophile Vache, it is now owned by the Blackburn family. Pietra Santa fashions an array of delicious wines, thanks to the acumen of Italian winemaker Alessio Carli and the estate's unique terroir. In addition, the estate's proximity to the coast emits cooling maritime breezes that temper the summer sun, resulting in a long growing season and vibrant balanced wines. Moreover, the winery is located on the San Andreas Fault, which has created soils rich in granite and limestone that naturally lower vineyard yields and add distinctive flavors to the wines. The winery was named Pietra Santa, Italian for "Sacred Stone," in honor of these exceptional soils. What is perhaps most impressive about Pietra Santa is how winemaker Alessio Carli brings out the best in each of the varietals that Pietra Santa grows. Tuscan by birth, Alessio first learned to make Chianti with his father. He then went on to study agronomy at college and later earned a graduate degree in enology. In Tuscany, he spent two years at Fattoria Il Castagno where he supervised the fattoria's production of both wine and olive oil. He also served as Assistant Winemaker at Badia a Coltibuono, one of Chianti's most celebrated estates, before coming to California in 1990. He has worked exclusively with Pietra Santa since 1998. His expertise with Sangiovese, Tuscany's indigenous progeny, and Pinot Grigio, Northern Italy's favored white varietal, is second to none. However, choosing one offspring over another at Pietra Santa is no easy task. Alessio's olive oils are equally impressive. In short, Pietra Santa continues to be one of California's rising stars, and its wines are not to be missed.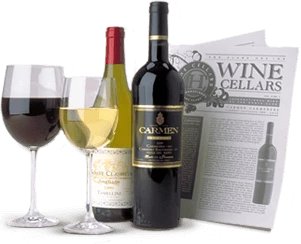 Enjoy Limited Production Estate
Bottled Wines
Discover limited production estate bottled wines such as Vergenoegd's internationally
acclaimed 2005 Cabernet Sauvignon, imported exclusively for our members.
DISCOVER OUR FOUR CLUBS