The 2010 Nidia Rueda Verdejo exhibits an attractive hue the color of the sun as it illuminates the Spanish countryside and its undulating rows of vines and shimmering olive trees. But alas, one cannot drink the color of the wine or the vivid impression it makes upon the eye, so take a long sniff of Nidia's heady aroma. Its bouquet combines scents of candied orange peel, green apples, lemons and peaches in a savory concoction – a wonderful prelude to Nidia's flavor profile, which happily mimics the wine's delightful bouquet. On the palate Nidia delivers substantial mouth feel, yet it remains crisp and refreshing. Medium–bodied but long on varietal character, the 2010 Nidia Verdejo is one easy wine to drink. It's both ethereal and savory, all at the same time. Enjoy this exuberant Verdejo well chilled or cool, depending upon your tastes. We liked this wine iced cold, but found it even more attractive at a more modest temperature (45° F). Enjoy!
Rueda Verdejo makes a perfect complement to all kinds of fish, seafood, tapas, and cheese, and Nidia's 2010 Verdejo is certainly no exception. In fact, we found it to be quite a versatile wine. For starters, we suggest pouring a glass of Nidia Verdejo to enjoy as an aperitif. Add some anchovy or pimento stuffed green olives and some mild Chorizo to enjoy with Nidia, and a good night is ahead. As a first course, scallops or prawns prepared Provencal style in a heady white wine, garlic, and tomato sauce, pair beautifully with Nidia's full, balanced flavors. Calamari Frito and Shrimp Scampi offer other fine complements to this wine. Cod, both fresh and dried (baccalà), offers a tasty traditional food to enjoy with any Verdejo as well. Crab Cakes, sushi and sashimi offer more mouthwatering pairings. Melon wrapped in prosciutto, or better still thin slices of Spain's peerless Jamon Ibérico, offers yet another delectable pairing. And then there is cheese. If you're disciplined enough to still have any Nidia Verdejo left in your glass by the time the cheese is served, consider Appenzeller, English Cheddar, or almost any Spanish cheese as a complement.
One of the greatest rewards in the world of wine is discovering an especially gratifying bottle of wine from a new winery. Our latest white wine find is from Bodegas Nidia, a tiny new winery in Spain's Rueda Appellation. Bodegas Nidia cultivates just 12 acres of Verdejo vines, all in excess of 20 years of age, from which they produce a delicious 100% Verdejo. Bodegas Nidia fashions traditional Rueda Verdejo that embodies the grape's full, ripe varietal character. Taste and see.
Verdejo is a premium white grape that has long been cultivated in Spain. Its origin is believed to be North Africa, though its spiritual home is Rueda, an important viticultural area northwest of Madrid in an historic part of Spain's ancient province of Castilla y León. Verdejo likely arrived in Rueda with the Moors sometime prior to the 11th century. The grape played an important part in resettling Rueda after the 11th century Reconquest of Castilla when King Alfonso IV offered freehold ownership of land to those prepared to resettle Rueda. Monastic orders quickly took up the King's offer and built monasteries with vineyards to provide a steady wine supply. Soon afterwards the vineyards of Rueda became the primary suppliers of wine to the itinerant medieval Castilian court. Verdejo thrived in Rueda until the 19th century when phylloxera decimated the region. Fortunately, Verdejo was saved from extinction and re-planted widely throughout Rueda in the 1970s. With the advent of modern wine equipment, Verdejo has never been better. It produces a smooth, highly aromatic wine that is rich in varietal character.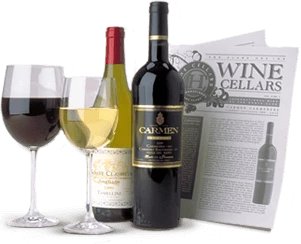 Enjoy Limited Production Estate
Bottled Wines
Discover limited production estate bottled wines such as Vergenoegd's internationally
acclaimed 2005 Cabernet Sauvignon, imported exclusively for our members.
DISCOVER OUR FOUR CLUBS