The 2010 Bodega Goulart Torrontes welcomes the eager imbiber with a bright, sunshiny robe and a fresh, heady bouquet that begs the taster to jump right in. Rose petal and tropical fruit flavors mingle with ginger and sandalwood scents to caress the nose, before seeping surreptitiously into the marrow of the wine. From the nose, one might expect that a fruity or even a much sweeter concoction awaits, but Torrontes has a way of seducing its adherents without a lot of residual sugar. On the palate, the 2010 Bodega Goulart conjures the captivating flavors of its charming bouquet and tempers them with a tangy, citrus twist reminiscent of grapefruit that both refreshes and satisfies the palate. It seems the Mendocino clone of Torrontes that Goulart cultivates eschews the sweet finish of the more common Salta clone, so that in Goulart's Torrontes one meets a beautiful array of fruit flavors, coupled with a pleasantly dry finish that recalls top notch Sauvignon Blanc. We suggest serving the Goulart Torrontes at least moderately chilled (about 40º F).
Like most well made Torrontes, the 2010 Bodega Goulart will rise to the culinary delight at hand. However, it is worth mentioning that Torrontes typically presents its best hand at table. Moreover, the more difficult a dish is to pair with wine, the more appealing and gratifying Torrontes becomes. Consequently, we suggest pairing the 2010 Goulart Torrontes with Asian Stir Fries, Chinese and Thai specialties, and vegetables such as asparagus, avocado, cucumber and eggplant. Crab cakes made with lump crabmeat, salmon, cucumber, and avocado, and then topped with a light cream sauce provide winning complements to Bodega Goulart's Torrontes. Shrimp Tempura, topped with slices of fresh mango and avocado, makes another tasty pairing. Shrimp Curry with snow peas, eggplant, and red pepper makes a compelling case to share a meal with this wine, too. And if Asian inspired dishes are not to your liking, Goulart's Torrontes can hold court equally well with simple salads and most fish and fowl recipes.
Erika Goulart's life story began in Brazil as the grand-daughter of Marshal Gastao Goulart. Marshall Goulart was the leader of Brazil's Constitutional Revolution in 1932. In 1915 while living in Mendoza, he purchased two separate 15-hectare properties and planted them with Malbec and Cabernet Sauvignon. While in political exile in Mendoza, Marshal Goulart purchased a 28 hectare vineyard in Lunlunta in 1928. The vineyard is part of Mendoza's Primera Zona, near Lujon de Cuyo, which became Argentina's first controlled appellation. Some 70 years later Erika and her husband discovered the deed to the old abandoned vineyard and laid claim to it. Hiring an experienced agricultural engineer, Mauricio Parodi, Erika set out to restore the vineyard to its original condition. It took Erika and Mauricio 6 years to replant the estate and get the vineyard and vines into the correct balance. A new section was planted with Torrontes and a modern winery was constructed in Mendoza to vinify the fruits of the family's labor. Moreover, Luis Barraud was hired as a consultant winemaker. Luis and his wife are partners in Cobos with Paul Hobbs, whose knack for fashioning world class wines in both California and Argentina are legendary. Today, Bodega Goulart's wines are winning praise for their exceptional Cabernet, Malbec and Torrontes, and with good reason: Bodegas Goulart serves up an exceptional line of wines that come across as concentrated, dense, and penetrating.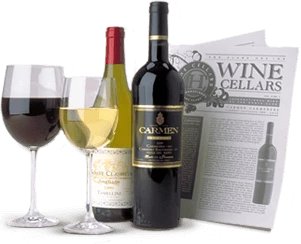 Enjoy Limited Production Estate
Bottled Wines
Discover limited production estate bottled wines such as Vergenoegd's internationally
acclaimed 2005 Cabernet Sauvignon, imported exclusively for our members.
DISCOVER OUR FOUR CLUBS