Domäne Wachau fashions classic Gruner Veltliner. The 2010 Domäne Wachau Federspiel Terrassen glows with the glint of the sun. Moreover, it offers a light but enticing aroma of freshly picked golden apples, fennel, freshly mown grass, and liquid minerals. On the palate, Domäne Wachau's Federspiel Gruner Veltliner offers a subtle balance of fruit and fresh, crisp acidity that leads to a racy and refreshing finish. Some may enjoy this wine at a more ambient temperature, but most will prefer this unique Austrian beauty chilled quite well (35º- 40º F) and in the full bloom of its youth. Prost!
Domäne Wachau's 2010 Federspiel Terrassen Gruner Veltliner is the ideal accompaniment to traditional Austrian cuisine as well as seafood, poultry, Asian Fusion specialties and most soft and crusted cheeses. Wiener Schnitzel and Gruner Veltliner make for a classic match. Fried Calamari; Crab Spring Rolls; and Pecan Crusted Crab Cakes, served with a key lime chipotle and a corn and bean relish provide tasty accompaniments as well. Fried or sautéed clams, oysters, or scallops offer superb companionship, too, as does roast duck or turkey with all the trimmings. Sushi and stir fries pair beautifully with this wine, too, which is one reason Gruner Veltliner has become so popular around the world. Enjoy!
Domäne Wachau is one of Austria's most celebrated wineries. It lies in a bend of the mighty Danube River, which has sculpted Austria's fabled Wachau Valley into steep rocky slopes and vine bedecked terraces that look out onto story book scenery. Domäne Wachau produces nearly a third of the Wachau's relatively small production, drawing the choicest grapes from tiny plots that cling to the terraces high above the swift flowing Danube. Here Gruner Veltliner, Austria's unique and most important white grape variety, reigns supreme. Austria enjoys such a reputation for stunning scenery, winter sports, Viennese pastries, and picture postcard palaces that it is easy to forget that a bevy of fine wines flows from the terraced hills and lakeshore vineyards of this alpine nation. In fact, Austria enjoys an unbroken thousand year viticultural history, dating back to 955 A.D. and the decree by Otto I to replant the Austrian vineyards - the first such attempt since the departure of the Romans. Moreover, Austria presently adheres to the most stringent laws and the highest standards of wine production in the world and turns out many charming, flavorful, natural tasting wines, thanks to legislation mandated in the 1980s. White wines dominate the Austrian wine trade in both quality and quantity, despite an increasing number of delicious reds from such unique varietals as Blaufrankisch and Zweigelt. Fine white wines are made from native Austrian varietals as well as a host of other European varietals, but unlike Germany, her neighbor to the north, the vast majority of white wine made in Austria is dry. The best and most intriguing of these white wines springs from Riesling and the native Gruner Veltliner, the spicy, quintessential Austrian varietal, which has become the rage in the finest eateries around the globe. From Vienna to Los Angeles to Hong Kong, Gruner Veltliner is popping up to accompany an increasingly eclectic international fare that defies the ordinary Chardonnay and Sauvignon Blanc accompaniment. In addition, Austria crafts fine white wines from Weissburgunder (Pinot Blanc), Rulander (Pinot Gris), and Sauvignon Blanc, the best of which can compete with the finest such examples from France and elsewhere. The major wine growing areas of Austria are scattered throughout the eastern third of the country, but none can claim to be more beautiful than the Wachau, the majestic valley of the Danube, located some 100 kilometers north of Vienna. This high, narrow Danube valley, between Melk and Krems, is recognized as one of the most stunning river landscapes in the world. In 1994 the Wachau was recognized as a Conservancy Area of international value and awarded the "European Nature Protection Diploma." Domäne Wachau is located in Durstein, at the very heart of the Wachau.
"Federspiel" is a legal, quality designation specific to the Wachau that designates a wine as dry, elegant, and medium-bodied, while "Terrassen" refers to the origins of the grapes on the terraces above the Danube.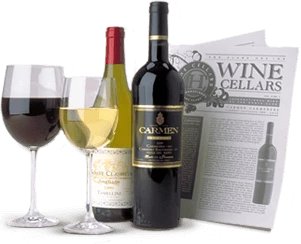 Enjoy Limited Production Estate
Bottled Wines
Discover limited production estate bottled wines such as Vergenoegd's internationally
acclaimed 2005 Cabernet Sauvignon, imported exclusively for our members.
DISCOVER OUR FOUR CLUBS