Taste Domaine Marie-Pierre Manciat's 2010 Mâcon-Les Morizottes and see just how good the wines of the Mâconnais can be. Endowed with a bright yellow robe and a seductive bouquet that adeptly blends soft scents reminiscent of acacia blossoms, beeswax, and mountain apples with the vibrancy of a citrus twist, the tone is set in this wine for an utterly pleasing experience. Long, pure, and mouth filling, Domaine Marie-Pierre Manciat's 2010 Mâcon-Les Morizottes follows through on the palate, delivering a set of complex flavors reminiscent of the wine's exquisite bouquet. In short, Marie-Pierre Manciat captures the essence of Mâcon Chardonnay in her wine, replete with pure varietal character and seductive minerality. Subtle, complex flavors linger on the finish, too, signaling it's time for the next sip. Drink this pure, natural tasting Chardonnay moderately chilled (40º-45º F). Some tasters may prefer this wine with more or less of a chill. A more ambient temperature tends to allow the palate the ability to experience the subtle complexities in a Mâcon wine, while more frigid temperatures accentuate the citrus tones inherent in the wine, so as you like it. Enjoy!
Given the crisp citrus fruit, long lingering minerality, and creamy texture of the exemplary 2010 Domaine Marie-Pierre Manciat Mâcon-Les Morizottes, the odds are it will be drunk before it makes it to table. We have always found that first rate Mâcon wine such as Marie-Pierre's Mâcon-Les Morizottes makes a crowd pleasing, glass draining aperitif. However, if this wine does by some chance make it to table, there will be no dearth of tasty accompaniments to pair with it. This 2010 Mâcon-Les Morizottes pairs easily with fish, shellfish, fowl, and many creamy pasta dishes. We tend to favor lighter fare that won't obscure the pure, gentle side of this wine, but it will hold up to an array of more highly charged dishes, including creamy pastas served with veal and peas. Some of our favorite accompaniments remain appetizers, including Crispy Shrimp served with a light Remoulade, Maryland Style Crab Cakes, Shrimp and Vegetable Rolls, and Salmon Mousse. Many cow's milk cheeses, including Colby, Monterey Jack, and Munster, accompanied by a loaf of crispy French bread provide plenty of tasty company as well, but almost any pairing that is not too highly charged will complement this wine. Bon appétit!
Domaine Marie-Pierre Manciat, formerly known as Manciat Poncet, is one of just a hand full of outstanding small producers of traditional Mâcon wines, most notably of Mâcon-Les Morizottes and Pouilly-Fuissé. This venerable domain has been making fine white Burgundy in France's Mâconnais since 1871. Marie-Pierre's father Claude Manciat was one of the Mâcon's most esteemed winemakers. Since 2003 this 7 hectare (17 acre) estate property has been in the capable hands of daughter Marie-Pierre Manciat and her husband Olivier Larochette, who are bringing Manciat's wine to even greater heights. Traditional and time honored Burgundian winemaking practices are the order of the day at Marie-Pierre Manciat's diminutive estate, which values quality over quantity. The Manciats have always been strict viticulturists, which accounts for the exceptional purity and texture that is readily apparent in the estate's two wines – Mâcon-Les Morizottes and Pouilly-Fuissé. Furthermore, all of Marie-Pierre Manciat's vines continue to be hand harvested, a rarity today in the Mâcon. And in keeping with tradition, Marie-Pierre Manciat's Mâcon-Les Morizottes is made of 100% Chardonnay that never sees oak barrels in order to preserve Mâcon Chardonnay's natural flavor, freshness, and vibrancy – the very characteristics one looks for in the finest wines of the Mâconnais.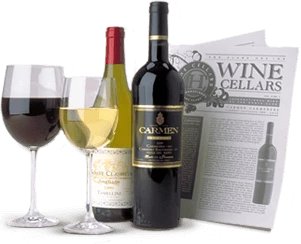 Enjoy Limited Production Estate
Bottled Wines
Discover limited production estate bottled wines such as Vergenoegd's internationally
acclaimed 2005 Cabernet Sauvignon, imported exclusively for our members.
DISCOVER OUR FOUR CLUBS