Bouchard Père et Fils has recently pushed the envelope on all of its wines, to the point where the estate's 2010 Pouilly-Fuissé has become a benchmark by which other Pouilly- Fuissés are now measured. It got our top pick this year, and we are pretty particular about Pouilly-Fuissé. Hauntingly beautiful in the glass with an eye catching glint of sunshine, utterly enticing in aroma, and silky smooth in the mouth, there is everything to like, even love, about the 2010 Bouchard Père et Fils Pouilly-Fuissé. The wine's fragrant aroma, resplendent with the scents of acacia blossoms, pure silky fruit, and lemon oil, enticed us from the moment we poured the wine, prompting one taster to say "this wine's bouquet is worth the price of admission." And true as that is, it's doubly nice to know that Bouchard Père et Fils' 2010 Pouilly-Fuissé follows through both in the mouth and on the finish, exiting with elegance, finesse, and a clean minerality that attests to the wine's grace as well as its sense of place. Elegant and layered, this is one Pouilly-Fuissé that can stand beside some of the more illustrious names in white Burgundy and not be ashamed. We suggest enjoying this worthy offering moderately chilled (40°-45° F) now through 2013. Enjoy!
Fine Pouilly-Fuissé the likes of Bouchard Père et Fils' 2010 makes for a splendid aperitif and one of the most satisfying wines with which to begin an evening, whether it is an intimate gathering or an elegant dinner party. Furthermore, the 2010 Bouchard Père et Fils Pouilly-Fuissé provides an elegant, satisfying accompaniment to light, well-prepared meals. It shines especially bright in the company of trout, walleye, grouper, tilapia, salmon, and all kinds of shellfish. The French are fond of serving Pouilly-Fuissé with appetizers or starters, too, including pâtés and terrines. Although we enjoy Pouilly-Fuissé with pâtés, we prefer serving lighter fare with Pouilly-Fuissé, Burgundy's most ethereal white wine. Consequently, some of our favorite accompaniments to Bouchard Père et Fils' Pouilly-Fuissé are scallops, shrimp, lobster, and prawns served with a light aioli or butter and white wine based sauce. A bowl of mussels, sautéed in a saffron cream sauce, remains one of our perennial favorites, too. Chicken fricassee pairs nicely as well. Salads, pastas (especially those with cream based sauces), stir-fries, chicken, pork, and cheese pies all provide other splendid accompaniments to Bouchard Père et Fils' Pouilly-Fuissé. Nevertheless, the true glory of Pouilly-Fuissé may just be its ability to shine on its own, unadorned or obliterated by food. So, whether it is winter, spring, summer or fall, this Pouilly-Fuissé will turn an ordinary evening into an extra ordinary night, with or without food. Bon appétit!
Bouchard Père et Fils is one of Burgundy's oldest and most illustrious wine estates. Since 1731 Bouchard Père et Fils have devoted themselves to creating wines that are authentic expressions of Burgundy's many special terroirs. Situated in the heart of Beaune in the 15th century Château de Beaune, one of France's Monuments Historique, Bouchard Père et Fils estate grows, produces, and bottles an outstanding array of Village, Premier Cru and Grand Cru white and red Burgundies from the finest Côte de Beaune, Côte de Nuits, and Mâconnais vineyards. The estate's Beaune du Château is the focal point of this historic property and still serves as the estate's family home. Beneath this grand domicile lay Bouchard's underground cellars where the domaine's most illustrious wines are stored behind walls 7 meters (22 feet) thick, sequestered from noise, vibration, and temperature variation. Since 1995, Bouchard Père et Fils has been owned and managed by Henriot, one of the last great family-owned Champagne houses. Henriot has added select Meursault, Côte de Nuits, and Pouilly-Fuissé vineyards to Bouchard's superlative Beaune holdings and made considerable improvements in agricultural practices and vinification to the betterment of all of the estate's wines. In 2005 Henriot opened a new state of the art winery at Bouchard, which has further enhanced the quality of the domaine's wines. In response to Bouchard's ongoing efforts to push the envelope on quality and develop sustainable viticultural practices at all of the domaine's 130 hectares (286 acres) of vines, they have been awarded the "Attestation of Qualification in Balanced Approach Viticulture," an award given by the TERRAE organization. Recent reviews by all of the world's foremost critics echo the commensurate quality that one can expect from Bouchard Père et Fils and the Henriot family.
Pouilly-Fuissé is the finest dry white wine of southern Burgundy. Located in the heart of the Mâcon, with its limestone massif bluffs and chalky alkaline soil, the Pouilly-Fuissé appellation comprises four villages. Here, Chardonnay reigns supreme on a series of steep hills, just to the north of the ten Grand Cru villages of Beaujolais. All the wine of this renowned commune is white, emanating exclusively from Chardonnay vines. Traditionally, Chardonnay is gently pressed in Pouilly-Fuissé and the resulting wines see little or no oak barrel aging, so as not to obscure the delicacy, elegance, or subtle charm for which the wines of this commune are justly famous.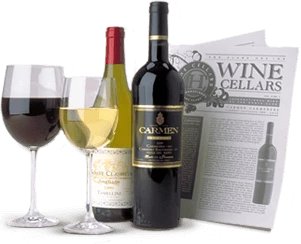 Enjoy Limited Production Estate
Bottled Wines
Discover limited production estate bottled wines such as Vergenoegd's internationally
acclaimed 2005 Cabernet Sauvignon, imported exclusively for our members.
DISCOVER OUR FOUR CLUBS