In the 2010 vintage, Artesa has proven once again that Mark Beringer and company are at the top of their game with their Carneros Chardonnay. Artesa's 2010 Carneros Estate Reserve Chardonnay makes a profound statement, indeed. From the wine's beautiful sun-kissed hue to its long, lingering finish, there is everything to like in this Chardonnay. For starters, the prolonged growing season in 2010 is evident in the wine's tantalizing aroma, a delicious mélange of summer fruits, baked apple, butter, and scintillating spice tones that emanate from barrel-fermentation and extended aging sur lie. And in the mouth, complex, satisfying flavors that recall apple, peach, pear, and ambrosia caress the palate. Classy, elegant, textured, and utterly satisfying, Artesa's 2010 Carneros Reserve Chardonnay is loaded with flavor, yet this wine never comes across as heavy or out of synch. The wine's lavish, textured underpinning makes it a veritable pleasure to drink now, but further bottle age will only increase its stature. We suggest serving the 2010 Artesa Reserve Chardonnay moderately chilled (40º-45º F). And like all top notch Chardonnays, allow the 2010 Artesa Reserve Chardonnay five or ten minutes of aeration in the glass before consuming.
What impressed us most about Artesa's 2010 Carneros Estate Reserve Chardonnay is how equally satisfying it is to sip and savor as it is gratifying at table with great food. So many premium California Chardonnays still seem built to shock and awe rather than ingratiate, but not Artesa's Estate Reserve Chardonnay. Artesa's Reserve Chardonnay not only pleases from the moment it is poured, it offers supreme balance and ever more flavor and complexity with each and every sip, which makes it the ideal wine to serve with some of our favorite food pairings. Sea Bass prepared with a red pepper beurre blanc and accompanied by creamy tarragon infused polenta and Grilled Shrimp, served in a roasted red pepper and thyme sauce over Asparagus Risotto, make especially fine accompaniments. Hazelnut Encrusted Chicken, topped with a mushroom, herb, and prosciutto cream sauce, certainly gets our nod with Artesa's Reserve Chardonnay, too. In addition, we suggest that our members not pass up the opportunity to try a host of cheese based dishes with this wine, especially Cheese and Leek Pies, a creamy Pasta Primavera, or even Fondue. But if you decide to serve the 2010 Artesa Reserve Chardonnay all by itself, you won't be disappointed.
Artesa is perhaps the most imaginative and striking of all Napa Valley wineries, rivaling and even surpassing the likes of Opus One and Dominus. Resplendent with a sculpture studded visitor center and futuristic fountain, everything about this winery exudes panache and style. From panoramic views of San Pablo and San Francisco Bays to the bevy of opulent, individualistic wines that flow from meticulously tended vineyards, Artesa offers every enticement to stay and taste. Artesa means "craftsman" in Catalan, the language of Barcelona and the winery's owners, the Raventos family. As the name implies, all of this world-class winery's offerings are handcrafted. Born in 1991 to great fanfare, Artesa has undergone several makeovers in order to specialize in the production of small lots of exquisite wines from single vineyard sites. Established originally to make only premium sparkling wines, Artesa has adroitly switched its focus to include a range of premium still wines from California's finest varietals. Since 1997, millions of dollars have been spent on a "winemaker's wish list," which has raised the bar at this outstanding property, not only for its still varietal offerings but also for the estate's traditional methode champenoise sparkling. Today, the winery's most notable wines include a stunning Estate Reserve Chardonnay from Carneros (this month's feature), tantalizing full-bodied Pinot Noirs, and several elegant Napa Valley Cabernet Sauvignons. These are of course in addition to Artesa's excellent champagne style sparkling wines. In total, Artesa comprises 352 acres in Carneros, devoted mostly to Chardonnay and Pinot Noir; 409 acres in northern Alexander Valley that are dedicated equally to the Bordeaux varietals and Tempranillo; and a new 300 acre Sonoma Coast property that will produce Chardonnay, Pinot Noir, and Spain's most important white varietal – Albariño. In order to produce top-notch Chardonnay, Cabernet Sauvignon, and Pinot Noir that occupy the highest echelon of Napa Valley offerings, Artesa employs Mark Beringer, great grandson of Jacob Beringer who was one of the early pioneers of Napa Valley viticulture, to oversee the winemaking. In addition to Artesa, the Raventos family owns Codorniu, Spain's first and foremost producer of Cava; Bodegas Bilbainas, a historic property in the heart of Haro in La Rioja Alta; Septima, a stunning new winery in the famed Agrelo district of the province of Mendoza in Argentina, and other prime Spanish properties. All are renowned for their quality and individual style.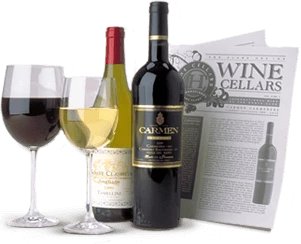 Enjoy Limited Production Estate
Bottled Wines
Discover limited production estate bottled wines such as Vergenoegd's internationally
acclaimed 2005 Cabernet Sauvignon, imported exclusively for our members.
DISCOVER OUR FOUR CLUBS