One of Carmenere's attributes is its deep, opaque color, and the 2009 Vina Chocalan Seleccion Carmenere is certainly no exception: it possesses the intense ruby and violet robe that makes authentic Carmenere absolutely eye popping. Chocalan's Seleccion also exhibits great aromatic intensity, offering up succulent scents reminiscent of ripe blackberries, currants, coffee, wood smoke, and black pepper. On the palate layers of deep berry flavors emerge, mingling with the savor of herbs and spices, all of which are wrapped in soft, round tannins. Although this wine appeals immediately upon opening, 15-20 minutes of aeration will release all that this tasty Carmenere as to offer, so patience is advised. For optimal enjoyment, we also suggest serving Chocalan's 2009 Seleccion relatively cool (57º-66º F).
For Carmenere fans, food will almost certainly be optional with the 2009 Vina Chocalan Seleccion Carmenere. Unaccompanied, one can fully appreciate all the subtlety and unique qualities inherent in this wine. Nonetheless, Chocalan's Carmenere has the ability to elevate good home cooking to an art and complement the finest haute cuisine, so why not have it all? We suggest serving this wine with everything from juicy Angus Sliders to Veal Medallions, served over caramelized onions and artichoke heart risotto with sweet peas, mushrooms, and sweet peppers in Madeira wine sauce. Eggplant Rollini; Prosciutto Wrapped Chicken Breasts, stuffed with fresh herbs and Manchego cheese; Pulled Pork Shoulder, slow cooked in a savory barbecue sauce; Lentil and Sausage Soup, served with crusty French bread and a wedge of any creamy cow's milk cheese all get our nod with this wine, too. And if you don't feel like cooking, order in a thin crusted Three Cheese and Mushroom Pizza. With a bottle of Chocalan Carmenere, it may be the most satisfying meal you have all week. Enjoy!
Viña Chocalán is one of Chile's foremost estate producers of premium varietals. It is owned and managed by the Toro Harnecker family, who have assembled a superb team of viticulturists and oenologists to assist them in making award winning, world class wines. Chocalán (pronounced "Sho-kaw-lann") means "yellow blossom." It is the name given to the area that now surrounds Chocalán's winery and vineyards by Chile's ancient, indigenous peoples in deference to the profusion of yellow wild flowers that cover the region's hillsides. The Chocalán estate lay nestled upon these steep slopes in central Chile's Maipo Valley, surrounded by lakes and parks, in a wedge between the coastal mountains and the Andes. Viña Chocalán specializes in the production of Bordeaux's six permitted grape varieties: Carmenere, Cabernet Sauvignon, Cabernet Franc, Merlot, Malbec, and Petit Verdot. More recently this estate has been fashioning very good Syrah and Pinot Noir as well. All of Chocalán's grapes are estate grown using natural, sustainable agricultural practices. These practices translate into wines that are pure, natural tasting and expressive of Viña Chocalán's privileged terroir.
Carmenere belongs to the Cabernet family of vines and is one of Bordeaux's six permitted varietals for red wine. However, it is now typically used only in small amounts, if at all, by winemakers in Bordeaux. During the phylloxera infestation of the mid-1800s, Carmenere vines were hit especially hard and the varietal was thought to have been nearly wiped out. As the vineyards of Bordeaux were replanted in the late 19th century, Carmenere was largely forsaken in favor of varietals that produced more consistent yields and were less prone to disease. Luckily for Carmenere, it had often enjoyed over the years the good fortune of being mistaken for both Merlot and Cabernet Franc, leading to its unintentional importation to other countries. These dispersions led to the cultivation of Carmenere in Italy, New Zealand, and most notably in Chile, where cuttings believed to be Merlot were imported and widely planted prior to the Bordeaux phylloxera outbreak of the mid-1800s. Only in the 1990s were these "Merlot" vines discovered to be, in fact, Carmenere. Today, Chile is the largest producer of Carmenere wines worldwide, and the grape is used both in blends as well as in pure varietal wines, the latter being quite a departure from its traditional role in Bordeaux. The warm, dry climate of Chile is far more favorable to the healthy growth and production of Carmenere than the humid weather of Bordeaux. Consequently, in the right environment and when handled properly Carmenere produces extraordinary wines in Chile with intense red fruit, earth, smoke, and spice flavors. However, Carmenere's tannins remain softer than those of Cabernet Sauvignon, making it easier to drink and enjoy in its youth as a varietal and in blends with Cabernet Sauvignon.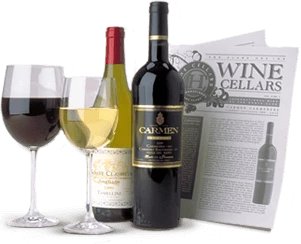 Enjoy Limited Production Estate
Bottled Wines
Discover limited production estate bottled wines such as Vergenoegd's internationally
acclaimed 2005 Cabernet Sauvignon, imported exclusively for our members.
DISCOVER OUR FOUR CLUBS