Most self respecting Malbec wines can be counted on to capture the eye with a deep purple robe, but few sparkle the way the 2009 Soluna Premium Malbec does. Brilliant in color, beguiling to the nose, and smooth on the palate, Soluna has fashioned a pretty wine that ingratiates from start to finish. Although saturated in color, Soluna's Premium Malbec eschews the splintery tannins that other young deeply colored Malbecs too often display, offering instead within a velvety, textured frame plenty of blackberry, cassis, and plum flavors to savor. And as Soluna's Premium Malbec opens, its dark berry fruit flavors yield layer upon layer of flavor; subtle chocolate, spice and smooth oak tones come quickly to fore as they meld with the fruit in this beautifully balanced, medium-bodied Malbec. What Soluna has accomplished in this premium, old vine offering is the wedding of charm to power, and for that we believe you will be thankful. Give this youthful Malbec an hour of aeration and you will be amazed at what it returns. For optimal enjoyment we suggest serving this wine at cool room temperature (60º-65ºF).
The 2009 Soluna Premium Malbec can hold court at an elegant dinner party as easily as it can enhance any home barbecue. In short, this Malbec shines at table in the company of refined cuisine as well as down home, country cooking. Whether the evening fare is a stuffed veal chop, thick rib eye steak grilled to perfection, or bacon and cheddar cheese burger, Soluna's 2009 Malbec provides good company. We also suggest grilled Italian sausages, especially authentic homemade versions made with cheese, fennel, or hot spices, to accompany a glass or two of Soluna's Malbec. And if you want to perk up a mid week meal, serve those sausages over creamy polenta or grits. Meatloaf, lamb stew and grilled lamb kebobs with roasted peppers, onions and root vegetables do justice to this wine as well. Last but by no means least, Eggplant Rollini and Zuccchini Parmigiana offer excellent accompaniments, too. Buen Provecho!
Soluna, a combination of the word sol (sun) and luna (moon), is Argentina's only premium fair-trade wine produced exclusively from small, family owned vineyards. The name Soluna was chosen as a symbol of the polarity that exists between the sun and the moon as well as the division that continues between rich and poor, land owners and contratistas (family farmers in Argentina who grow and tend the vines). Soluna is made by Hector and Pablo Durigutti, two highly acclaimed winemakers, at the boutique winery of Bodega Furlotti in Lujan de Cuyo. Lujan de Cuyo is the premier wine producing area of Argentina's sprawling state of Mendoza. The Duriguttis purchase all of their grapes for Soluna from Viña de la Solidaridad, a small growers association that was formed in response to the severe economic crisis begun in 2001 that continues to disenfranchise small family grape growers in Mendoza. Soluna guarantees a minimum price to the growers as well as a social premium. The 10% social premium benefits the entire community in the form of education, health, and other needed social projects. Soluna's work has been certified by Nature and More and is awaiting approval from Fairtrade Labelling Organizations International (FLO). Produced sustainably from old vines, Soluna's Premium Malbec ranks among Mendoza's most noteworthy wines.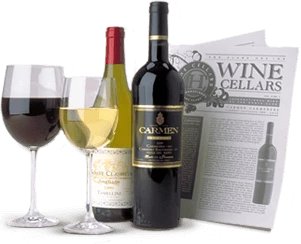 Enjoy Limited Production Estate
Bottled Wines
Discover limited production estate bottled wines such as Vergenoegd's internationally
acclaimed 2005 Cabernet Sauvignon, imported exclusively for our members.
DISCOVER OUR FOUR CLUBS