Vierlas has recently emerged as Guelbenzu's most popular wine, and one taste of the 2009 Vierlas will tell you why. It's hard to beat the quality and value of this delicious, easy to drink blend of Syrah (80%), Merlot (10%), and Graciano (10%). Deep purple in color, Vierlas offers up an enticing aroma of black fruits, blueberries, grilled meats, and hickory nuts. Moreover, Vierlas comes across as warm and rich on the palate, providing plenty of forward fruit and mouth filling flavors in a generous, balanced format. And underneath Vierlas' huggable fruit lay an ample underpinning of ripe tannin, which should allow it to improve for several more years in bottle. However, even in its tender youth, there is nary an edge to this delightful offering from Guelbenzu. Open it a few minutes before serving at cellar temperature (57º-65° F), and enjoy!
Grilled lamb or beef, pungent meat and vegetable stews, and almost any full-flavored dish with a sauce will pair well with the 2009 Guelbenzu Vierlas. Although traditional Spanish fare pairs beautifully with Vierlas, Italian regional cooking provides equally superb accompaniments to this wine. Roast leg of lamb, studded with Mediterranean herbs and covered with a black olive paste; Sausage and Peppers; Eggplant Parmigiana; and Parmesan Risottos, are just a few of our favorite Italian specialties to pair with Vierlas. A flavorful meatloaf, prepared with beef, pork, and veal, makes for another pleasant companion. Soft cow, goat, and sheep's milk cheeses complement Vierlas, too, especially when accompanied by warm, freshly baked whole grain bread.
For centuries, the Guelbenzu family of Cascante has been enjoying great acclaim for their innovative, award winning wines. As far back as 1851 and the First Universal Exposition in London (the forerunner of the World's Fair), Don Miquel Guelbenzu was wowing audiences with his remarkably rich, atypical Navarra wines, at a time when Navarra was hardly a household word. A graduate of the Sorbonne with a degree in Chemistry, Don Miquel went on to great critical and commercial success in Navarra; his wines won gold medals in all of Europe's most illustrious competitions, including at the time the world's most prestigious wine fair – the Exposition Universelle Bordeaux. Therefore, it is in the spirit and tradition of Don Miquel that his eight great-grandchildren pooled their resources in 1980 and resurrected their ancestor's great wine estate, thereby restoring the legacy and the good name of their famous forefather. In the early 20th century, the Guelbenzu property, like so many Spanish wine estates in the past century (especially those outside of the favored regions of Rioja and Jerez) suffered from the crippling blows of vine diseases, politics, hardship and neglect, which virtually ceased wine production. In order to reverse the family's wine fortune, the eight Guelbenzu siblings got together and planted 98 acres of choice vineyard plots encircling the ancestral home in Cascante to Cabernet Sauvignon, Merlot and Tempranillo. They subsequently planted Syrah, Graciano and other traditional varietals in nearby Ribera del Queiles, bringing the estate's vineyard holding to 132 acres. These plots sit at the foot of towering, snow capped Mt. Moncayo, which provides just enough runoff to moisten the Guelbenzu vineyards through Spain's hot, drought-plagued summers, so that all of the estate's vineyards can be dry farmed. Guelbenzu presently offers several wines for sale: Vierlas, a blend of Syrah, Merlot, and Graciano; Azul and Evo (the latter being the estate's luxury bottling) are made from Cabernet, Merlot, and Tempranillo; and Lautus, a second luxury bottling that blends Garnacha with Cabernet Sauvignon, Merlot, and Tempranillo. The wines are made at Guelbenzu's modern winery, which maintains Don Miquel's original gravity flow design from 1851. Although traditional in its approach to winemaking, stainless steel fermentation tanks are now in use at Guelbenzu, having been inserted through the roof of a nearby building that was formerly used for pressing olive oil. Nonetheless, the best of tradition still lives on at Guelbenzu. In the original wine cellar, large custom-made Allier oak uprights fill the space that Don Miquel made famous. In short, Don Miquel's progeny have created a living testimony to their forbearer, of which we are sure he would be quite proud.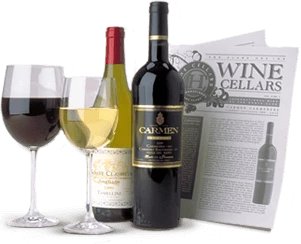 Enjoy Limited Production Estate
Bottled Wines
Discover limited production estate bottled wines such as Vergenoegd's internationally
acclaimed 2005 Cabernet Sauvignon, imported exclusively for our members.
DISCOVER OUR FOUR CLUBS