In order to fully understand and appreciate the elegant 2009 Jacques Girardin Les Terrasses de Bievaux Santenay, we suggest you pour a glass, take a good sniff, and then let the wine unfold leisurely in the glass. At first, toasty new oak flavors and subtle spice tones emerge and may even dominate the wine's bouquet, before graciously giving way to crisp apple and poached pear scents. Allow the wine a few more minutes to shed its frosty chill, and then take a sip. Savor this wine's graceful, subtle Chardonnay flavors, wrapped beautifully in a cachet of vanilla and spice. And if you are still not moved, wait a few more minutes: the 2009 Jacques Girardin Santenay Les Terrasses de Bievaux will continue to expand in the glass. It will never be a huge, buttery, in your face style of Chardonnay, but then it is not supposed to be. Instead, enjoy the exquisite balance, charm, flavor, and sophistication that this first rate white Burgundy has to offer. Like a fine red wine, white Burgundy requires time to collect itself, so afford this Santenay the time required to reveal all that it has to offer; you won't be disappointed. Salut!
Since grace, style, and sophistication are obvious attributes of Jacques Girardin's 2009 Santenay Les Terrasses de Bievaux, we suggest food pairings that truly complement the wine's subtle, complex flavors. Foods with distinct singular flavors such as lobster and King Crab legs pair beautifully with this wine, especially when served with drawn butter, red potatoes, and haricots verts. Poached salmon, sole, and flounder are other perennial favorites, especially when served in a savory cream sauce. A mildly spiced crab dip or salmon mousse gets our nod as well. Scallops, sautéed with butter, white wine, and fresh herbs provides another tasty accompaniment. However, seafood is hardly the only choice with Jacques Girardin's 2009 Les Terrasses de Bievaux. White meats offer good companionship, too, especially simple, flavorful classics such as Breast of Chicken with cream or sautéed Veal Medallions with mushrooms. And if good old-fashioned sipping is more to your liking, the 2009 Jacques Girardin Les Terrasses de Bievaux requires only a thin, clean glass to shine. Bon appétit!
Jacques Girardin is the archetypal Burgundy grower and producer. In other words, Domaine Jacques Girardin is a real family affair. Jacques tends the vineyards, works the cellar, and makes the wines, while his wife keeps the books, handles all the sales, and sees to the mounting pile of export regulations that make it increasingly difficult for small family owned wineries to export their wares. For generations, the Girardin family has been well represented among the finest names in Burgundy. Jacques' father Jean was a renowned winemaker as is Jacques' brother Vincent. Jacques has been producing fine estate bottled offerings at his domaine since 1978. Domaine Jacques Girardin is located in the south of Burgundy in the commune of Santenay, the most southerly area of the fabled Côte d'Or. It comprises a mere 8 hectares (17.6 acres). All of Girardin's red wine holdings warrant Premier Cru status, with the Beauregard and Clos Rousseau vineyards in Santenay being the most heralded. Jacques Girardin also fashions tiny quantities of excellent Santenay Blanc ("Les Terrasses de Bievaux") and Chassagne-Montrachet 1er Cru "Morgeot". All of Girardin's wines spend time in barriques, of which 30% of the barrels are new. The result is supple, beautifully wrought Burgundian red and white wines that drink extremely well even in their youth. Santé!
Burgundy is a wine as well as a place. In fact, it is many wines and many distinct locales, all of which were once part of the ancient duchy of Burgundy. Situated several hundred kilometers southwest of Paris, Burgundy is hallowed ground to serious lovers of the vine. From its golden hillsides, whose center slopes are so aptly named the Côte d'Or, flow France's most expensive and profound wines. Names such as Romanée Conti, Chambertin, Clos de Vougeot, and Le Montrachet among others have been delighting serious wine aficionados for centuries. Yet, there is much more to Burgundy and its wines than a few illustrious names. For starters, Burgundy is the ancestral of home of two of the world's most revered grape varieties – Chardonnay and Pinot Noir. Clearly, Burgundy is much more than a single wine or one great vineyard: it is a special place, a land almost entirely devoted to wine in one fashion or another. However, what remains surprising to many wine drinkers is that Burgundy is both red and white wine, the best of which come from Chardonnay and Pinot Noir exclusively. With a few rare exceptions, the finest Burgundies emanate from the region's core, the Côte d'Or, which begins on the fabled Côte de Nuits, just to the south of Dijon, and flows all the way south to Santenay at the tip of the Côte de Beaune. The Premier and Grand Cru wines from these illustrious hillsides are worth their weight in gold. Salut!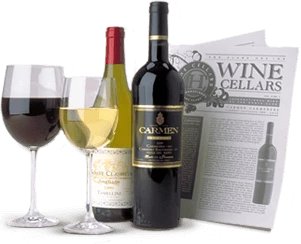 Enjoy Limited Production Estate
Bottled Wines
Discover limited production estate bottled wines such as Vergenoegd's internationally
acclaimed 2005 Cabernet Sauvignon, imported exclusively for our members.
DISCOVER OUR FOUR CLUBS