Piedmont In the north of Italy, nestled just beneath the great Alpine wall as it tumbles out of Switzerland and the gleaming Mediterranean Sea, lies Piemonte, Italy's Piedmont. It is a region of myriad beauty. It is also the region of Italy closest to France in proximity as well as in the sheer quality and variety of exceptional wines it produces. For centuries, Italy's Piedmont remained a prize to be won among warring European powers; no doubt at least in part on account of the province's world famous cuisine that still draws happily on the abundance and quality of local truffles. Yet today, it is the superbly made wines of Italy's Piedmont that garner the most international recognition: complex, hedonistic red wines, still delicate whites such as Gavi, and sweet haunting Muscats. With such exquisite fare, should anyone question why the wines of the Piedmont and the hearty robust delights of the Piedmontese table remain the region's most famous ambassadors to a hungry and thirsty world. Gavi DOC Gavi has been likened to white Burgundy, but the comparison does neither wine justice. At their best Gavi and white Burgundy possess ripe, rich fruit, a clean mineral quality, and ideal balance, but Gavi will always remain a more delicate wine than white Burgundy. The Cortese varietal, from which authentic Gavi is born, coupled with the soil, climate, and ultimate terroir of the Gavi zone render a decidedly different wine from white Burgundy. Gavi will almost always be the lighter, drier, more ethereal wine, but none the less for the difference. True Gavi provides perfect balance, delicious fruit, and vibrant acidity, which makes it ideal as an aperitif.
Casa Silva's 2009 Gran Reserva Merlot will shine at the table, as it is both ebullient and easy to drink. Whether sprucing up a mid week meal or throwing an elegant dinner party, Mario Geise's Gran Reserva Merlot will have no trouble complementing your food or entertaining your guests. Chicken or lamb kebobs make a good combination with this wine. Roasts and steaks are solid bets, too. However, why not consider some tried and true French classics such Duck à l'Orange, Grilled Loin Lamb Chops, or Spit Roasted Quail. Like fine Bordeaux, Casa Silva's Gran Reserva Merlot will rise to the heights of the culinary delights with which it is paired. But if cooking is not your pleasure, we have found Casa Silva's plush, extraverted Merlot to complement a wide variety of cheeses as well as the very best dark chocolate, so one need not be Julia Child to come up with winning accompaniments to this wine. Enjoy!
Casa Silva continues to astound with the quality as well as the variety of the wines it produces. It was recently named Wine and Spirits Winery of the Year - testimony to the Silva family's dedication to quality and winemaker Mario Geise's unabashed ability to push the envelope. Casa Silva is one of just a handfull of South America's finest wine estates. Located some two hundred kilometers south of Santiago, in the heart of Colchagua, an area many are now calling Chile's Napa Valley, Casa Silva has garnered more recognition and awards at international wine competitions than any other Chilean winery. Furthermore, Catad'Or Hyatt, Chile's most prestigious wine competition, has named Casa Silva "the Best Chilean Producer" three consecutive times. And that's not all, the International Wine & Spirit Competition recently named Casa Silva as "The best South American Producer." Kudos to the Silva family, father Mario and sons Mario Pablo, Gonzalo, and Francisco. Along with Mario Geise, the winery's outstanding consulting enologist, the Silva family has taken this beautiful property, which sits at the base of the towering Andes, to lofty heights in little more than a dozen years. Surprisingly, Casa Silva's present inception dates back to only 1997, the year this estate began bottling premium wines under its own name. However, historical accounts tell us that the Silva family's predecessors were pioneers in Colchagua more than a century earlier, when the Silvas brought the first grape varieties from France to their Angostura vineyards, which still occupy the lower slopes of the Cordillera of the Andes that soar above the property. Today, the Silvas remain pioneers: they are Colchagua's foremost experts on Carmenère, Chile's emblematic red grape variety. In addition, they produce some of South America's most compelling Merlot, Sauvignon Gris, and Viognier. Casa Silva is also in the vanguard of South America's success with other traditional Bordeaux grape varieties, most notably Cabernet Sauvignon, Sauvignon Blanc, and Semillon. With such accomplishments to their credit, can there be any doubt as to why the wines of Casa Silva are the most highly acclaimed in South America?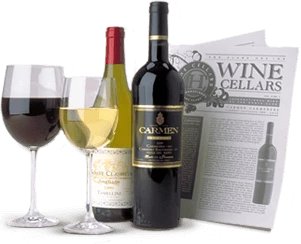 Enjoy Limited Production Estate
Bottled Wines
Discover limited production estate bottled wines such as Vergenoegd's internationally
acclaimed 2005 Cabernet Sauvignon, imported exclusively for our members.
DISCOVER OUR FOUR CLUBS