Carmen has fashioned a string of world class Carmenère wines for nearly two decades, so expectations were high when the estate's 2009 Gran Reserva Carmenère was placed in front of several tasting panels. A deeply colored, textured Carmenère the 2009 Carmen Gran Reserva stole the evening. It is a stunning example of just how good young Carmenère can be. The wine opens with a bouquet redolent with the scents of ripe red and black fruits, roasted coffee, violets, and wood smoke. And on the palate, it immediately ingratiates with a deep, layered, supremely balanced feel. In its cornucopia of tantalizing flavors, savory notes of crushed blackberry, dark chocolate, plum, and spice emerge. The 2009 Carmen Gran Reserva Carmenère is the most stunning young Carmenère we have tasted to date from this property, and considering that it is backed by a good dollop of ripe tannin that complements its fleshy fruit and spice, one can expect even greater pleasure in the future as this full-bodied beauty matures. Our experiences with Carmen's Gran Reserva offerings indicate that most can easily mature for up to a decade or more. After tasting the 2009 Gran Reserva Carmenère we opened two Carmen Gran Reserva red blends from 1999 and 2000 – both of which were still fresh and exciting. In an ideal world, one has a bottle or two of Carmen's Gran Reserva Carmenère on the table and a couple of cases maturing in the cellar. For near term consumption, allow this wine at least 15-20 minutes of aeration and enjoy it at cool room temperature. Enjoy!
Although Carmenère is not as well known as its Bordeaux counterparts Cabernet Sauvignon, Cabernet Franc and Merlot in particular, it is just as complementary of food. Actually, it often outperforms its better known siblings at table. With a broader palate profile than Merlot and more refined tannins than Cabernet Sauvignon, Carmenère is the ideal accompaniment to all kinds of meats and spicy sauces. Furthermore, you will find that Carmen's 2009 Gran Reserva Carmenère is equally at home with haute cuisine as it is with "down home cooking" and traditional southern Italian specialties. It also has the uncanny ability to elevate good home cooking to the level of haute cuisine. So, whether your taste runs to baby back ribs or filet mignon, homemade pastas or creamy risottos, spicy eggplant dishes or stuffed veal chops, you'll find a willing companion in Carmen's exciting 2009 Gran Reserva Carmenère. And for true Carmenère aficionados, nothing will be required but a clean glass. Buen Provecho!
Carmen is Chile's oldest wine brand, dating back to 1850. A century and a half ago Christian Lanz founded Viña Carmen and lovingly named the estate's beautiful vineyards for his wife. Today, Viña Carmen remains the showpiece Lanz envisioned more than a century and half ago. Combining tradition, superb vineyards and a state of the art winery that was constructed in 1992, Viña Carmen is currently South America's leading winery as well as its oldest. In the 1990's, winemaker Alvaro Espinoza, a proponent of organic viticulture, moved Carmen to the forefront of South American producers and brought international renown to this venerable property, a position it retains today under the current regime. Wine & Spirits magazine has named Carmen "Top Winery of the Year" at least four times and current offerings are some of the finest this esteemed winery has produced to date. Carmen's Vineyards spread across several valleys and the many micro-climates surrounding Chile's capital, Santiago. This constellation of microclimates allows Carmen to select the best grape varieties for each area and to excel with many different grapes and styles of wine. The winery has been extremely successful with French varietals, including Carmenère which has become Chile's flagship varietal. Recent releases of Chardonnay have been exceptional as well. Internationally renowned winemaker Alvaro Espinoza, who joined Carmen in 1993 and helped boost the winery's stellar reputation, was instrumental in isolating and identifying Carmenère as a unique grape variety. He then went on to produce some of South America's most exciting Carmenère based wines, a legacy that endures at Carmen. Alvarez also instituted organic farming at Carmen and greatly improved the estate's white wines. Currently, Carmen uses no pesticides in its vineyards and is the leading force in Chile toward more environmentally sensitive viticulture. In addition, many of Carmen's wines are bottled unfiltered. The winery has also made the commitment to use lighter bottles in an effort to cut waste and reduce the environmental impact of transport.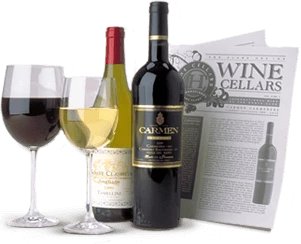 Enjoy Limited Production Estate
Bottled Wines
Discover limited production estate bottled wines such as Vergenoegd's internationally
acclaimed 2005 Cabernet Sauvignon, imported exclusively for our members.
DISCOVER OUR FOUR CLUBS