The 2008 Tiki Sound is a beautiful New Zealand Pinot Noir that captures the essence of Pinot Noir in an elegant, flavorful format that just won't quit. Given Tiki Sound's luminous garnet color, we were fully expecting to encounter a graceful, ethereal wine, which we did get along with a whole lot more. From this bright, medium-bodied Pinot Noir emerges a savory perfume reminiscent of crushed cherry, plum, lavender and spice. On the palate the 2008 Tiki Sound offers a delightful compote of berry flavors, intertwined with Asian spices and wood smoke – all of which come encased in silky smooth tannins. Layered and supremely textured, Tiki Sound's Marlborough Pinot Noir continues to open in the glass for an hour or more, so no need to rush. Yet, what is most appealing about this wine is how well it integrates its abundant fruit flavors and soft spicy oak tones, weaving them into one seamless garment. Enjoy this captivating, easy to drink Pinot Noir at cool room temperature (60º-65º F), and by all means try to give this enchanting wine at least 10-15 minutes of aeration. You will be glad you did.
Wine as tasty, textured, and easy to drink as the 2008 Tiki Sound Marlborough Pinot Noir needs very little in the way of accompaniment. However, two of the glorious attributes of premium Pinot Noir are a complex set of aromatics and silky, textured flavors, which lend themselves ever so hedonistically to the splendors of the table. And what New Zealand does increasingly well is pair fresh, natural ingredients with its ever increasing array of fine wines. In the case of the 2008 Tiki Sound Marlborough Pinot Noir, that means providing a natural accompaniment to both fish and meat. Salmon, mahi-mahi, chicken, ham, pork, and tender New Zealand lamb all provide superb complements to Tiki Sound's Pinot Noir. Some of our favorite dishes with this wine are grilled, poached, or smoked salmon and braised pork tenderloins, served with lightly spiced apples and cream. Both foods accentuate the savory aspects of Marlborough Pinot Noir, without overpowering the wine. Rich pastas and fine, ripe cow's milk cheeses marry well with Tiki Sound's Pinot Noir, too. Enjoy!
Tiki Sound draws its name from New Zealand's Maori heritage. In Maori tradition, Tiki is considered to be the first man. A tiki is also a large stone or wooden carving of human form that celebrates the Maori mythology of the first human. When Maori seafarers and their Polynesian kinsmen roamed the South Seas, tikis were typically positioned facing the sounds and inlets of New Zealand's steep coastal mountains. Marlborough Sound, one of New Zealand's most beautiful and breathtaking sounds, provides the ideal climate and shelter for the production of Tiki Sound's world class Pinot Noir. Tiki Sound is made by one of Marlborough's foremost producers of premium wines. Tiki Sound's Pinot Noir is entirely hand harvested. It receives partial barrel fermentation and is aged for nine months in French oak barrels. Most importantly, it reflects the natural beauty of nearby Marlborough Sound and the superb terroir of Marlborough's Wairau and Southern Valleys.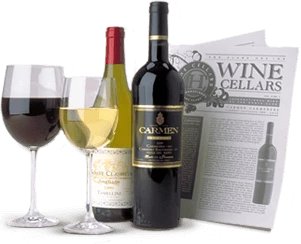 Enjoy Limited Production Estate
Bottled Wines
Discover limited production estate bottled wines such as Vergenoegd's internationally
acclaimed 2005 Cabernet Sauvignon, imported exclusively for our members.
DISCOVER OUR FOUR CLUBS