Palazzone has the ability to capture the many faces of Orvieto, but no other Orvieto in recent years can compare to the estate's illustrious 2008 Campo del Guardiano Orvieto Classico Superiore. Bedecked in a fanciful straw colored robe and endowed with a heady perfume, this Orvieto stands apart from the crowd. It is filled with an inner beauty that exudes savory peach and mint flavors, entwined with herbs and spring flowers. Textured, deep, and imbued with a wealth of nuanced flavors, the 2008 Campo del Guardiano offers a stunning portrait of Orvieto. Yet, as delicious as this wine is now, it will almost certainly improve in bottle for years to come. In fact, the 2008 Campo del Guardiano is one Orvieto that will outlive the vast majority of New World Chardonnays, taking on complexity and tertiary characteristics as it matures. Anticipated maturity: 2011-2020. For optimal enjoyment, we suggest giving this wine only a moderate chill (35º-45º F). Also, consider allowing the delicious 2008 Campo del Guardiano a few minutes in the glass to breathe and collect itself before consuming, if you can wait!
In Orvieto, the wine that bears the name of Italy's most illustrious hill town is best known as an aperitif or starter wine with a delicate first course. However, the 2008 Palazzone Campo del Guardiano is no ordinary Orvieto. It is true that it easily doubles as an extraordinary aperitif and will accompany almost any light first course with aplomb. However, as it displays considerably more flavor and stuffing than other Orvietos, the 2008 Campo del Guardiano offers splendid accompaniment to fish, pork, lightly smoked meats, and cheeses. Grilled fish, served with a creamy cheese polenta, provides one of our favorite companions to Palazzone's Orvieto. Sautéed scallops in a cream sauce, served with homemade pasta, lentils and peas, provide another superb pairing. And a country favorite of sautéed veal, peas, and sundried tomatoes, served with a light cream sauce over bowtie pasta, offers tasty companionship, too. For those seeking heartier fare, a thick bread and cabbage soup with a cheese crust – the kind that is served in homes and local trattorias throughout northern and central Italy – surely won't disappoint, either. And if simple, effortless pairing is all that is in the offering, consider pairing the 2008 Campo del Guardiano with freshly cut apples, pears, and slices of mild, creamy cheeses. Buon Appetito!
Palazzone is a stunning estate that sits atop a hill. It overlooks the venerable hill town of Orvieto. A more appropriate testimony to the illustrious name of Orvieto would be hard to find, as the estate and the wines at Palazzone do justice to the accolades and the unabashed praise that millennia of joyful Etruscans, Romans, and assorted moderns have heaped upon Orvieto and its seductive white wine. Orvieto Classico is certainly the most representative wine of Umbria; it can also be one of Italy's most consistently delightful white wines. Unique among Italy's white wines for its complex blend of five varietals, Orvieto is rarely an easy wine to make because of differing ripening timetables for each of its five varietals and the requisite difficulty of proportionate blending. Palazzone incorporates in artful fashion all five of the traditional varietals into its Orvieto: Procanico, Verdello, Grechetto, Malvasia and Drupeggio. For centuries, Orvieto was a semi-sweet wine, not unlike France's Vouvray, but today nearly all Orvieto is vinified dry. Some producers still turn out small quantities of amabile or abboccato, the designations given to sweet Orvieto, but the very finest producers like Palazzone seem to impart a wonderfully rich, silky body and an intensely fruity bouquet to their wine, without the residual sugar that most contemporary wine drinkers eschew. Thanks to the Dubini family, the present guardians of Palazzone, their estate is now the zone's benchmark for quality. The Dubinis bought the estate in 1970. Within two years they had resurrected and restructured the neglected property and fashioned it into what has become the model estate in Orvieto. The semi-abandoned country house was fixed up and 40 acres of vineyards were planted on soils of volcanic origin with ideal southeastern exposure. Palazzone's two most exciting wines are Terre Vineate, a soft, scented, energetic Orvieto Classico and Campo del Guardiano, the estate's special bottling and a tour de force in wine making. Campo del Guardiano is undoubtedly Orvieto's most profound dry white wine. Molto bene!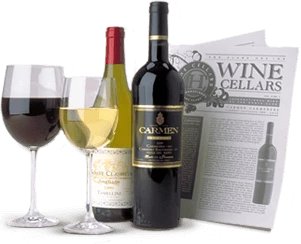 Enjoy Limited Production Estate
Bottled Wines
Discover limited production estate bottled wines such as Vergenoegd's internationally
acclaimed 2005 Cabernet Sauvignon, imported exclusively for our members.
DISCOVER OUR FOUR CLUBS