Fioravante's 2008 Reserva Cabernet Sauvignon hails from Perdriel, an exceptional part of Mendoza known for its intense red wines. A richly endowed Cabernet with deep down pure fruit flavors, complex earth tones, and a flair for the dramatic, it is easy to forget this wine is still in its budding youth and its best years are yet to come. However, judging from the panel's enthusiastic reception, "it already rocks." Yes, those are the exact words the panel used to convey their collective glee. "A good drinking Cabernet" and "it's all there" are two additional comments from the tasting panel. Dark, brooding and full of life, the 2008 Fioravante Reserva Cabernet exhibits excellent varietal character in the form of an enticing bouquet and plenty of black currant flavor, all bolstered by a deft touch of oak and just enough warm, dusty tannins to balance the wine's rich fruit. Drink this extraordinary, limited release Cabernet now and often over the next 3-4 years. Enjoy!
In Argentina, there would be no doubt as to the proper accompaniment to Fioravante's 2008 Reserva Cabernet Sauvignon. It would be beef, beef, and more beef. And yes, beef in all of its forms, whether it is prime rib of beef, steak, or a simple burger, pairs beautifully with this Mendoza Cabernet. However, we don't think one should be so parochial about such matters. Besides, Fioravante's deep down Reserva Cabernet Sauvignon offers terrific companionship to pasta, especially homemade cheese ravioli covered in a savory marinara sauce. Garlic and herb roasted chicken, spicy eggplant dishes, and all kinds of tapenades provide exceptional accompaniments, too. A heart healthy vegetarian chili makes for a tasty accompaniment to this wine as well. And for true Cabernet lovers, nothing but a glass or even a paper cup will be required to enjoy Fioravante's exceptional Mendoza Cabernet.
Fioravante Reserva is a special limited release Cabernet Sauvignon from Bodega Sottano. It is named in honor of Don Fioravante Sottano, the estate's founding father who immigrated to Argentina from Italy's Veneto in the 1890s. Don Fioravante's pioneering spirit and love of the vine have inspired Don Fioravante's progeny, Diego, Pablo, and Mauricio to produce Fioravante and several other exceptional wines at their beloved Bodega Sottano. Bodega Sottano is located in Perdriel in the Lujan de Cuyo district of Argentina's sprawling Mendoza province. Red wine reigns supreme at Bodega Sottano as it does throughout Lujan de Cuyo. In fact, Bodega Sottano makes only red wine, as the estate specializes in producing world class Cabernet Sauvignon and Malbec from Argentina's two most emblematic grape varieties. Given Bodega Sottano's reputation and superb facility, it is no wonder then that world renowned winemaker Paul Hobbs chose Bodega Sottano as the site to make his first award winning wines in Argentina. Paul Hobbs is now Bodega Sottano's neighbor. Good company seems to stick together, and why not? Where else can one make Cabernet Sauvignon and Malbec wines of such extraordinary quality and value than in Mendoza's Lujan de Cuyo? Thanks to Bodega Sottano, we are able to offer the highly allocated Fioravante Cabernet Sauvignon Reserva to our members.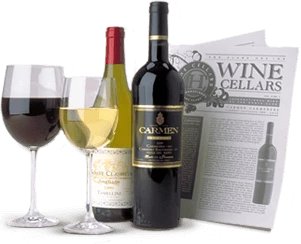 Enjoy Limited Production Estate
Bottled Wines
Discover limited production estate bottled wines such as Vergenoegd's internationally
acclaimed 2005 Cabernet Sauvignon, imported exclusively for our members.
DISCOVER OUR FOUR CLUBS