Jerome Quiot's stylish white Châteauneuf-du-Pape is as seductive as his red. Domaine du Vieux Lazaret's 2008 Châteauneuf-du-Pape Blanc will readily attest to that, but you must give it time to breathe. The need for a bit of air as well as a few good swirls makes authentic Châteauneuf-du-Pape Blanc somewhat of an anomaly among white wines. This wine, like all good Châteauneuf-du-Pape Blancs, will take shape and develop complexity and depth as it breathes, so don't be in a hurry. Give the wine a moderate chill and allow it 10-15 minutes to collect itself. With just a little patience, this unique white wine will blossom in the glass as it warms ever so slightly. Take a good look at the wine, though, while it rests. Its deep straw color recalls the sun splashed Provencal landscape from whence it springs. The aromas of dried apricot and pineapple follow, as they mingle with subtle scents of herbs, and a faint hint of sea spray. On the palate, one is properly introduced to the full body, lingering flavors, and subtle complexity of the 2008 Domaine du Vieux Lazaret Châteauneuf-du-Pape Blanc. Unlike many white wines whose flavor profiles appear wrapped up in the bouquet, Domaine du Vieux Lazaret's intriguing center and refreshing, gentle finish are where it's at. Although Quiot's exceptional 2008 Châteauneuf-du-Pape Blanc is ready to drink now, it will likely improve for another year or more in bottle. Enjoy this highly acclaimed Châteauneuf-du-Pape Blanc moderately chilled or just cool (40°-50° F).
One of the glories of red and white Châteauneuf-du-Pape is how well they complement a wide variety of foods, and the 2008 Domaine du Vieux Lazaret Châteauneuf-du-Pape Blanc is no exception: it truly shines at table. Not a light, aperitif kind of wine, we suggest pairing Jerome Quiot's excellent Domaine du Vieux Lazaret Blanc with chicken, fish, or veal. Grilled white fish prepared with a roasted garlic and lemon beurre blanc sauce and served with herb and pesto mashed potatoes makes for a lusty accompaniment. Seared wild salmon on a bed of shaved fennel, radish, and organic greens with a light citrus and pomegranate dressing provides another tasty treat. A traditional Provencal bouillabaisse or fish stew makes for a splendid companion to Domaine du Vieux Lazaret's 2008 white Châteauneuf-du-Pape as well. Free range chicken and sautéed veal medallions marinated in lemon, herbs, and butter will do justice to Jerome Quiot's superb white wine, too. However, you can let your imagination be your guide. Bon Appétit!
A proponent of the fleshy, seductive, modern style of Châteauneuf-du-Pape, Jerome Quiot, proprietor of Domaine du Vieux Lazaret, has pushed the envelope in recent years in fashioning forward, immensely pleasing Châteauneuf-du-Pape from his substantial, well-established property. With nearly 250 acres to exploit, Quiot is one of the movers and shakers in what many critics claim to be the finest appellation in France. Quiot also plays an integral role in the administration of the appellation system in France, a process that not so ironically was born in Châteauneuf-du-Pape during the 1920's.
Châteauneuf-du-Pape is the Rhône Valley's most important appellation. Located in Provence, astride the swift moving Rhône River, this sun-drenched locale is blessed with a dry Mediterranean climate that is nearly ideal for the cultivation of vines and the production of wine. Châteauneuf-du-Pape possesses some of the oldest vines in France; the average age of the vines in Châteauneuf-du-Pape is in excess of 40 years, by far the oldest of any major appellation in France. And many of those vines are 80-100 years of age. In addition, the entire production of this great wine is hand harvested. Moreover, we have not yet mentioned the region's fabulous terroir – large flat stones known as galets roulés that are mingled with plenty of decomposed gravel. The remnants of Alpine glaciers that once covered southern France; Châteauneuf-du-Pape's glacial till provides excellent drainage and imparts subtle nuances of flavor to the appellation's outstanding wines, which can be both red and white and contain up to thirteen legal grape varieties, including Grenache, Syrah, Mourvèdre, Cinsault, Muscardin, Cournoise, Clairette, Bourboulenc, Picpoul, Roussanne, Terret Noir, Picardan, and Vaccarese. A case can be made that there are actually fourteen legal grape varieties in Châteauneuf-du-Pape, as Grenache can be either a red or white grape.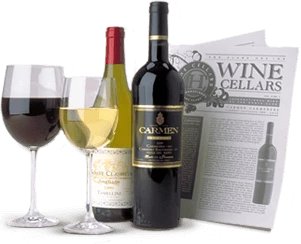 Enjoy Limited Production Estate
Bottled Wines
Discover limited production estate bottled wines such as Vergenoegd's internationally
acclaimed 2005 Cabernet Sauvignon, imported exclusively for our members.
DISCOVER OUR FOUR CLUBS