In the words of one tasting panel member, "Noa is quite a big boy." And that would surely be an understatement. The 2008 Cusumano Noa, named for the feisty Noah of Biblical fame, comes across as a brooding, intense adolescent at the moment, but he's not without his charm . . . . and ohhh what potential lays wrapped within. Already, Noa's bouquet is alluring as it streams from an opaque blackness that appears to stain the glass. And ensconced in Noa's formidable structure lies a core of berry fruit, earth, and spice that combines the best attributes of Cabernet and the indigenous Nero d'Avola. Stoic and reticent upon first meeting, the 2008 Noa appears to capture the brooding and often tempestuous pulse of Sicily itself, but after an hour or two of aeration a velvety smoothness seeps into the center of this wine. Make no mistake about it; the 2008 Cusumano Noa is still in its budding youth and its best days are yet to come. Consequently, we suggest laying Noa down for another year or two. But if patience eludes you, decanting Noa a couple of hours ahead of serving at cool room temperature (60°- 65° F) will render him quite hospitable. Enjoy!
For those in search of a unique, full-bodied wine of immense power, the 2008 Cusumano Noa will more than fill the bill. In consideration of Noa's strength and intensity we suggest pairing Noa with hearty fare: classic Sicilian and Southern Italian specialties as well as fine cuts of meat, served with complex sauces, get our nod. Thick slices of Sicilian pizza, topped with black olives, fresh tomatoes, and thin slices of pepperoni provide a simple but satisfying backdrop to Noa. Eggplant Parmigiana, lasagna, and homemade pastas with heady tomato sauces provide other delectable choices with Cusumano's most renowned offering. Beef or pork tenderloins encrusted with black olive tapenade or a grilled rib eye topped with martini olive butter pair magnificently with this wine, too. Lamb Osso Bucco gets our nod as well, but so do some of Italy's finest cheeses. A glass of Noa and a hefty tranche of hard, aged Parmesan or Pecorino make a great finale to a special meal. Enjoy!
Cusumano is one of Sicily's most exciting wineries. It is a family owned estate that is run with extraordinary precision by brothers Alberto and Diego Cusumano. They took over the management of the estate from their father Francesco in 2001. Since that time the winery has expanded and the quality of Cusumano's wines has skyrocketed. We have been following the meteoric success of this estate since its inception and there is no doubt that the Cusumano brothers are pushing the envelope, with both their red and white wines. In short, the Cusumano brothers have been performing magical feats with a variety of classic and indigenous varietals from more than half a dozen vineyards they own throughout Sicily. With a passion for terroir and the production of authentic expressions of Sicily's rich viticultural heritage, the Cusumano brothers have set about acquiring numerous vineyards in the western and southern regions of the Mediterranean's largest island in order to offer the world a glimpse of what Sicily has to offer. Together, the brothers fashion a myriad of red wines that center around Syrah and the indigenous varietal Nero d'Avola. They also make one of Sicily's finest white wines from the elegant and distinctive Insolia vine, an indigenous white Sicilian varietal that produces hauntingly beautiful wine. Although successful across their entire wine portfolio, the Cusumano brothers' two most profound offerings are always Sagana, a special proprietary bottling of the finest Nero d'Avola and the estate's flagship offering, Noa, an intense blend of Nero d'Avola, Cabernet Sauvignon, and Merlot.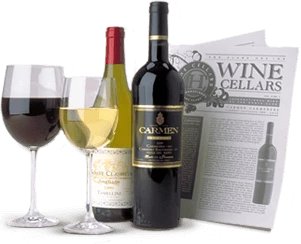 Enjoy Limited Production Estate
Bottled Wines
Discover limited production estate bottled wines such as Vergenoegd's internationally
acclaimed 2005 Cabernet Sauvignon, imported exclusively for our members.
DISCOVER OUR FOUR CLUBS