The 2008 Château Armandière Ancestral Cahors is a more polished and refined version of the Malbec Americans have come to love. The Ancestral Cahors Malbec delivers all the size, boldness and intensity of an Argentine Malbec in the kind of refined and sophisticated expression for which the French are justifiably revered. Its nose promises a powerful experience, with dark, evocative fruit, leather and subtle coffee notes. With fine-grained tannins, its mouth-feel is refined and sophisticated yet satisfyingly dense and intense. On the palate, it delivers exactly what the nose promised – a satisfying balance of power and grace, with deep and abundant fruit flavors, a backbone that is plenty stiff without being rigid, and delightful details like notes of leather and dark chocolate. As good as it is right now – and it is very good – this wine has room to grow and mature. But if you must drink it now (and why not?), give it plenty of time. After being open two-plus hours it was still evolving and improving. Enjoy this authentic, traditional Cahors Malbec at cool room temperature now and for years to come.
Traditional Cahors is a wine to drink with hearty country cooking or as a means to ward off the chill of night. Cassoulet, sausage and bean dishes, game, and thick, heady meat and vegetable stews provide traditional fare for the Malbecs of Cahors. Marinated steaks, lamb burgers, and all kinds of fajitas will also provide tasty companions to Château Armandière's 2008 Ancestral Cahors. Gorgonzola and pear pizzas, smoked meats, and thick slices of cow or sheep's milk cheeses with plenty of crusty French bread make for good company, too. Penne pasta served with a heady marinara sauce, roasted eggplant, and grated Parmesan makes for a tasty interlude as well. The 2008 Château Armandière Ancestral Cahors is no wimpy Malbec, so don't be afraid to bring on the spice and even some heat with this wine. It will stay the course. Bon Appétit!
Bernard Bouyssou is the son, grandson, and great-grandson of a winemaker and the present guardian of Château Armandière, an historic Cahors property and the home to some of France's finest Malbec wines. Cahors, long known for its "black wine" because of Malbec's propensity to yield deeply colored, highly extracted wine, has long been considered the spiritual home of Malbec. The Bouyssou family owns 22 hectares (54 acres) of vines spread out on all four of Cahors's geologically distinct terraces. Bernard fashions a variety of Cahors wines, all of which highlight the many facets and virtues of Malbec. Château Armandière's flagship offering and most traditional Cahors wine is Ancestral. It is made from 100% Malbec grown on the upper terraces of Cahors, high above the river Lot.
Malbec is an important red grape variety traditionally associated with the wines of southwest France. It is also one of the original red wine grapes of Bordeaux where it is often referred to as Cot or Pressac. While Malbec is rarely used any longer in Bordeaux except to add a bit of color and body to less stalwart grapes, it remains one of the six grapes permitted in red Bordeaux along with Cabernet Sauvignon, Cabernet Franc, Carmenère, Merlot and Petit Verdot. However, south of Bordeaux in the region of Cahors, Malbec still reigns supreme. It is the chief grape used in what historically has been called the "black wine "of Cahors. Today, Argentina appears as the face of Malbec to most contemporary American wine drinkers. It is Argentina's most important grape variety, both in terms of quality and quantity. The best Argentine Malbecs are age worthy wines of great distinction, thanks to their French connection. Nevertheless, the traditional "black wine" of Cahors remains a reference point for Malbec. The finest Cahors are both polished and intense. They are made exclusively from Malbec grapes grown on the terraces above the Lot River, and they are capable of ageing to perfection for up to a decade or more.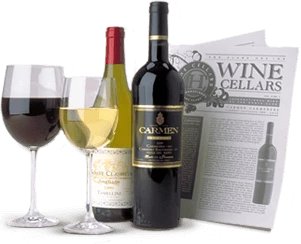 Enjoy Limited Production Estate
Bottled Wines
Discover limited production estate bottled wines such as Vergenoegd's internationally
acclaimed 2005 Cabernet Sauvignon, imported exclusively for our members.
DISCOVER OUR FOUR CLUBS